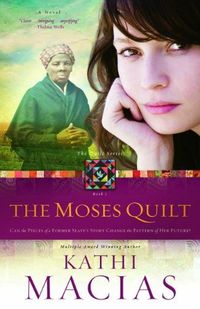 Purchase
Quilt #1
New Hope Publishers
January 2013
On Sale: January 1, 2013
Featuring: Mazie
240 pages
ISBN: 1596693584
EAN: 9781596693586
Kindle: B00AWY7X54
Paperback / e-Book
Add to Wish List

The Moses Quilt is a contemporary novel that bridges racial and generational divides. With a realistic and compassionate look into a twenty–first–century dilemma, multiple award–winning author Kathi Macias introduces readers to a confused and apprehensive young woman, Mazie Hartford. Facing major decisions about the love of her life and her future, she must also wrestle with a nagging question about her family's past. She finds the answer to her questions in a most unexpected way—her great–grandmother's Moses quilt. As her great–grandmother begins to explain how each patch represents a story of courage and freedom, Mazie must decide if she has the courage and freedom to overcome her own personal fears and prejudices.
Comments
28 comments posted.
Re: The Moses Quilt

Hopefully we become more tolerant.
Harriet Tubman is one of the few women honored by being pictured on a United States stamp.
Blessings,
(Marjorie Carmony 6:54am February 16, 2013)
The hardships from the past makes us thankful for everything that we have
today
(Ava Curtis 8:30am February 16, 2013)
We cannot help but learn from the past. What we now consider to be totally
inhuman and unacceptable happened in an all too recent history. Racial
intolerance is still all too real.
(Liesl Lane 9:05am February 16, 2013)
We learn how life has improved and how people have become
educated and history teaches us a great deal about tolerance
and acceptance.
(Sharon Berger 10:00am February 16, 2013)
The past often sounds better but when you think of all the
progress that has been made who'd want to go back. Just study
it and learn from the mistakes of the past so we can live a
better life today.
(Mary Hay 10:35am February 16, 2013)
Unfortunately even today there still exists discrimination, you need ony look to our Aboriginal peoples. The color of their skin, the accent of their voices and all they seek is a better life for their children.Perhaps a new "Harriet Tubman" will rise up from their midst.
(Janis Milford 11:31am February 16, 2013)
we learn that history repeats itself, is that a good thing? thank you
(Debbi Shaw 11:58am February 16, 2013)
Hopefully we learn from the past so we won't make the same mistakes in the future.
(Pam Howell 12:23pm February 16, 2013)
I'm glad you are keeping this woman's memory alive. When I was at school I learned that history books were full of men. There were no women anywhere in the history of the world.
(Clare O'Beara 1:26pm February 16, 2013)
I live in a small town in New Jersey and during WWII there was an ammo factory located in our town. It was owned by the Russians and the Germans blew it up. One woman saved so many lives, she was the receptionist for the company. Only one marker lay at the ruins of the factory. I'm fighting for a much larger momument for her. She deserves so much for saving so many lives..........so happy you told of Harriet Tubman.
(Joanne Bozik 1:35pm February 16, 2013)
..looks good..
(Kent Cook 3:41pm February 16, 2013)
The sacrifices they made and how hard they had to work for very little to provide for their families. They had no modern conveniences and did so many tasks with very basic implements to work with. We take all our appliances, mowers, and farm machinery for granted, whereas, they would be grateful to have owned even one of those items we use today.
(Linda Luinstra 4:02pm February 16, 2013)
I think many of us do not want to learn about the past because they are too content with the present and not willing to learn about our forefathers and how rough they had it and things were not 'handed to them'
(Shirley Younger 4:19pm February 16, 2013)
WOW! This book sounds really interesting. I can hardly imagine a quilt like this one. I wonder what the main character will find out about her family from this quilt? What an interesting theme for a book. Women spent so many hours making quilts in the old days & I'm sure they sat with friends & neighbors talking while they were sewing. Imagine all the interesting tidbits a quilt could tell you if it could speak?! Hmmmmmmmmm....anyway, I hope I win this book! If not, I'll just have to run to my favorite bookstore & buy it because I was hooked from the first sentence. ;)
(Quetzi Fernald 4:25pm February 16, 2013)
I believe that learning about the trials our loved ones went through in the past only makes us stronger now because we realize that our problems, even though they may seem overwhelming to us, are nothing in comparison to what our ancestors faced. Nowadays we live with so much more freedom & priveledges that we take for granted. Whereas our ancestors would view our system as unthinkable!
(Quetzi Fernald 4:30pm February 16, 2013)
Looking at the past will hopefully help us to prevent making the same mistakes in the future. I am a quilter and enjoy reading books in which quilts play an important part in the story. The Moses Quilt will definitely be going on my reading list.
(Bonnie H 4:33pm February 16, 2013)
This is such a great concept you have come up with for the writing of this book by combining history with an interesting new story. Hardships and struggles from the past generations (along with ingenious inventions) make our country a greater place for us to live in and appreciate more what they've done to give us what we have today.
(Rich Cook 5:44pm February 16, 2013)
Learning about the past can help us to avoid present and future mistakes. In hindsight, some events and actions and decisions just seem SO wrong, but sometimes it's difficult to avoid those same pitfalls in the present.
(Catherine Lee 7:15pm February 16, 2013)
There are many heros abnd heroines from bygone times that aare well deserving of such stories, and it is nice to see someone start the process of writing them.
(Donna Holmberg 8:20pm February 16, 2013)
We did not just arrive at this point in time. What came
before, should not be lost.
(Mary Preston 2:05am February 17, 2013)
Soun
(Kelli Jo Calvert 2:24am February 17, 2013)
Sounds like a great read - especially since my degree is in History!!
(Kelli Jo Calvert 2:27am February 17, 2013)
love history!! so many women were forgotton heros of history. would love to win! jackie
(Jackie Morris 9:39am February 17, 2013)
I remember reading avutmhermn grammar school! She was a true hero!
(Susan Dyer 9:44am February 17, 2013)
I believe I am tolerant, but I would like to be challenged like you say your book will do---I also enjoy history so this book should fill that need, too.
(Sue Farrell 10:05am February 17, 2013)
We like to deny the dark part of our history. If we keep believe that those dark periods in our history didn't happen, we will most likely forget.

The thing about history is to learn from our past and not repeat those mistakes that have dire consequences of mankind. Some of us cannot come to terms of our past mistakes.
(Kai Wong 1:01pm February 17, 2013)
We have to learn not to do the same things over again. We have to know our history so we don't repeat it.
(Debbie Penny 8:13am February 18, 2013)
We learn from the actions of the past.
(Darci Paice 1:41am February 20, 2013)
Registered users may leave comments.
Log in or register now!