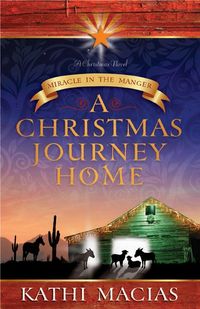 Purchase
A Christmas Journey Home
Kathi Macias
New Hope Publishers
October 2011
On Sale: October 5, 2011
240 pages
ISBN: 1596693282
EAN: 9781596693289
Trade Size
Add to Wish List

During Isabella Alcantara's seventh month of pregnancy, her parents and siblings are murdered in gang- and drug- related violence, simply because their home was targeted by mistake. Isabella knows she was spared only because she now lives in a different location, but she knows too that the same thing could easily happen to her and her husband, Francisco. When her grandfather offers to hire a ""coyote"" to bring them across the border to America, she agrees. But Francisco and Isabella are abandoned by the coyote and left to die. Francisco then valiantly sacrifices himself to get Isabella to safety. Homeless, nearly penniless, pregnant, and alone, Isabella determines to find a way to honor her promise to her beloved husband. Living on one of the smaller spreads along the Arizona border, Miriam Nelson becomes furious with God and turns from her faith when her border patrol agent husband, David, is killed in a skirmish with drug smugglers. Though her mother and young son do their best to woo her back from the anger and bitterness that have overtaken her, they make little headway.
Two widows-one driven by fear and a promise, the other by bitterness and revenge-must make their journeys along different pathways, but with the same destination: a barn full of animals that stands waiting for them on Christmas Eve. Forced to face their personal demons, Isabella and Miriam soon discover a common yearning that will bind them together in a most miraculous way.
Comments
5 comments posted.
My 14-year old daughter seems to be headed down your path. She's taking journalism as a freshman and is a voracious reader. Thanks for the post!
(Molly Wilsbacher 12:05pm December 11, 2011)
Before I even started to read your blog entry today, I have to say that I noticed the cover to your book. I think that the artist did an outstanding job on it!! I was awestruck by it!! Anyway, I was taught how to read at the age of 3, and was reading physics books that my Dad had in the basement. My Parents would have me read to relatives when they would come over to visit. Other than the set of "Funk and Wagnalls" (which dates me) encyclopedias that were on the shelf, I was itching to read, so they would take me to the library, where I would take out as many books as I could carry to read. I also wrote poetry and plays. In Kindergarten, the teacher would have me read to the class when she would get called away. I always loved the English language, and got A's in that class throughout school. I wanted to major in English, and go to college, but my Mother said some things to me, which discouraged me, so I never went. It was a big mistake, and I regretted it all my life. My friends told me I should write a book, and perhaps some day I will, because I have some stories to tell. I do admire any author, because it does take a lot of grit to be in the business. Have a wonderful Christmas, and a Happy and Healthy New Year!!
(Peggy Roberson 12:31pm December 11, 2011)
That is so cool to hear - I am a voracious reader, myself, and back in grade school, my favorite part of the school week was our weekly visit to the school's library - in 11th grade, my British Lit teacher, who was also my homeroom moderator, also encouraged my reading habit - I don't have what it takes to be a writer, and like Peggy Roberson said in her comment, I admire authors as well, since it takes that certain something to be in that business! Blessed Christmas and New Year's greetings to you!
(Felicia Ciaudelli 7:12pm December 11, 2011)
My father was an avid reader and so am I. Neither of us would have ever been able to write a novel. I tried when I was still in my teens and realized that I was lamentably lacking in the requisite imagination--and he was too. We're both good with logic. He was an architect, but don't look for beautiful edifices from him; he was much better at making the buildings function electrically, spatially, etc. I, on the other hand, love languages and language; I love making them work as to grammar, vocabulary, etc., especially in English, though I know two others well and have studied three more. If anyone wants help with the given aspects of language, give me a wave. In general, it is badly needed.
(Sigrun Schulz 3:40am December 12, 2011)
I find that voracious readers make the best writers, since they've digested so many words and tend to venture into new territory.
(Alyson Widen 5:22pm December 17, 2011)
Registered users may leave comments.
Log in or register now!