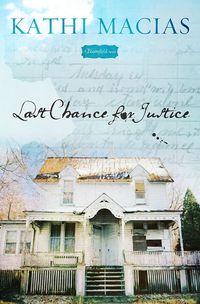 Purchase
Bloomfield #3
B&H
May 2013
On Sale: May 1, 2013
320 pages
ISBN: 1433677172
EAN: 9781433677175
Kindle: B00CH6ZMT4
Trade Size / e-Book
Add to Wish List

Mystery | Inspirational Mystery
Welcome to Bloomfield, where life is simple, love is real, and stories are shared.
Lynn Myers is still reeling from losing her husband of thirty-five years when word comes that her only sibling, an older brother, has also died. With no one else to settle the estate, she must return to her small hometown of Bloomfield, however briefly, to settle his affairs.
Lynn's daughter, Rachel, has just graduated from Bible college and with no other commitments comes along to sort through her uncle's huge old home, right next to the local cemetery.
It isn't long before Rachel has two men -- a handsome CPA and the youth pastor -- seriously vying for her attention. At the same time, Lynn's attention is drawn to a set of journals her brother has left behind detailing a long-standing Bloomfield mystery.
As they pursue solving this mystery, Rachel must make some personal decisions about her future, while Lynn is forced to face unexpected issues from her own past.
Comments
46 comments posted.
I definitely believe it is good to vary your genre and style - when the time feels right. Your writing can only benefit as you create new neural pathways and do different research.
I like books that impart information about location, period, occupation... some action is needed, but we do not spend our lives in a permanent adrenalin rush, or if we do, we soon suffer for it. So a balance is realistic.
(Clare O'Beara 6:55am May 19, 2013)
Lately, I must confess that I've been reading books that are a bit more laid-back and more of the genre that you've described in your posting. The only reason I've gravitated to those books is because I have a lot going on in my life personally, and they've helped me to relax and stay a bit more grounded. The other part has to do with the time of year, I think. Now that Spring is here, you want to be able to kick back and have a tall glass of iced tea on the front porch, while sitting in a rocker, and enjoying the outdoors!! It doesn't get much better, unless you were walking along the water's edge somewhere warm!! There's also a good time to read books that get your adrenaline flowing, but you need to be in the right mindset to read those, too!! I am open to reading all genres. I don't discriminate when it comes to my reading!! Your latest book sounds great, and it will definately be on my reading list!!
(Peggy Roberson 8:05am May 19, 2013)
I do like to know the background of things but not to the point of a story so detailed that you can't follow it. Your book sounds like one that I would like to read and would enjoy! Thanks and good luck
(Bonnie Capuano 8:37am May 19, 2013)
I like steady paced books. But when a book is too long, i.e. I read one that was just at 1000 pages, I get annoyed. All I could think is where was the editor.
(Pam Howell 8:42am May 19, 2013)
Books that keep me interested and captivated are steady and
have captured my interest with great writing and realistic
characters in a memorable situation.
(Sharon Berger 10:56am May 19, 2013)
I don't mind slower paced books as long as there is enough to keep my interest.
(Sandy Giden 12:30pm May 19, 2013)
Your book sounds like one i would like to read. Thanks for a chance to win.
(Amy Milne 2:09pm May 19, 2013)
I
(Kent Cook 2:24pm May 19, 2013)
Most of the books I've read lately are slower-paced stories. I do like to know the descriptions, backgrounds, and details about all the characters. I think if they're too fast-paced, they tend to pass over things, leaving the reader wondering when and if you'll find out these details. I'm sure I'd enjoy reading your cozy, romance mystery to find out how I'd like the way you write.
(Linda Luinstra 4:32pm May 19, 2013)
Sorry but I prefer my reading fast paced. It doesn't need car chases and explosions but just simple old fashioned suspense. A well written who-dun-it any day.
(Janis Milford 5:27pm May 19, 2013)
I enjoy both fast paced and slower paced stories depending on my mood.
(Mary C 7:52pm May 19, 2013)
My personal preference is to keep and ebb and flow in a book and then perhaps throw in a bigger rush and then back down. I think it is important not to get complacent in timing and mix it up for however your story is progressing but there is a need to give background information/depth to sections of a book and you cannot have hype the entire story. But I would probably agree that if you don't keep up a decent pace, most readers will become a little bored. You cannot please everyone so you have to do what you feel is best I would think.
(Cynthia Blain 8:47pm May 19, 2013)
Lately its been kind of both. I switch from relax storylines to suspense thrilling
stories. It all depends on my mood. Today I am reading a slow pace easy going story, but
after this book I might go for some fast paced page turning novel.
(Lazydrag0n Puff 11:01pm May 19, 2013)
Yes, I enjoy the keep it up type of books that keep a person
wanting to read more and more and keep you on the edge of
your seat too. Thank You for the fantastic contest. Sounds
like a great book to read and win too. Thanks, Cecilia CECE
(Cecilia Dunbar Hernandez 11:45pm May 19, 2013)
I enjoy both a fast paced book and a laid back more leisure book, it just depends on my mood and where things are in my life. If a book is too descriptive and I'm running in the fast lane, I find myself simply scanning and not reading as much as I normally would if I wasn't in a rush. However there are some authors that take it a little too slow and it doesn't seem to add to the story but in fact detract from it.
(Tracie Travis 3:42am May 20, 2013)
I recently was reading a book that took almost 100 pages to set up the plot and mystery. I was about to give it up but my friend said, "Keep reading. It gets better." She was right and it turned out to be one of the best books I ever read.
(Kathleen Yohanna 4:38am May 20, 2013)
I like both, but I do prefer a book that keep my heart rate up
from the opening page.
(Mary Preston 5:28am May 20, 2013)
I read a variety of books. The thing I do is read EVERY day. I don't
understand people who don't read. As far as fast or slow paced, I admit to
reading on iPad or Kindle, but I do miss reading real books. But with my
Kindle I can easily take in my purse and read anywhere.
(Susan Falkler 8:30am May 20, 2013)
I love mysteries and thrillers using my Kindle Fire HD, and especially fast paced books. Please keep writing such good ones that you do.
(C Culp 9:18am May 20, 2013)
well i have read a few in just a few days i dont mind it if
the book is a little lengthy as long as it doesnt become
slow or get off the main story. and if i think another person
commented above said if it keeps my heart rate up. i love
those kind of books love the romance in the books
(Denise Smith 9:47am May 20, 2013)
Some books just end too soon for me...if it holds my interest
and has plenty of action...i hate to come to the end.
(Mary Hay 10:32am May 20, 2013)
I read to relax so I don't mind a slow paced story as long as it is interesting.
(Rita Wray 10:43am May 20, 2013)
Great story line. I like to read a varity of book, as long as they hold my interest.
(Sheila True 11:16am May 20, 2013)
I'm usually rushing around all the time so I like a book that slows me down a litte.
(Sue Farrell 11:17am May 20, 2013)
I like to mix up my reading - some books with laid-back stories and others with don't stop til you drop pace. And isn't it great that there is always such a variety of books and authors from which to choose - and, of course, so little time to get them read. Your book sounds delightful. Thanks for the chance to win. Best of luck with it!
(Nancy Reynolds 11:25am May 20, 2013)
It depends upon my mood as to what type I want to read. On certain days, a slower paced one is fine as long as the story is interesting.
(Anna Speed 11:29am May 20, 2013)
Yes, I enjoy the keep it up type of books that keep a person
wanting to read more and more and keep you on the edge of
your seat too. I would really love to win!!! Thank You for
the fantastic contest. Sounds
like a great book to read and win too. Thanks, Cecilia CECE
(Cecilia Dunbar Hernandez 11:42am May 20, 2013)
I enjoy a book that keeps going at a pretty good pace. It makes it hard to put the book down and lose interest. I read something everyday, so I want to use the time I have enjoying what I'm reading.

Keep up the great writing!
(Sandie White 12:02pm May 20, 2013)
It also depends on my mood and the weather. I do not read a fast paced at nightime so I can sleep.
(Leona Olson 12:08pm May 20, 2013)
I'm a fast reader so as long as the story keeps my attention,
I don't mind a slow pace or fast pace. Usually if it is a fast
pace, I can complete it in one sitting and the slower pace
ones it's usually 2 days. Thanks for the opportunity to win
your book!
(Amanda Ray 12:14pm May 20, 2013)
I like a fast-paced read. If a slower paced story, but really
good I'll like it. I guess it just depends, but overall I
would have to say fast-paced is where it's at.
(Priscilla Pomeroy 12:21pm May 20, 2013)
I love reading most all genres and I love reading slower-paced books as well as edge-of-your-seat excitement and drama~ it depends on my mood at the time. Thank you for the opportunity and I have added "Last Chance for Justice" to my TBR list and look forward to reading it~ It sounds Wonderful! Happy Reading and Writing~ Cheers~ Elizabeth
(Elizabeth MacGregor 12:28pm May 20, 2013)
Slow paced or fast paced doesn't matter as long as the book is interesting
(Debbie Rudder 12:54pm May 20, 2013)
love the house on the cover it could be fixed up so cute
(Carin Walker 1:49pm May 20, 2013)
Hi:
I love your cover...looks so dreamy and relaxed. I am a avid reader of romance and mystery/crime thrillers. Love to read your book.

your friend from Toronto

Sue
(Sue Leonhardt 1:53pm May 20, 2013)
As long as the story is good and the characters are well developed I don't care.
(MaryEllen Hanneman 2:51pm May 20, 2013)
There are so many BRILLIANT AUTHORS who write brilliant books time after time, I couldn't possibly keep up...but I try!
(Susan Coster 3:16pm May 20, 2013)
I enjoy fast paced stories so I don't think you should slow it down.
(Maureen Emmons 4:02pm May 20, 2013)
Just like in life, sometimes we need a "breather" to digest and comprehend what has happened. Brief respites during a story give the reader a chance to connect the dots and see the picture forming. As much as I love the fast paced parts, the "breaks" give me a chance to feel the character's working through a problem or interpreting what's been happening. Great job on both by you, by the way! Keep it up!!
(Sybil Derderian 5:08pm May 20, 2013)
As long as the book holds my attention I don't care if it is fast paced or slow as long as the story and the characters are well defined.
(Jean Patton 6:59pm May 20, 2013)
I think the story, characters and even setting set the pace. Some things
need to go a break neck speed like a thoroughbred in the Derby, some
need to meander along like a path through the woods. :)
(Penny Mettert 7:26pm May 20, 2013)
the book sounds interesting enough for me to want to read it...thanks
(Kimberly Hoefs 11:52pm May 20, 2013)
I don't think the pace matters as long as it's well-written. Sometimes I like fast-paced books and sometimes I like slower-paced one depending on my mood.
(May Pau 10:53am May 21, 2013)
IF ITS FAST PACED IT KEEPS YOU INTERESTED IN STORY. SOMETIMES IF ITS TOO SLOW YOU GET BORED.
(Shelley Summers 3:19pm May 21, 2013)
When I'm having a bad days, I like to read books that keep on going. When I need to relax, I read the slower pace books.
(Kai Wong 11:55pm May 21, 2013)
I like books that are somewhat slower paced. I like reading about different places and scenarios.
(Carol Woodruff 6:40pm May 22, 2013)
Registered users may leave comments.
Log in or register now!