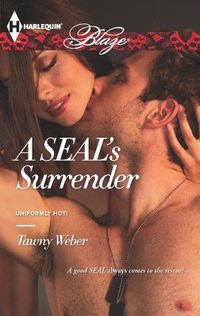 Purchase
A good SEAL always comes to the rescue
Uniformly Hot
Harlequin Blaze
March 2013
On Sale: February 21, 2013
Featuring: Eden Gillespie; Cade Sullivan
224 pages
ISBN: 0373797435
EAN: 9780373797431
Kindle: B00A9V245O
Mass Market Paperback / e-Book
Add to Wish List

Romance Erotica Sensual | Romance Contemporary
Subject: Lieutenant Commander Cade Sullivan
Status: On leave
Mission: He's home to take care of some family business.
Obstacle: Eden Gillespie. The girl who always lands in trouble...has landed in his bed!
Lieutenant Commander Cade Sullivan is the job. His commitment to the Navy SEALs is absolute—almost. Worse still, he's been summoned home, where his family is the town royalty and women vie to be one of Cade's conquests. One of them in particular....
Ever since they were kids, Cade has been rescuing Eden Gillespie. Now she's decided she owes him one heck of a thank–you—one that involves a bed, naked bodies and sweet satisfaction. But when their sexy trysts are discovered, Eden becomes a bit of a town sensation—and not in a good way. Can she convince her SEAL to risk one last rescue operation?
Uniformly Hot! The Few. The Proud. The Sexy as Hell.
Comments
8 comments posted.
I don't mind pets in stories. Most of us have them really so
why not?
(Vicki Hancock 12:01pm March 12, 2013)
Great point, Vicki. I'm glad you're okay with pets in stories :-)
(Tawny Weber 4:12pm March 12, 2013)
I think that animals enhance a book, and enjoy it when I find one in the story line. Being the owner of 2 kittens, and losing a beloved dog almost 3 years ago, I find them a source of comfort somehow, and they always find a soft spot in my heart, and manage to make me smile, as I'm reading. I think it also takes a little more work on the Authors' part to write an animal into their story line. It's one thing to write that an animal walked into the room, but to make that animal come alive, and give it more life by doing something with it by picking it up and speaking to it, for example, is a little more complicated, even though my example is a bit crude. Anyway, I do enjoy it, and am also looking forward to reading your latest book. Congratulations!!
(Peggy Roberson 7:48pm March 12, 2013)
I think that sometimes the animal can bring truth of the characters into light - is there a gentle truth about the beastly hero, is there some ugly nature that has yet to be revealed yet the dog hates senses the evil.
(Carla Carlson 9:25pm March 12, 2013)
Love animals in books... they seem to add something to a story... Two books I have enjoyed had working dogs being trained... really enjoyed seeing the interactions between the animals and the characters... the individual quirks that shine through...
(Colleen Conklin 9:49pm March 12, 2013)
I always like it when there are animals in books. They add to our lives. My favorite books that have myriad of animals in them are Lisa Kleypas's Hathaway series. The last one in the series, "Love in the Afternoon" is the most poignant of all of the series.
(Sandy Kenny 10:05pm March 12, 2013)
I enjoyed Nice and Naughty, where the cat kept wrecking Christmas decorations and stealing items. Animals are very much a part of my life and I enjoy reading about them - when it's done well.
(Clare O'Beara 10:56am March 13, 2013)
There is nothing sexier than a tough guy melting over and kitten or puppy and getting caught. I always love the touches of tenderness that are so unexpected in a story. They add a roundness to a "Hero" personality and who can resist a man who loves animals.
(Annetta Sweetko 8:07pm March 13, 2013)
Registered users may leave comments.
Log in or register now!