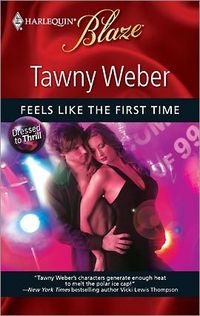 Purchase
Feels Like The First Time
Tawny Weber
Harlequin Blaze
September 2009
On Sale: September 1, 2009
Featuring: Dexter Drake; Zoe Gaston
224 pages
ISBN: 0373794967
EAN: 9780373794966
Paperback
Add to Wish List

Romance Contemporary | Romance Series
Zoe Gaston needs to unmask a mystery man for work. She also must survive her dreaded high school reunion—and the costume party that opens it. So Zoe, once voted Girl Most Likely to Die a Virgin, comes dressed as a leather-clad dominatrix…whip and all! Her scandalous costume catches a secret lover. He seems so deliciously familiar under his disguise…. He's gotta be her long-ago crush.
But Zoe is shocked to discover the sexy body she's been so thoroughly enjoying belongs to Dexter Drake—her oldest friend! And he's hiding something bigger than just his identity….
Comments
43 comments posted.
my fav costume is a red short jump suit and a tail and some little horns for my head because I fill a little devilish tonight.when I was a kid I like being a witch .to represent myself right now it will have to be a combuter now thats a hard costume but I'm allways on the combuter latly.
sasluvbooks@yahoo.com
(Stacey Smith 4:39am August 26, 2009)
Men In Black: everyone looks GOOOOOOD in a sharp suit & sunglasses. To represent myself I would have to say move over 'Suzie Homemaker'.
(Mary Preston 4:45am August 26, 2009)
I would be dressed as a butterfly, you could flutter around and never have to stay in one area for too long.
(Joanne Reynolds 6:26am August 26, 2009)
I would be dressed as a mummy. I always want to hide and want no one to see me.
(Tracey Dent 8:54am August 26, 2009)
Dressing Victorian Style, flowing dress, floppy hat, very feminine, very elegant.
(Deana Connelly 10:06am August 26, 2009)
I would love to be a vampire because they are so dangerous and sexy at the same time! :)
(Erica Paczesny 10:37am August 26, 2009)
Would go as a Cat because they are purrrrpect.
(Tamara Thomas 10:57am August 26, 2009)
I would dress as a cat since I like things to go my way.
(Maureen Emmons 10:59am August 26, 2009)
I think I'd have to dress up as Scarlet O'Hara - remember the dress she makes out of the curtains? She was a sly minx, but determined to get what she wanted. I like that kind of committment. Not only that, as a writer of historical romance, it fits the inner me.
(Dellani Oakes 12:32pm August 26, 2009)
My favorite costume is a Victorian dress, funeral veil, pointy black boots, and vampiressssss make-up.
(Melissa Keith 12:58pm August 26, 2009)
I would go as a dragonfly as they represent change
(Shay Williams 1:04pm August 26, 2009)
Sounds like a really spicy story. Will put it on my "Must Read" list.
(Debbie Santos 1:24pm August 26, 2009)
Black Leopard I could hide in the shadows.
(Jeanette Bowman 1:47pm August 26, 2009)
I would love to put on a costume that would make me slender and sexy, but I'll settle for a clown because I love to make people laugh.
(Theresa Buckholtz 1:47pm August 26, 2009)
I'd love to dress up as a fairy, with a long, wispy gown, sparkly make up, cool headress like the fairies in Lord of the Rings, and....a beautiful set of wings.
(Valerie Bongards 2:02pm August 26, 2009)
I would be a sexy vampire, I love to seduce men! :)
(Angela Winesburg 2:21pm August 26, 2009)
I'll probably go as a fallen angel with my halo on crooked.
(Jane Cheung 3:08pm August 26, 2009)
I would definitely dress up as a fairy of the forest, it would represent my ability to get into all kinds of mischief, and my love of nature =)
(Eshani Weeramunda 3:30pm August 26, 2009)
I would dress Southern Belle.
(Annetta Stolpmann 3:53pm August 26, 2009)
I would dress up as a medieval princess.
(Jenny Ng 4:12pm August 26, 2009)
I can not wait to read this book! I would dress as a masked pirate!
(Heather Hardy 4:23pm August 26, 2009)
I would dress up like a clown.
(Vikki Parman 4:24pm August 26, 2009)
If truth be known, I have a wild streak of June Cleaver in me;pearls,apron and heels!
(Dawn Raymer 4:26pm August 26, 2009)
The idea of going to a masked ball, where you couldn't tell who anyone was and no one knew it was you has always intrigued me! But a costume that would represent what I do without the obvious would be difficult; but if I went as some other facet of my life, I could go as a librarian because I love books so much!
(Kelli Jo Calvert 4:28pm August 26, 2009)
I haven't done this one yet, but a bag of jelly beans--you get a clear garbage bag and cut leg and arm holes into it; step in, fill the rest of the space with assorted balloons, and tie a bow around your shoulders/neck. :) Lovely to see you here, Tawny! ;)
(Fedora Chen 5:14pm August 26, 2009)
Great costume idea for a romance author.

For me, Lucy Ricardo, Donna Reed. For my stay-at-home-mom side, there are a few. I can't think of any for my desktop publisher side. Cover myself in printer ink and labels? :-)
(V Scott 5:25pm August 26, 2009)
After reading the excerpt, I'll definitely read this book but I sure would love to win a signed copy of any of your books. Thanks.
Lorraine
moml1@cox.net
(Lorraine Larose 5:36pm August 26, 2009)
Cat Woman!

lag110@mchsi.com
Lisa Garrett
(Lisa Garrett 5:41pm August 26, 2009)
I would like to go as the invisble (wo)man so I could sneak around and listen in on private conversations!! *snicker*
(Mary Lynn Hayes 6:01pm August 26, 2009)
When I weighed a lot less, I would pick the Cat Woman. Now, I'm not sure. Have a great day.
(Roberta Harwell 6:51pm August 26, 2009)
I'd want to wear a really sexy witch outfit. To bring out my inner witch.
(Linda Henderson 6:51pm August 26, 2009)
I'd go as Emma Peel from The Avengers because I'd like to think that like her, I'm a smart gal who can take care of herself. Um also 'cause she had such an awesome fashion sense and a seriously sweet ride(ya, I WISH I her that car)! HA!
(Jacqueline Lam 7:19pm August 26, 2009)
I love shape shifter books so I would go as a jaguar
(Diane Sadler 8:25pm August 26, 2009)
The first costume that came to mind
was Mother Goose. It was my nick
name in High School, I always seemed
to have a trail of little kids during
activities. I'm now a children's
librarian. I made a costume and just
recently got the wig. Might wear it for
Halloween at the library this year.
(Patricia Barraclough 8:44pm August 26, 2009)
Your book looks great. Let's see, costume....well, I was in the SCA, so I have all the medieval & early Renaissance gear hanging around. But my next costume is as Susan Sto Let, Death's granddaughter from Discworld.
(Arlene Medder 9:59pm August 26, 2009)
I would wear a toga and a crown of flowers. I am a Domestic goddess (a stay at home mom)
My husband even bought me a solar powered keyring that flashes goddess.
(Gigi Hicks 10:16pm August 26, 2009)
Way back then, our families couldn't afford to buy any
Halloween costumes. One of my best friends sewed 5 orange pumpkin costumes for my gang when we were in high school. We wore green tights and long sleeve green t-shirts under the pumpkins. We were all different heights & sizes so we went from large to petite small. It's been many years since high school and I don't fit my petite small any more but I always smile and get a little teary every Halloween when I take my pumpkin out of the gift box.
(Lily Chan 12:54pm August 27, 2009)
Oh man, I was in the wrong place all day *g* I kept hanging out over at the blogger Fresh Fiction blog - my oops!!

I LOVE all these great costume ideas! You guys are so clever and creative in your inner self costumes!!
(Tawny Weber 1:58am August 27, 2009)
My fave costume was a gorgeous gold sequinned flapper dress from a costume shop in Santa Barbara. She offered to sell it to me for $50 and I stupidly did not buy it. I was a college student and had no money for costumes! bummer!!
(Laura McCann 2:09am August 27, 2009)
I'd probably dress as a nurse, say WWI era. I'm a caregiver and love helping people so at a costume ball this would probably represent me best.
(DeeAnn Szymanski 2:00pm August 27, 2009)
I'd say I'd wear a Wonder Woman Costume but that's just a bit too delusional - even for me *g*
I love Feels Like The First Time! You all are in for a real treat with this book :-)
(Beth Andrews 5:06pm August 27, 2009)
If you're not marketing yourself or your photography business you'd be left behind. Gone are the days when your website could be found instantly without any marketing whatsoever. Much could be said about photography marketing as there are a variety of marketing modules available.  photography 4d
(Sam King 3:25am March 17, 2014)
Try to get rid of stress brought on by work, college or romantic relationship issues. Stress produces gastric acid, which consequently can trigger inflammation as well as heartburn discomfort. You have to eliminate demanding situations and learn how to manage your own stress more proficiently. www.sdwholefitness.com
(John Law827 5:45am May 14, 2014)
Registered users may leave comments.
Log in or register now!