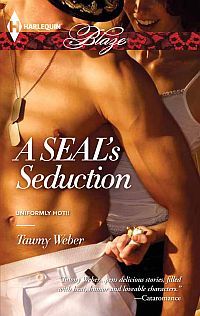 Purchase
Where one rule is broken, more are sure to follow...
Harlequin Blaze
February 2013
On Sale: January 25, 2013
Featuring: Blake Landon; Alexia Pierce
229 pages
ISBN: 0373797427
EAN: 9780373797424
Kindle: B009YLXO86
Mass Market Paperback / e-Book
Add to Wish List

Romance Contemporary | Romance Erotica Sensual
Subject: Navy SEAL Lieutenant Blake Landon
Current Status: Two weeks of enforced leave
Mission: Distract himself in any way possible
Obstacle: A woman who tempts him to break the rules...including his own!
Navy SEAL Blake Landon (a.k.a. "Boy Scout") knows the rule book inside and out. Checked. Rechecked. But when a mission ends badly, his entire team is ordered on leave. And that's when Blake sees the tall redhead whose dark eyes suggest that the rules— especially those in bed—are made to be broken.
Scientist Alexia Lane has sex on the brain—partly for work, but mostly because she needs a man who makes her girly parts do the happy dance. Her only no–no? No military dudes. But Blake's rockin' bod promises delicious pleasures, and Alexia is halfway to sexual Nirvana before she can find out he's actually a Navy SEAL.
And where one rule is broken, more are sure to follow....
Comments
19 comments posted.
When a book has a complex plotline and subplots which are all woven together by the end and make a rich, satisfying ending for the characters, then that requires re-reading. The Pillars of the Earth by Ken Follet is one such. I lent it to a friend and when she next saw me she said the book was so good that as soon as she finished it she had to start reading it again.
If a book is straight-line and simplistic then I am unlikely to read it again.
(Clare O'Beara 12:01pm January 8, 2013)
Tawny, what an interesting point! Actually I don't read my books again either - I've been through them so often when I finally send them off that I'm utterly sick of them. Having said that, though, I got an audiobook version of Seven Nights in a Rogue's Bed and I was interested to see what someone would make of reading one of my stories. So interesting - I really got some distance from the story when I heard a wonderfully deep male voice telling it to me. Congratulations on the release of A Seal's Seduction! I'm deep in revisions at the moment, but reading it is my reward for finishing!
(Anna Campbell 1:43pm January 8, 2013)
Keepers for me aren't necessarily Romances, but in a lot of cases they are. These are the books that I don't need to re-open. The plot is actually so vivid in my mind and heart, that I can't forget them!! I recommend them to my dearest Friends, so that they can experience the same sense of being completely bowled over by an Author, for there is not a better way of putting it!! Perhaps one day I will open those books again and re-read them, but I would prefer to be on the quest to find more books that would completely blow me away as well. Now I'd like to read yours, and hopefully add it to my list as one that I can't get out of my head, nor my heart!! Have a Happy and Healthy New Year!!
(Peggy Roberson 7:32pm January 8, 2013)
Clare, good point! The Pillars of the Earth sounds like a great book, too.
(Tawny Weber 1:49am January 9, 2013)
Awww, Anna :-D Thanks, first off!

Some stories are so awesome to listen to in audiobook. There is an extra
wow factor that a deep male voice can add, too *g*
(Tawny Weber 1:51am January 9, 2013)
HI Peggy and thanks :-) I'm with you on what makes a keeper. I love your
philosophy of sharing, too, and questing for more great books to read. I do
hope you check out A SEALs Seduction and enjoy it enough that you do
remember it fondly :-)

Happy 2013!! I hope it's a fabulous one.
(Tawny Weber 1:52am January 9, 2013)
I buy and keep all the hardcover books of Sue Grafton and Janet
Evanovichs Number series. I have read my Sue Grafton books at least five
times. It is so long in between her books, I occasionally go back and re-
read before the new one comes out. She has several re-occurring
characters and I like to remember the history of everyone before I read the
new one.
(Susan Falkler 11:41am January 9, 2013)
The storyline, the characters, the author - once I am wrapped into a story that is unforgettable - one that pulled me into the pages and kept me there -- KEEPER.
I have bookshelves filled with ones read and unable to release and I most definitely go back to them, the emotions that are tugged within me as each character returns to life.
(Carla Carlson 3:11pm January 9, 2013)
I have books on my shelf I will never part with. I love the characters in those books and will reread them. I have finished books and missed the characters like they were friends. But I can visit them again when I open the book.
(Rita Wray 6:42pm January 9, 2013)
I'm a keeper of books. I keep stories that are a memorable and with characters that are unforgettable. I love the feeling when the story ends that I want the characters to come back in another story or book. I love the relationship that the characters have with each other. It makes me want that kind of relationship whether it's friendship or more than friendship kind of relationship.
(Kai Wong 12:20pm January 10, 2013)
If I love a book, I keep it, and I have a book shelf full of books:). If a book makes me laugh or makes me cry, if it really grabs my emotions I keep it.
(Robin McKay 4:19pm January 10, 2013)
I'm a keeper of all kinds of romance book, contemporary romance, regency romance medevil (sic) Scottish romances.
(Carol Woodruff 6:04pm January 10, 2013)
if the book I am reading is hard to put down and I dream about it it is usually a keeper for me .
(Danielle McDonald 12:39pm January 11, 2013)
I have never used a cover over my book cover. If the picture there was so depraved that I would feel it would be embarrassing, I doubt that I would be interested in reading the book.
(Gladys Paradowski 4:00pm February 11, 2013)
I used to read a lot of horsey books as a young person and I loved judging them by the cover! A good author and publisher turned out fantastic cover art of horses.
Never had a cover I wouldn't be seen reading, but then I don't work in an office or use public transport very often. Wouldn't want people thinking I was a geek, now would we.
(Clare O'Beara 5:03am February 12, 2013)
My confession is, yes, I have used a cover - years ago, when I was in a catholic high school. Oh, how the nuns suspected what was on the pages that I would flip furiously through, even during class, hiding the book in the textbook I was supposed to reading. But never since that time.
My favorite covers were those bodice rippers, I remember Fabio and the Topaz man (which was Adrian Paul - yes, the one from the Highlander series). Some covers still have that type of feel to them and those are the ones I strangely will zoom in on.
(Carla Carlson 11:30am February 12, 2013)
I must confess that the hottest book I read was the follow-up to Gone With the Wind. I believe the name of the book is Scarlett. Bear with me, because I have been recovering from a fall that I took, and it involved a bad knock to the head. That in turn affected my memory. Anyway, as for covers, you really don't need to show a lot of skin to get "sexy" across to the public. A certain pose, with taste - a bared leg, perhaps. Maybe she's wetting her lips in anticipation as she's looking at him. There are ways of doing a cover without having to go through the trouble of putting a "skin" as you put it over the book. It's just an opinion, or idea. I've read many books over the years, without revealing my age, and am not insulting you by any means, but I'm sure you're a good writer, and would love to read your book. I've scanned some authors who put a "sexy" book together, and it made me laugh instead, so I just put it back on the shelf, and grabbed something else. Your cover is well-done, and can stay tasteful without having to put a bag on it.
(Peggy Roberson 3:30pm February 12, 2013)

(Janice Black 10:14pm February 12, 2013)
I went to a book signing with 2 romance authors who each took a bed and followed it through separate centuries in Once Upon a Pillow. The cover for one of their books had too many hands on the guy and got by the graphic designer and gave us all a laugh. Now I look for extras on the covers. I do not think covers over the book cover are necessary. I like picking up books and try to figure out the clues in the cover and if they match the story between the pages.
(Alyson Widen 10:39am February 19, 2013)
Registered users may leave comments.
Log in or register now!