A sexy guy in a uniform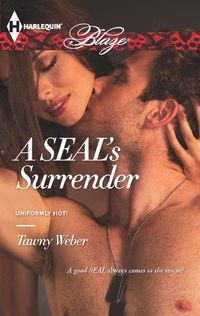 A good SEAL always comes to the rescue
Uniformly Hot
Harlequin Blaze
March 2013
On Sale: February 21, 2013
Featuring: Eden Gillespie; Cade Sullivan
224 pages
ISBN: 0373797435
EAN: 9780373797431
Kindle: B00A9V245O
Mass Market Paperback / e-Book
Add to Wish List

Subject: Lieutenant Commander Cade Sullivan
Status: On leave
Mission: He's home to take care of some family business.
Obstacle: Eden Gillespie. The girl who always lands in trouble...has landed in his bed!
Lieutenant Commander Cade Sullivan is the job. His commitment to the Navy SEALs is absolute—almost. Worse still, he's been summoned home, where his family is the town royalty and women vie to be one of Cade's conquests. One of them in particular....
Ever since they were kids, Cade has been rescuing Eden Gillespie. Now she's decided she owes him one heck of a thank–you—one that involves a bed, naked bodies and sweet satisfaction. But when their sexy trysts are discovered, Eden becomes a bit of a town sensation—and not in a good way. Can she convince her SEAL to risk one last rescue operation?
Uniformly Hot! The Few. The Proud. The Sexy as Hell.
Excerpt
"DO YOU DO THESE THINGS just to keep me in practice?" Cade asked, grinning at his favorite perpetual–victim, her silky brown hair a dark curtain over a face he knew would be sliding into a sheepish smile.
Eden Gillespie always looked sheepish when she had to be rescued. Something, if he'd ever considered it, he'd have figured she'd have outgrown. He eyed her legs, smooth and bare all the way to the top of her hot pink panties thanks to the way her dress was hanging. Her arms were wrapped around the tree limb and one foot dangled while the other was caught in a snarl of branches and leaves. Clearly he'd have figured wrong.
"Consider it my welcome home present," she muttered, blowing a puff of air so her hair cleared enough that he could see the resigned amusement in her big brown eyes.
That was one of the things he'd always admired about Eden. She could laugh at herself. So many of the girls he'd grown up with, and the women he'd dated for that matter, took themselves and life way too seriously. They were so worried about controlling the impression they made, they didn't let themselves just live.
Without thinking, his eyes shifted back to Eden's legs. Long and sleek, they wrapped around that big, hard branch. He frowned at the scrapes and faint reddening of her tender flesh, for the first time ever, tempted to kiss away a boo–boo. All the way up to her panties. Practical cotton, he noted, his mouth going dry, but in a fun sassy color. Since she was face down on the branch, the curve of her butt was perfectly highlighted in that pink fabric. His fingers itched to touch, to see if her curves were as firm as they looked.?Whoa. Not cool, he lectured himself. Lusting after the sweet girl next door was walking an awfully close line to settling down. Nothing wrong with it in the big picture, but in his personal rulebook? Totally out of the question.
"Want some help?" he offered, wondering how many times now he'd had to hurry these rescues along because of a hit of inappropriate lust. After all, he was pretty sure he'd been hauling her out of scrapes since his pre–teen days. But it'd only been since that rescue, when he'd seen her naked, that the sight of her made him instantly horny. He sighed with relief. There, now he was only a standard guy, not a weird pervert with a superhero complex.
"I can do it," she muttered, tugging her foot to try and loosen it from the branch. Her shoe, a cute little black strappy thing, was good and stuck. She sighed and slanted him a rueful look. "But maybe you could just unhook my shoe for me?"
Cade didn't bother arguing. He reached up and pulled the twigs from her foot. Then he wrapped both hands around her surprisingly narrow waist, easily lifting her from the overhead branch. It was like doing a military press, he thought with a grin as he lowered her body toward the ground.
Except he hadn't counted on her shocked reaction. She gasped, struggling a little as if wanting him to let her go. Since he wasn't about to drop her three feet to the ground, he shifted. Her breasts skimmed his chin. He froze. Other than to gasp and grab onto his shoulders for support, so did she.
Cade had felt the same energy pounding through his body when he held a live grenade. Danger, excitement, all senses on full alert.
Wrong, his brain screamed. Eden was the sweet girl next door. The same girl he'd been rescuing for years. She wasn't supposed to inspire this degree of lust. The kind that made him want to take her, right there against the tree. He didn't care that they'd only said a dozen or so words to each other in years, or that her friend was over there, face pressed against the window of the wrecked car, watching.?It was neither of those things that had Cade ignoring the hot need in his belly, or his body's demand that he taste her, touch her.?It was the flutter of Eden's lashes. The way her pulse trembled in her throat. The tiny trembles of her fingers where they dug into his shoulders. He, and his wicked desires, were out of her league.?So, nope. Not giving in to the need.?But that didn't mean he couldn't enjoy himself up to that limit line.
Start Reading A SEAL'S SURRENDER Now

Our Past Week of Fresh Picks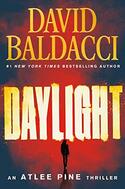 DAYLIGHT
by David Baldacci
Featured as Fresh Pick on January 17, 2021
FBI Agent Atlee Pine's search for her sister Mercy clashes with military investigator John Puller's high-stakes case, leading them both deep into Read More »
A creatively conceived thriller, skillfully executed, captivates the imagination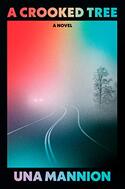 A CROOKED TREE
by Una Mannion
Featured as Fresh Pick on January 16, 2021
A haunting, suspenseful literary debut that combines a classic coming of age story with a portrait of a fractured American family dealing with the fallout Read More »
A Haunting Story, highly recommended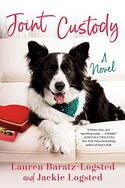 JOINT CUSTODY
by Lauren Baratz-Logsted, Jackie Logsted
Featured as Fresh Pick on January 15, 2021
A mischievous dog takes matters into his own paws when his beloved owners split up in this offbeat romantic comedy. The Man has custody Monday Read More »
A Delightful Story!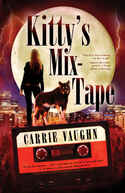 KITTY'S MIX-TAPE
by Carrie Vaughn
Featured as Fresh Pick on January 14, 2021
The final installment of the bestselling Kitty Norville series showcases the paranormal escapades of Carrie Vaughn's fan-favorite werewolf talk-show host. This Read More »
The bite-size tales of vampires and werewolves you've been looking for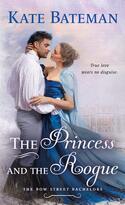 THE PRINCESS AND THE ROGUE
by Kate Bateman
Featured as Fresh Pick on January 13, 2021
A princess in disguise is forced to live with a rogue in order to protect her from danger in this fun, sexy regency romance from Read More »
After faking her death, Princess Anastasia flees to London in the hopes of creating a new life.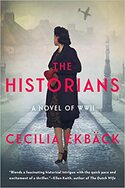 THE HISTORIANS
by Cecilia Ekback
Featured as Fresh Pick on January 12, 2021
The Secret History meets The Alice Network in this riveting tale of murder and conspiracy in Sweden during WWII by critically acclaimed author Read More »
As students, they challenged with words; now, with death!
THE THIRD TO DIE
by Allison Brennan
Featured as Fresh Pick on January 11, 2021
An edgy female police detective…An ambitious FBI special agent. Together they are at the heart of the ticking-clock investigation for a psychopathic Read More »
Can you count to three - a serial killer has a timetable to keep!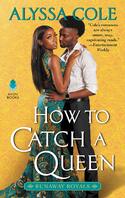 HOW TO CATCH A QUEEN
by Alyssa Cole
Featured as Fresh Pick on January 10, 2021
An arranged marriage leads to unexpected desire, in the first book of Alyssa Cole's Runaway Royals series… When Shanti Mohapi weds the Read More »
A modern-day fairy tale! A sexy, royal romance.