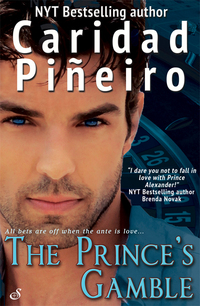 Purchase
Entangled
November 2012
On Sale: November 13, 2012
Featuring: Kathleen Martinez; Alexander Ivanov
ISBN: 001572879X
EAN: 2940015728798
Kindle: B00A9XN2LC
e-Book
Add to Wish List

Prince Alexander Ivanov is scrambling to save his reputation and his livelihood. One of the Russian Nights Casino's hostesses has disappeared, and his business is suddenly under investigation by the FBI for associations with the mob and money laundering.
Special Agent Kathleen Martinez has no patience with rich, entitled aristocrats, especially one like Alexander Ivanov whom she believes is involved in the vicious human trafficking ring which she'd tried—and failed—to shut down two years earlier. With a second chance to bring him to justice, she goes undercover in the casino, but instead of facing the villain she expected, she finds herself battling a sizzling attraction to the man.
Now, forced to work together to trace the source of the illegal activities, the danger—and the passion between them—grows out of control, and they slowly begin to realize the biggest danger isn't to the casino, it's to their lives…and to their hearts.
Comments
9 comments posted.
Well done on your efforts for the relief fund. The devastation will take a long time to clear and I am sure many people are going to be out of their homes for months to come.
(Clare O'Beara 8:47am November 26, 2012)
What a great setting! And a wonderful charitable action!! The bonus is a book with a prince and a HEA ending. Definitely getting the word out.
(Carla Carlson 9:38am November 26, 2012)
What a giving spirit this holiday season for those truly in need.
(Alyson Widen 8:07pm November 26, 2012)
I think thats so awesome of you to help the relief effort of hurricane sandy. Our red cross chapter here in tallahassee went up there with supplies and i gatherd blankets that I wasn't using that were in good shape and winter coats that my kids and I aren't wearing anymore and some other things. I know from exiperence on losing belongings from a hurricane so everything is so helpful and very appreciated, I know I was for we losted everything...and people were so kind..I don't have alot of money but love to give back when I can. It sure makes me feel so much better...
(Carole Fiore 10:17pm November 26, 2012)
Thank you all for coming by! Sorry I'm so late to visit but I
was in transit to Canada for work. I appreciate you taking
the time to come by and to spread the word! I loved Prince
Alexander in this story. He was so human and so caring. I
hope you'll like him as well.
(Caridad Pineiro 11:18pm November 26, 2012)
What a wonderful thing to do! Your book sounds awesome, I'm on my way over to check it out!
(Christine Mead 6:06am November 27, 2012)
As a Northeastener I want to thank you for your efforts toward the victims of
Sandy. We were lucky as to have only minor problems. From what I have read
some people are still without power. Your books are great but then so are you!
Thank you again.
(Sandra Spilecki 11:38am November 27, 2012)
What a lovely tribute & way to help out. Here on the Mississippi Gulf Coast, we are very familiar with the aftermath and recovery associated with hurricanes, and our hearts go out to the victims of Sandy who are experiencing the difficulties of recovery in winter conditions we never see.
(Kim Giardina 2:41pm November 27, 2012)
This is such a wonderful thing you are doing! Thanks Caridad!!!
(Diane Sadler 7:25pm November 27, 2012)
Registered users may leave comments.
Log in or register now!