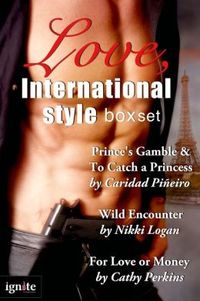 Purchase



Entangled Ignite
February 2014
On Sale: January 27, 2014
500 pages
ISBN: 1622664620
EAN: 9781622664627
Kindle: B00I1W23PE
e-Book
Add to Wish List


Romance Contemporary | Romance Anthology

The Prince's Gamble by Caridad Piñeiro

Prince Alexander Ivanov is scrambling to save his reputation and his livelihood. One of the Russian Nights Casino's hostesses has disappeared, and his business is suddenly under investigation by the FBI for associations with the mob and money laundering. Special Agent Kathleen Martinez has no patience with rich, entitled aristocrats, especially one like Alexander Ivanov whom she believes is involved in the vicious human trafficking ring which she'd tried—and failed—to shut down two years earlier. With a second chance to bring him to justice, she goes undercover in the casino, but instead of facing the villain she expected, she finds herself battling a sizzling attraction to the man.Now, forced to work together to trace the source of the illegal activities, the danger—and the passion between them—grows out of control, and they slowly begin to realize the biggest danger isn't to the casino, it's to their lives…and to their hearts.To Catch A Princess by Caridad PiñeiroUntold wealth, a loving family, a solid career in America: the only thing Princess Tatiana lacks is the one thing she really doesn't want—a husband. Unfortunately, her parents have just arranged her marriage to a royal from the old country. Are they kidding? It's the twenty-first century! Police Detective Peter Roman is a royal living incognito … and escaping a secret that has haunted his family for years. He's been quietly in love with his best friend Prince Alexander's sister for as long as he can remember. Little does she know that he is secretly the Grand Duke to whom she is unwillingly betrothed…When a series of high-end jewelry heists threatens Tatiana's exclusive charity exhibition in glamorous Monaco, the two must trap the clever jewel thief before he strikes again. In a fight for their lives, Peter's secret identity is revealed. With danger and passion increasing to the breaking point, she must decide: catch a thief...or trust the heart of her true love.For Love or Money by Cathy PerkinsWhen Holly Price trips over a friend's dead body while hiking, her life suddenly takes a nosedive into a world of intrigue and danger. The verdict is murder—and Holly is the prime suspect.

Of course, the fact that the infinitely sexy—and very pissed off—cop threatening to arrest her is JC Dimitrak, who just happens to be Holly's jilted ex-fiancé, doesn't help matters.

To protect her future, her business...and her heart...the intrepid forensic accountant must use all her considerable investigative skills to follow the money through an intricate web of shadow companies, and stay one step ahead of her ex-fiancé to solve the case. Before the real killer decides CPA stands for Certified Pain in the Ass...and the next dead body found beside the river is Holly's.Wild Encounter by Nikki LoganVeterinarian Clare Delaney is in Africa transporting endangered wild animals to a protected habitat when poachers intercept her convoy, taking Clare hostage along with her priceless cargo. Everything about Clare's dangerously sexy captor, Simon DeVries, is steeped in deception. He lies about his real activities in Zambia and the fate of the animals; he keeps his efforts to rescue Clare a secret from his partners in crime; and he's lying to everyone about his true identity as an undercover MI6 agent.

The complex web threatens to unravel when the poachers unexpectedly change their plan and Simon is tasked with getting rid of their beautiful hostage—permanently.
Comments
No comments posted.

Registered users may leave comments.
Log in or register now!