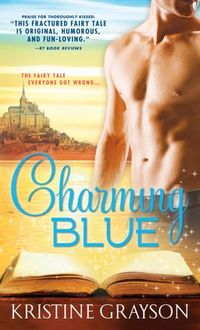 Purchase
Sourcebooks Casablanca
September 2012
On Sale: September 1, 2012
Featuring: Jodi Walters
384 pages
ISBN: 1402263740
EAN: 9781402263743
Kindle: B007ZI09CY
Paperback / e-Book
Add to Wish List

Welcome to the fractious fairy tale world of Kristine Grayson, where the bumpy road to happily ever after is paved with surprises...
He lived through ages with the curse of attracting women...who end up dead...
One upon a time, he was the most handsome of princes, destined for great things. But now he's a lonely legend, hobbled by a dark history. With too many dead in his wake, Bluebeard escapes the only way he knows how—through the evil spell of alcohol. But it's a far different kind of spell that's been ruining his life for centuries.
How will she survive this killer Prince Charming?
Jodi Walters is a fixer, someone who can put magic back in order. She's the best in Hollywood at her game. But Blue has a problem she's never encountered before—and worse, she finds herself perilously attractived to him.
Comments
45 comments posted.
Re: Charming Blue

I love reading books connected to fairy tales & Charming Blue sounds like a really fun book! I also think that your idea for a Rapunzel book sounds really interesting. Thanks for the giveaway opportunity & I hope you have a great day.
(Chelsea Knestrick 1:45am September 21, 2012)
Thank you for your hard and wonderful work. The twists to these fairy tales sound fantastic. Thank you for the opportunity.
(Holly Vanderhule 3:28am September 21, 2012)
You can't please every reader. So, just write your very best.
(Mary Preston 6:58am September 21, 2012)
Wow! That would drive me crazy to try to make everyone happy. I agree with you that you don't need a whole lot of sex in a romance novel. Your books sound great and I wish you much success.
(Renee Pajda 7:27am September 21, 2012)
Everyone has different tastes. It is impossible to please
everyone, so be true to the story you see.
(Karin Anderson 8:08am September 21, 2012)
Yor books sound like an interesting 'shake up' of the old tales. And the cover is yummy. It will be interesting to read your new book.
(Robin McKay 8:20am September 21, 2012)
Different way of looking at Bluebeard! Why not write your own versions of classic tales, after all every storyteller adds their own interpretation.
I think a reader will vary through their life in how much or little sex is considered appropriate. You have to listen to your editors; they know the current book trade.
(Clare O'Beara 8:45am September 21, 2012)
This sounds like a good book and one that I'd love to read!!!!
(Bonnie Capuano 8:46am September 21, 2012)
Thanks for a great post and congrats on the new release! I
just got the first two books and I can't wait to read them :)
(Erin Fender 10:20am September 21, 2012)
Christmas stories and stories based on fairy tales, how much better can it
get. These are all of my favorite types of romances and "quirky" makes
them sound perfect. I can't believe I have missed your books, but finding a
new author is always a little gift. Thank you for sharing
(Ann Sheiring 10:44am September 21, 2012)
I like that you are taking a different take on the classic fairytales. I cant wait to read this book and have added it to my tbr shelf. I think it is great that you take the time to read what your readers have to say. Thank you for the giveaway.
(Emily Bowes 10:55am September 21, 2012)
You'll never make everyone happy---don't even try. I also show my 50+ years when I say many of the current romance books have too much graphic sex in them---I like to use my imagination a little.
(Sue Farrell 10:59am September 21, 2012)
The story sounds like a fun one.
(Maureen Emmons 11:00am September 21, 2012)
I will definitely be checking Charming Blue out.
You can't satisfy every reader with one book. I work for a review site and we all reviewed the same book. We grade them, it has a A+, B+ and a C. All from the same review site. We all have different tastes.
(Rhonda Dennis 11:11am September 21, 2012)
The common rule is that you can please some of the people some of the time, you can't please all the people all of the time. As a writer you have a unique voice and it resonates with readers.
(Carla Carlson 11:29am September 21, 2012)
Love the cover and it makes me want to read the book even more now.
(Shelly Itkin 12:22pm September 21, 2012)
Looks like an interesting book.
(Kathy Fowler 12:43pm September 21, 2012)
I always want to see if the fairy tales could be told in a different way. I love reading them.
(Kai Wong 1:09pm September 21, 2012)
I agree about the cover looking really cool as well as the fact that it is always interesting to see all the different ways a fairy tale can be retold. I have read at least 3 versions of Beauty & the Beat and 2 variations of many others as well as stories with multiple tales in a single book & t.v shows/movies.
(Chelsea Knestrick 1:36pm September 21, 2012)
I never associated Bluebeard with fairy tales but this is a
wonderful idea!
(Diane Sallans 2:24pm September 21, 2012)
That cover is wonderful! Love the twists in your books!
(Colleen Conklin 2:39pm September 21, 2012)
Hi

I think your books look wonderful. I love fairy tales,
especially with a twist.

Thanks for the chance.
(Pam Brewer 3:20pm September 21, 2012)
LOVE YOUR BOOKS THEY ARE THE BEST. I LOVE FAIRY TALES AND ITS
AWESOME THAT SOMEONE LOVES TO WRITE ABOUT FAIRY TALES. LOVE TO
WIN..
(Shelly Caggiano 3:40pm September 21, 2012)
Charming Blue sounds captivating and delightful. Best wishes.
Fairy tales are special and wonderful.
(Sharon Berger 3:52pm September 21, 2012)
Enjoyed your blog,Charming Blue sounds like a great read.
(Sheila True 3:59pm September 21, 2012)
Growing up with three brothers who all read comic books was a great path
to the reader I am today. Thanks boys!
(Camille Rose 4:40pm September 21, 2012)
Quite a hot body on the cover:))). I am sure the spell will be broken and a very HEA. Sounds like a fun read.
(Suzanne Bischoff 4:41pm September 21, 2012)
Hi Kristine!
Love the idea of a twist in the classic fairy tales idea you have! Who doesn't love fairy tales and the memories going back to our childhood that never leave us?
As for the amount of sex you write into your romance, you can't please everyone's tastes. Some want a little tease (to be left imagining for themselves about what could be), and others want every explicit detail to read about! So for me, I'm happy in the middle-ground for a more tasteful story. Charming Blue sounds good and I'm looking forward to reading it! Love the characters names and the book cover!!
(Linda Luinstra 5:16pm September 21, 2012)
I feel that it should be up to the Author as to what goes between the covers of a book!!! After all, it's their bread and butter we're talking about here, for starters. They also have plenty of ideas in their head that they would like to get on paper and out to their fans. I'm sure that sometimes the ideas don't go over quite as well as they would like, but it happens. There are Authors who have been writing for a long time. That means that they have a good fan base, and obviously they're doing something right. If they listened to what their fans said, perhaps they would be taken down the wrong road. Everyone has a difference of opionion, and if you put them all together, they would not make for a good book. Follow your own heart, and to the rest of them, be damned!! LOL Good luck with your future endeavors. They sound quirky and wonderful.
(Peggy Roberson 5:36pm September 21, 2012)
I love books based on fairy tales!
(Marcy Shuler 6:56pm September 21, 2012)
I tend to breeze over the sex parts now and get on with the story, but then I'm 51. I do like your books and hope you continue to write in the same style.
(Lena Lee 8:19pm September 21, 2012)
Rapunzel! Yay!! Can't wait! And of course it will have the right amount of sex ; )
Grown up fairy tales are the BEST!!!
And even though Tank has a great following why not all three? Tank, Ramon and
Gunther? I am ready for any and all handsome quirky heros you throw our way.
So bring it on Kristine!
(Lexi Hansen 10:10pm September 21, 2012)
Loved your earlier books, can't wait to read this one!
(Serena Polheber 10:16pm September 21, 2012)
this willhve to go on wish list i am reaer bloger i lover to read and blog on book all over the net
(Desiree Reilly 10:16pm September 21, 2012)
I love remakes of fairy tales, with an adult spin! So fun! The books sound like great reads! I hope you have more of these books to write!
(Barrie MacLauchlin 10:29pm September 21, 2012)
Certainly, everyone has different tastes. What a boring world it woud be, otherwise!
(Janie McGaugh 10:31pm September 21, 2012)
Love your books. Looking forward to reading this one
(Pat Walker 10:50pm September 21, 2012)
You do have the guts to take on stories - characters - that
others don't touch. I like the idea of revisiting Bluebeard.
(Elizabeth Krentz-Wee 11:39pm September 21, 2012)
Loved all your books! Can't wait to read "Charming Blue."
(Sharon Extine 11:57pm September 21, 2012)
I've never read any of her books. Would love to win so I can see what her writing is like.
(Jane Squires 12:57pm September 22, 2012)
Hi Kristine! You are a new author for me. I love fairytale related stories, and yours sound really good.

You can't please all the people all the time, so don't worry about it. Thanks for the giveaway!
(Cathy Phillips 11:56am September 22, 2012)
I think your books sound like a lot of fun! You can't make everyone happy, so I say to write what you love and I know that others will love it too.
(Christine Mead 7:32pm September 22, 2012)
Would love to see your books as a tv mini-series. Your books are a joy to read!
(Joanne Hicks 7:43pm September 22, 2012)
I am looking forward to reading CHARMING BLUE. It looks like a fabulous read.
(Mary Preston 8:48pm September 22, 2012)
Revising books to readers' reviews would mean nothing would get written. It's enough to have editors and a few chosen readers help make books more readable. You can not please everyone and have a cohesive story as the result. Go with your gut and write what's inside.
(Alyson Widen 5:48pm September 26, 2012)
Registered users may leave comments.
Log in or register now!