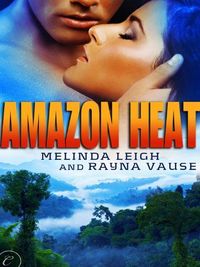 Purchase
Carina Press
January 2012
On Sale: January 9, 2012
Featuring: Logan Spencer; Elizabeth DeMarco
ISBN: 1426893027
EAN: 9781426893025
Kindle: B00699QQCM
e-Book
Add to Wish List

Romance Suspense | Romance Paranormal
2 years ago...
Driven by grief to find a cure for cancer, Elizabeth DeMarco left Logan Spencer to accept a position on a research expedition to the Amazon rainforest. Kidnapped by guerrillas, she was saved by a secret all-female civilization, the last of the ancient Amazons. But Elizabeth discovers she's traded one form of captivity for another.
Today...
Logan never stopped searching for Elizabeth. While consulting in the remote Brazilian interior near where she was kidnapped, Logan suffers what should be a fatal fall. Near death, he's collected by the Amazons and magically healed. Elizabeth is the first person he sees as he wakes.
But there's no time for a joyful reunion. The Amazons' mystical medicine is rapidly changing Logan. They want his DNA and plan to take it—and then kill him. Logan and Elizabeth must escape before dawn or Logan—and their second chance at happiness—is doomed.
Comments
39 comments posted.
Re: Amazon Heat

Novellas can be great. Often one doesn't really have the time to read a longer story, but still want to read. The novellas I have read have proven very satisfying and your Brazillian rain forest setting adds an interesting part to your Amazon Heat novellas.
(Gladys Paradowski 1:38am January 23, 2012)
Novellas are cool - good changes from longer-length stories and just as good!!
(Felicia Ciaudelli 5:36am January 23, 2012)
I can't say that I'm a huge fan of novellas. It seems like you just start to get into the book, and it's over. I'm the type of person that likes to really hunker down with a book and a cup of hot cocoa, curl up on the sofa, and know that I'm going to be taken away to another place for at least a couple of days if the story is really good!! Yes, I've even been known to read the big, thick books that others pass over on the shelves. Sometimes those are the best ones!! That doesn't mean I wouldn't read one - especially if one was recommended to me. Yours sounds like it would be a real page-turner. Congratulations!!
(Peggy Roberson 6:50am January 23, 2012)
Hi Gladys,

I agree novellas can be very satisfying. Some times they are all I have the time and attention span to get read. Thank you. Melinda and I had a lot of fun researching the rain forest for this story we look forward to going back to this world. In fact book 2 is already in the works.
(Rayna Vause 9:17am January 23, 2012)
I agree, Felicia! Thanks for stopping to chat.
(Rayna Vause 9:25am January 23, 2012)
Thank you, Peggy! Melinda and I wanted to create something fun and action packed when we created Amazon Heat.

I can appreciate that for some there's just not enough meat a novella for them to sink their teeth in and enjoy. That's why I really like novella series. They're short and sweet, and you get to revisit favorite characters.

Thanks for stopping in.

Rayna
(Rayna Vause 9:46am January 23, 2012)
I like books in a series--but often have a hard time finding the time to read so I would would be interested in novella series.
(Sue Farrell 10:25am January 23, 2012)
First it sounds like a great story that you both should have no problem writing many more adventures for the Amazons. As far as novellas go I love reading them. I just finished several novellas recently and I really enjoyed both the short length and just how much story was crammed into it.I also love novels, but your right sometimes I want to settle in with a long novel. Still other times I want to read something a bit shorter, especially when I know I wont have time to read for several nights. That's when a novella is the best. I can not wait to read Amazon Heat and all sequels that may follow.
(Tiffany Tucker 11:28am January 23, 2012)
Gladys & Felicia, I'm so glad you like novellas as much as I do. I also don't always have time to dive into a bigger book.
Peggy, I can appreciate your love losing yourself in a full-length book. Novellas can be fun, too. I like them when I know I don't have a lot of time to set aside.

Sue, that's exactly what I like about having a few novellas on-hand.
(Melinda Leigh 11:34am January 23, 2012)
Your book sounds intriguing. I'd love to win a copy. Best of luck with it - and happy 2012.
(Nancy Reynolds 12:01pm January 23, 2012)
Hi Sue,

I'm right there with you. If it comes to reading something short vs. not reading at all because of time constraint I'll take the short.

Hi Tiffany,
I've read shorts exactly like you've describe. There is just so much packed into a tight space that you aren't left want except for maybe wanting the sequel. I hope you enjoy Amazon Heat. Thanks for stopping in.

Thanks Nancy! We appreciate you stopping in.

Rayna
(Rayna Vause 12:39pm January 23, 2012)
When time is limited I enjoy novellas or when an author adds a short story to one that exists... thanks for sharing about Amazon Heat!
(Colleen Conklin 1:22pm January 23, 2012)
Tiffany, If you love a lot of action in a tightly written novella, you're going to love Amazon Heat. That was our goal.

Nancy, thanks for stopping by today.

Colleen, I love novellas when I'm busy too.
(Melinda Leigh 1:39pm January 23, 2012)
HI RAYNA! I DO NOT LIKE THEM AS I FEEL IF LESS THAN 80
PAGES I FEEL CHEATED, AND SOME TIMES I WISH IT WAS A LITTLE
LONGER
(Linda Bass 2:09pm January 23, 2012)
I love novellas for when I haven't got the time to read a
hefty tome :D Besides a good novella is as enjoyable as a full
length novel as long as the story feels finished.
(Ilona Fenton 2:20pm January 23, 2012)
I love novellas. I especially love series because it takes longer for the plots and stories of the lives of those people to end. I feel that novellas are too short. I always like to read something and have it continue. For some reason, for me, it's a little disappointing for the story to end. I hope that I can read your books. You sound like a great author. Hope you have a great day and continue writing. :)
(Meghan Anderson 2:48pm January 23, 2012)
Linda,

I can appreciate that. Not everyone enjoys shorter stories. Amazon Heat however falls into your page count criteria. LOL! Thanks for stopping in.

Ilona,
I totally agree with that view point. For us, felt right as a short. We put a lot of action and emotion in a quick fast read. Thanks for stopping by today.

Rayna
(Rayna Vause 2:59pm January 23, 2012)
Rayna, I will read novellas, however, I am not as fond of them as a full-length book of over 300 pages. Novellas may be something people would enjoy on their e-readers. I think authors that have a good story to publish and can't come up with a longer story, this is a good idea to do a novella, because some enjoy a quick read while traveling or waiting in a doctors office, and for busy people on-the-go, even sitting in the car waiting (that's when these stories are convenient and kill the boring moments)! A series may not go over as well as full-length novels do, but that's only my point of view. Thanks for the excerpt, I enjoyed it and much success with your new novella!
(Linda Luinstra 3:57pm January 23, 2012)
I love series. Usually, I prefer the series to be full legnth books with maybe a novella thrown in for the fluffy stuff. I have read a couple of novella series that I really enjoyed. How short is too short? Well, if I can read it while I am having my lunch break, it's probably too short. If it is so short that it doesn't need chapter break, it is probably too short. If, when I get done reading it, I shake my ereader and wonder if the book downloaded wrong, it's probably too short. I recently read a short story that was part one of a serial short story. What it amounted to was I purchased each of the 3 chapters separately. I won't make that mistake again. Each story was too short and when strung together it was barely novella legnth and each installment was .99. In the end, to high a cost for so little content.
(Jennifer Beyer 3:59pm January 23, 2012)
Novellas are fun to read. Books in a series gives me something to look forward to in reading.
(Sheila True 4:12pm January 23, 2012)
Linda Bass, Amazon Heat just makes your cut at about 90 pages. Whew!

Ilona, definitely. Novellas are great for us busy folks.

Meghan, being in a series does make a novella more exciting, doesn't it?

Linda Luinstra, I like both novella and full-length books, depending on my mood and how much time I have.
(Melinda Leigh 4:25pm January 23, 2012)
Jennifer, don't worry. I doubt you'll finish Amazon Heat on your lunch break. And I'm sorry you've had a bad experience. You have to be careful with "bargain" ebooks. I've gotten some break books on sale, but I've downloaded some disappointments as well.

Sheila, you think like we do. We're trying hard to finish book 2.
(Melinda Leigh 4:27pm January 23, 2012)
I like novellas. A quick escape from the day to day is always nice.
(Carla Carlson 4:53pm January 23, 2012)
I think a novella might be an interesting way to "launch" new characters, but I think I would like to have a full length novel to get to really know him/her/them. I love series books. It gives me the opportunity to revisit characters that I become attached to. It is kind of like visiting someone you haven't seen in a while...it is kind to keep in touch.
(Robin McKay 5:24pm January 23, 2012)
Novellas are great - for a bridge between novels, as something quick to read while waiting on a completely different novel, as a way to "meet" a new-to-you author. I've never read series novellas - sounds interesting!
(Kelli Jo Calvert 5:36pm January 23, 2012)
Jennifer, Amazon Heat is definitely not a lunch break read. Sorry to hear
you've been burned. I've read a couple myself where you get to the last
page and think "That's it? Seriously.". I've read a few really good series
novellas as well. I think they can be a nice way to have numerous quick
visits with the characters.

Carla, I agree. Thanks for stopping in.

Robin, I love series too. I'm especially fond of books that feature the same
characters, but as long as the characters from book one ply a roll I'm
happy. That's the fun part oh the Amazon series. Book one's characters I'll
definitely appear in book two.

Kelli Jo, I have to agree. Sometimes a novella is a great way to get run a
new to you author. It's not as time consuming and generally less expensive.

Thanks for stopping in everyone.

Rayna
(Rayna Vause 6:47pm January 23, 2012)
I greatly enjoy series, and one of novella length is fine.
Blessings,
Marjorie
(Marjorie Carmony 7:08pm January 23, 2012)
Carla, I agree totally.

Robin, I love revising characters, too, both in books I write and those I read.

Kelli, we've never written series novellas, but it's proving to be really fun.

Marjorie, me, too. I love full-length series as well.
(Melinda Leigh 7:18pm January 23, 2012)
I do enjoy novellas. I would love a novella series. Dependent upon the story and how it moves, 50 pages give or take ia about the shortest story I enjoy most.
(Lisa Kendall 7:27pm January 23, 2012)
Anthologies are a favorite. Novellas are the perfect length for a quick read. I have read them of vartying lengths. I don't mind short ones (60 pages or so) as long as the characters and plot are developed and handled well.
AMAZON HEAT sounds good. I hope its release is going well.
(Patricia Barraclough 8:51pm January 23, 2012)
wow love the sound of this would love to win one or if i dont
def on the TBR pile !!! sounds hot
(Rachael Kennedy 9:57pm January 23, 2012)
I love the story line of this novella. This sounds like something that I would definitely enjoy and remember.
(Angelina Daniels-Shaw 10:00pm January 23, 2012)
Interesting timing, I just read a few shorts and was really disappointed that there wasn't more story developed because the characters were really likable. :( Normally I enjoy a quick read because there are times that I start a book and it takes me forever to finish it because of being pulled in too many directions. I think a series novella could be just what the busy calendar ordered.
Good luck and happy writing!
(Tracie Travis 10:54pm January 23, 2012)
if i like a story it doesn't matter but there are alot of series i love and can't get enough!!!
(Jennifer Beck 11:01pm January 23, 2012)
I like novellas when I want to read a story that will satisfy me quick when I get really busy and don't have hours and hours to just sit. I also like them when I want to try a new author or genre just to get a taste.
(Patti Paonessa 11:08pm January 23, 2012)
Lisa and Patricia, I think 50 pages works as long as you get a well rounded
story.

Rachel & Angela, thanks so much. I do hope you enjoy Amazon Heat.

Tracie, I think the fun part of a novella series is that you get to revisit those
characters that you enjoyed in short format.

Jennifer, I totally agree. Thanks for stopping by.

Patti, I agree. Sometime you just want something short when your trying
new to you authors or to feed the reading need when your short on time.

Thanks for stopping in.

Rayna
(Rayna Vause 2:50am January 24, 2012)
Thanks to everyone who stopped by and commented today. Sounds like most people enjoy novellas, especially when time is tight.
(Melinda Leigh 9:35am January 24, 2012)
Novellas remind me of the stories in the Reader's Digest - easy to read and palatable.
(Alyson Widen 7:23pm January 24, 2012)
I prefer a full length book. I usually find with novellas I am just getting in to the story & it ends.
(Mary Preston 8:34pm January 24, 2012)
Registered users may leave comments.
Log in or register now!