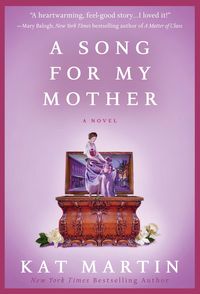 Purchase
A Song For My Mother
Kat Martin
A compelling story of love, loss, hope and second chances
Vanguard
April 2011
On Sale: April 5, 2011
Featuring: Winnie Madox; Reed Bennett; Marly Hanson
224 pages
ISBN: 1593156561
EAN: 9781593156565
Kindle: B004P8K1W0
Paperback / e-Book
Add to Wish List

Years after running away with her boyfriend in her junior year of high school, Marly Hanson returns to Dreyerville at the request of her daughter, Katie, who has recently been treated for brain cancer. Katie has never met her grandmother, Marly's mother, Winnie. But Marly and Winnie have been estranged for years and confronting the past for each of them is painful. The homecoming is bittersweet, but revisiting the conflict between them is crucial if Marly and her mother are ever to find the bond they shared before Marly left Dreyerville.
To complicate matters, living next door to Winnie is handsome sheriff and widower Reed Bennett, and his son, Ham, who is close to Katie's age. Ham and Katie become fast friends, while their parents find their attraction to one another going deeper than mere friendship. But Marly's time in Dreyerville is limited and risking her heart isn't something she's willing to do.
As the days slip past, and though she tries to avoid it, Marly and Reed become more deeply involved. Can she risk loving the handsome sheriff and give up the the futer she worked so hard to forge for herself and her daughter? Can she make a life in Dreyerville after what happened all those years ago?
Will Marly finally realize that her true destiny and ultimate happiness lie in coming to terms with her past?
Videos
Comments
36 comments posted.
My mother loved to write, too, though I don't think she ever had a novel in mind. She preferred writing thoughtful articles and, above all, letters. I used to have to edit the latter to make sure that she had exactly the right words and grammar. However, in the barren years after WW II, she wrote a little book about a flower wedding for me and illustrated it with black silhouette-type illustrations. For my mother's 80th birthday, we held a reunion for her family. They came from Australia, Germany, the U.S. and Canada. For that occasion, I translated the little book into English, from the original German, and my younger brother printed out an edition that included both languages and, of course, the illustrations, for each family as a souvenir of the celebration. This book and a miniature violin made by the elder of brothers when he was 12 years old are among my dearest and most prized possessions, most especially since he passed away from cancer just over a month ago.

I hope to read your story.
(Sigrun Schulz 3:16am April 9, 2011)
I was challenged by the dulcimer and conquered it well enough to play some simple tunes for my Mother before she passed away.
I certainly look forward to reading A Song For My Mother.
Blessings,
Marjorie
(Marjorie Carmony 7:11am April 9, 2011)
My mom and I have very different tastes in books. But we do swap books
occasionally.
(Beth Melito 7:40am April 9, 2011)
My mom and my cousins are constantly trading books. It is a great way to be introduced to some amazing (new to me) authors.
(Pam Howell 8:53am April 9, 2011)
Looking forward to reading this story - thank you for the opportunity to enter this contest!

[email protected]
(Katherine Reese 9:02am April 9, 2011)
I am so ready to read this story. My Mother and I had a wonderful releationship but after she passed away I still felt that I should have done more to show her how much I loved and needed her. We have one Mother and should always remember that!
(Sharon Terwilliger 10:38am April 9, 2011)
Good morning, ladies. Interesting discussion of mothers and how they influenced our lives and in lots of cases got us started reading. I loved Marjorie's comments about playing the dulcimer for her mother. How cool is that? kat
(Kat Martin 10:50am April 9, 2011)
My mom and I had very different tastes, mine more to romance novels while she loved cookbooks and history. Still, she managed to pass a few of her recipes to me that I will treasure always.
(Pamela Stewart 11:24am April 9, 2011)
I definately have you on my TBR list!! Your excerpt has me hooked!! My Sister taught me how to read at the age of 3, and I was reading Physics books. I've been a voracious reader ever since!! The past couple of years have put a bit of a monkeywrench in my reading, though. I'm a caretaker where I live, and also do a volunteer knitting class one day a week, so that takes up most of my time. I always have to have a knitting project going. My reading time is almost non-existent right now, which saddens me, because that is my form of escape. I also wanted to be a writer, but my Mother discouraged me from being an English major in college, so being the rebellious Daughter, I chose not to go. Big mistake!! Still got along great with my Mother, though, and miss her greatly. She's been gone 8 years now. I loved your posting today. Maybe one day I'll find the time to pen that book I've had in my head all these years!
(Peggy Roberson 11:49am April 9, 2011)
Interesting blog. Thank you for sharing.
(Leanna Morris 11:54am April 9, 2011)
I read one of your books last year, and since then, I've been searching for others in the bookstore. I'm looking forward to reading A Song For My Mother. The conflict between mother and daughter sounds intriguing and I know you will find a special way for them to resolve the problem.
(Anna Speed 12:06pm April 9, 2011)
Sharon--one of the themes of this book is that we need to tell family how important they are to us before it is too late. Wish I had been more oopen with my own mom.
(Kat Martin 12:37pm April 9, 2011)
Peggy-- I hate when I don't have time to read. It is my passion and my relaxation. Think you should definitely try writing that book! kat
(Kat Martin 12:45pm April 9, 2011)
Anna-- this is a very different book for me. It's a gift-sized hardcover for Mothers Day. It tackles some tough issues, but as always you can count on a happy ending. hope you enjoy! best, kat
(Kat Martin 12:49pm April 9, 2011)
SOUNDS WONDERFUL..I WOULD LOVE TO WIN!
(Silvana Moscato 1:14pm April 9, 2011)
Hi, Kat! Love your books and am looking forward to reading A Song for My Mother. Thanks for blogging with us today. Quite a tribute to your own mom. BTW, did your husband's book get published?
(Cathy Phillips 1:19pm April 9, 2011)
There is nothing more dynamic then the relationship of a mother and daughter. My mother was my best friend and is dearly missed. I look forward to reading your book.
(Joan Richard 1:35pm April 9, 2011)
Would love to win this book. I have read all of yours. Need something to cheer me up also as we'll soon be leaving the warmth of Arizona State and heading home to Washington State and the rain.
(Pam Alderson 1:37pm April 9, 2011)
This excerpt was great. Would definitely love to read thisbook.
(Pat Lieberman 3:30pm April 9, 2011)
I started to read my mothers true romance magazines until my mother took me to the pulic library. I buried myself into books, children's section then to adult novels. My moto is to everyone----read, read, read. If someone can take the time to put their thoughts on paper, we should make an effort to read what they have to say. A Song For My Mother sounds great.
(Rosemary Simm 3:48pm April 9, 2011)
hi, ya'll just back from a giant book fair at the RT Book reviews convetnion at the Bonaventura in downtown LA. unfortunatley my new book wasn't there, but the new series was there. Fun to meet so many booksellers and readers. The motto at the signing (with 1500 readers) was definitely read, read, read!
(Kat Martin 5:51pm April 9, 2011)
Cathy-- my hubby's book, Shadow of the Mast, is available as through amazon as an ebook.
Psam-- raining in Montana, too. Should be lovely in Washington soon.
(Kat Martin 5:56pm April 9, 2011)
Very touching thanks for sharing
(Dawn Staniszeski 7:05pm April 9, 2011)
Thank you for your story. It sounds touching!
(May Pau 7:06pm April 9, 2011)
Off to the Mr. Romance Pageant! should be entertaining. have a great evening. warmest, kat ps. hope you enjoy A Song for My Mother.
(Kat Martin 7:58pm April 9, 2011)
I don't know what my mothere's dreams were - I wish I had d her; there are alot f things I wished I had asked her about. I know she loved her family, so having us all happy & healthy was very important to her. I know she loved to read & that she would have loved this book.
(Diane Sallans 8:07pm April 9, 2011)
My mom read classics to me when I was little. Her sister read Alfred Hitchcock to me (to help me go to sleep?):). I have always had such a passion for reading. When my kids were younger,I told them, "You never need drugs to 'get way'....all you need is a really good book!"
(Sandy Fielder 8:21pm April 9, 2011)
I am so jealous that your at RT watching Mr Romance, drool !

I love that my daughter and I share books, we discuss the stories and even at times try to rush th other tru so we can get the book :)

Looking forward to reading your new book !

Have fun at RT !!

Kym

krym(at)fullchannel.net
(Kym Amaral 8:56pm April 9, 2011)
I'm sure my love of reading came from my mother, she always had abook handy to pick up when there was a lull in the activity.
(MaryEllen Hanneman 9:20pm April 9, 2011)
My mom and I don't get along all that well but she did get me started reading. Any time she wasn't busy with something else there was a book in her hands and I just naturally started picking them up and reading them. It started out with Regency romances, harlequins and then modern romance and fiction. After I moved out, we both continued reading and have traded books for quite a while, it is one passion that we both share.
(Denise Boyd 9:41pm April 9, 2011)
My mother did not write nor did she read; she couldn't believe it when I came home with books from the libraries, school and public, and always wondered where I got my love of reading from.
(Diane Sadler 10:16pm April 9, 2011)
My Mom and I both loved mysteries! We went to the Library every week and brought home 6 books each.
(Teresa Ward 11:31pm April 9, 2011)
me i was book nut i go to the library to torture my mom and read all the time i read up to 300 book in summer and report on them and i did win a lot of contest i still love the books and would blog on yours
(Desiree Reilly 11:46pm April 9, 2011)
I wish my mom were here to swap books once more.
(Joanne Bozik 12:54pm April 10, 2011)
I wish my Mom still read like she used to. She got me hooked on them and I still remember growing up and seeing her with a book in front of her. One of us kids would want to talk to her and she'd hold up a finger, gotta wait until that paragraph, scene, or even chapter was over because she was so engrossed. It was only natural that I'd have to start reading when I was a teenager. She'd want me to do something and I'd hold up my finger. It actually became a joke between us. My poor brother, sister, and father paying the price.
(Christina Harrison 4:36am April 11, 2011)
I would be thrilled to read this book.
(Gloria Walshver 3:37pm May 8, 2011)
Registered users may leave comments.
Log in or register now!