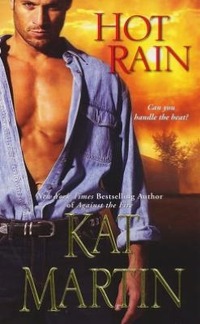 Purchase
Can you handle the heat?
Kensington Zebra
January 2012
On Sale: January 3, 2012
Featuring: Allie Parker; Jake Dawson
416 pages
ISBN: 1420123971
EAN: 9781420123975
Kindle: B006IT1YOI
Paperback / e-Book (reprint)
Add to Wish List

Other Editions
Mass Market Paperback (March 2019)
One of a kind.
Kat Martin's heroes are as rugged and tough as they come, but honor rules no matter how hot the temptation. . .
Allie Parker knows her best friend's death was no accident, but her quest to find the truth soon puts her in the wrong place—at the worst possible time. . .
An unwilling passenger on a boat carrying deadly cargo and dangerous men, her only ally is mysterious Jake Dawson, who warns her that she must play the role of his reluctant bedmate. . .if she wants to stay alive.
Under any other circumstances, she'd welcome the attentions of a man with Jake's powerful body and seductive deep blue eyes. But as Allie places her body—and her trust—in the hands of a total stranger, she wonders if this desperate gamble will be her last. . .
Videos
Comments
65 comments posted.
Re: Hot Rain

I've never tried online dating, but I have heard of a lot of successful cases. It
seems to be becoming a normal thing as people don't have as much time to go
out and look for potential dates. I would even consider trying it later down the
road if I haven't found the elusive one yet. :)
(Hyunjin Jeon 2:39am January 4, 2012)
I think dating in person is better; getting dressed up ready to meet the person you think about morning till bedtime, thes excitement and feelings that go with the whole going out for dates. It was a while ago for me but I still remember that feeling.
(Barbara Hanson 8:48am January 4, 2012)
I think on line dating is a little dangers. Who knows who is on the other line.
(Judy Ferguson 8:50am January 4, 2012)
I've never tried online dating, but these days, people are so
busy, they don't have the time to meet others the usually way.
(Joanne Balinski 9:02am January 4, 2012)
I KNOW A LOT OF PEOPLE WHO HAVE USED ONLINE DATING, SOME SUCCESSFUL SOME NOT, IT SCARES ME TO DEATH BUT I AM ALSO MARRIED SOOOO.
(Linda Scarchuk 9:18am January 4, 2012)
I tried once and met a couple of really nice guys. This was in the early 90's and was not quite as detailed as it is now. I recorded a message and then guys responded back. I went on a couple of dates. The first was with a cop and the 2nd was with a weirdo. That was the last one. The cop was nice, but he assumed he was getting lucky. Not happening on the first date, baby.
I think they are okay, but not my thing. If it works for others than more power to them.
(Chris Bails 10:13am January 4, 2012)
Online dating is a pretty scary thought to me, but I have a very good friend who has tried it and just recently got engaged to a woman he met 2 years ago online. I think if you're going to try it, you have to be smart about it - don't believe everything you read.
(HiDee Ekstrom 10:19am January 4, 2012)
Online dating was before my time --- Having said that, I think it can be a great way to meet people; however, I can't see online dating taking the place of the chemistry that has to happen between two people. I think it is easy to deceive someone with talk that is impersonal when you cannot watch how they say it. We listen to others with 80% body language and 20% what they say.
(Renee Brown 10:20am January 4, 2012)
I've never done the online dating thing, but my friend has and is now marrying the person she met!
cleaningrhouse at yahoo dot com
(Debbie Kennedy 10:24am January 4, 2012)
Never been on an "online" date. But have "met" several people online - can be a nice way to get to know someone.
(Beth Elder 10:43am January 4, 2012)
Thanks for a wonderful post! I agree... online dating is definitely making people slow down. However, the trust is a bit harder to give as people can "become" anyone they want and it's harder to fact check. So pros and cons.
(Erin Fender 10:58am January 4, 2012)
I don't think I would ever do online dating, I wouldn't trust anyone from a site like this. To many weird people out today. Your book sounds fabulous and I would love to read it.
(Gail Hurt 11:42am January 4, 2012)
I agree that nowadays everyone wants to move from hi to the bed. Online dating is a good idea- will give people time to slow down and get to know each other better. (as long as both parties are truthful) Congrats on the release Kat. Your book sounds very good, looking forward to reading it.
(Christine Arcidiacono 11:43am January 4, 2012)
I search out for a "book" I haven't yet read in your "library" please keep
writing....Happy New Year!
(Jennifer Essad 11:51am January 4, 2012)
Online dating is like any other kind of dating. Sometimes
you meet great people, sometimes (a lot of times) you meet
Players or fakes -- the only exception being that online
that they can get away with it longer...
(Elizabeth Hyatt 11:56am January 4, 2012)
I guess it really depends on what your looking for. Maybe for some people online dating works and for others not. I don't know if I would look for the love of my life online, but I don't have to, because I'm happily married. And my husband is very romantic.
(Cheryl English 12:13pm January 4, 2012)
I met many of my dates in the large office where I worked or through work friends which worked out really well then. Now that I work at home if I were dating I think I would try online---but I'd be a litte scared of who the men were that I was meeting and take more precautions when actually going out with them in person.
(Sue Farrell 12:18pm January 4, 2012)
Some people may have had success with online dating, but personally, I would find it too risky.
(Anna Speed 12:23pm January 4, 2012)
My sister has met some losers online, but I know others that have found great people... but for myself, that is not my thing.
(Colleen Conklin 12:27pm January 4, 2012)
It's not for me, but I've heard of some success stories. Just meet (once you finally do)in a public place. If it was a family member of mine, I'd probably have the individual checked out by a PI or at least do some kind of search of my own.
(Anne Muller 12:34pm January 4, 2012)
I think online dating provides another option for the dating world. We all know someone who has had terrible experience as well as someone who had wonderful experience. I am neutral as I've never used these services but if I was single I wouldn't rule them out, to each his own ;)
(Cindi Mitchell 12:36pm January 4, 2012)
this is intriguing... never considered it.
(Susan Jeffers 12:56pm January 4, 2012)
Kat, I love your books and will have to get Hot Rain.

I have been married for 38 years, so I'm not dating. Of course, back then, they didn't have online dating. I prefer the romance of actual dating, but I know it is getting very popular. My husband's cousin has already had 3 marriages after his online dating, so I'm not certain it is that good of a thing. There are too many liars and bad people out there, so it can also be dangerous. Of course, I am sure there have also been some very successful relationships out there which started that way.
(Cathy Phillips 12:56pm January 4, 2012)
I think that one has to be extremely careful with on-line dating. Printed words, as with spoken words, are not always true, but tone of voice and expressions on the face do at least offer some help in determining truth.
Having said that, Love Is Grand!
Blessings,
Marjorie
(Marjorie Carmony 12:56pm January 4, 2012)
I met my hubby, we've been married 11 years, online by chance. It took him ten days to convince me to go out with him and frankly, those ten days were pretty romantic. I actually found myself, just as if I was seeing him in person, looking forward to when his little chat box would pop up. We were fashionable before it was fashionable to meet online. I agree that a better relationship comes from talking and getting to know each other before it goes any further, that being said, I think online dating is bringing back the style of old-fashioned dating - more talk, less action - culminating in many very romantic first moments.
I only suggest before your bare your soul online, go through a service and trusts your instincts just as you would in person. My hubby and I had mutual friends which was how we met. Romance is everywhere, you just have to be open to it. : )
(Amy Valentini 1:06pm January 4, 2012)
I've been married for 38 years so I never experienced on line dating. However, if it had been around when I was dating, I don't think it would have appealed to me. I want to get to know the person I am dating, to see them as they really are. I think on line datine would allow an individual to pretend to be just about anything.

BTW I love the new cover.
(Robin McKay 1:14pm January 4, 2012)
One of my twins met her current squeeze via the internet. It's one way of using technology to your advantage and the wave of the future as more people get on board. I've been thinking about it for myself and am cautiously optimistic.
(Alyson Widen 1:14pm January 4, 2012)
I feel lucky that I've been married since the dawn of time, lol, and never had to worry about the online dating scene. Think it's pretty scary, and was so relieved that both my boys stayed clear of it too.
(Cathy MacDonald 1:33pm January 4, 2012)
I have never tried online dating. I think I would be too afraid to try it. You never know what kind of crazy people are out there. Maybe I'm just old-fashioned.
(Stacie Deramo 1:42pm January 4, 2012)
Wow, turns out on-line dating is an interesting topic. Some great comments and good advice. Though I've never tried it, the idea appeals to me, though I agree it should be done with great caution. Hope you all had a great New Year's eve and best for 2012, kat
(Kat Martin 1:55pm January 4, 2012)
I have never tried on-line dating. Been married since young,
(Debbie Ellis 2:12pm January 4, 2012)
I've been reading the excerps in my email, and this sounds like a really good book!
(Sandy Fielder 2:15pm January 4, 2012)
To answer the question: At some point 2 people have to meet for there to be a romance. I would say that online dating cannot take the place of face to face dating. :)
(Sandy Fielder 2:17pm January 4, 2012)
welli have meet my bf carl on one site and then he came and meet me and at a place were i volunteered and then we moved in with in about 3 mo and been together for now 5 year and
counting and i love t he book your write and the cover are great
(Desiree Reilly 2:18pm January 4, 2012)
Having been happily married for 35 years I know next to
nothing about online dating. My children are all against it
however. They say too many people have learnt to lie very well
online and lying face to face is much harder to do.
(Ilona Fenton 2:42pm January 4, 2012)
I really have a hard time with the online dating scenario. I have worked with a few women that it NEVER panned out for and one case where the man became a stalker. The possibility of the anonymity makes fools and liars out a surprising number of men hoping for the hook up. And I am sure this can be said for women, but please count me out.
(Marcelle Cole 2:48pm January 4, 2012)
I've been married for 34 years, so never tried online dating. It seems to me it might be dangerous. Love your books,keep on writing ! Thanks for giving me a chance to win your book.
(Linda Hall 3:18pm January 4, 2012)
It's a meeting ground even if through the net. It's getting harder to meet anyone outside your friends circle and so going through a dating site is not the worst way to meet. So long as you stick to all the common sense rules of dating , go on and find your match.
(Diane Sadler 3:29pm January 4, 2012)
I've never tried online dating, but I've had friends tell me it was
nothing but a meat market...kinda kills the romance huh?
(Deborah Rudd 3:41pm January 4, 2012)
I have two daughters, ages 23 and 21. I would be very nervous if I found
out they were meeting men on-line. I just feel that in today's society, it's
too dangerous to meet people this way. But I guess I would feel better if
the meeting took place in a very public place.
(Shelley Bagby 3:41pm January 4, 2012)
I think it is awesome. I have a friend who met not one but two wives online. His first wife died very young and they had only been married 6 months. She had a severe allergy attack and stopped breathing. He was devastated, but after a few years he tried again. He and his second wife have a wonderful little boy and they are very well suited to each other.
(Patti Paonessa 3:46pm January 4, 2012)
I am not sure about online dating. I think many have found great success with
online dating. I am just not sure it would be for me. I think the internet is a great
way to get back into touch with old friends. But the world is constantly changing
so I think it is here to stay.
(Janet Saunders 4:45pm January 4, 2012)
I met mine in highschool, I have had some friends who have met some fantastic people this way though! You never know and it certainly gives you the ability to get to chat with and know someone's personality before you even meet them.
(Darci Paice 4:51pm January 4, 2012)
I've never tried online dating. I think it's a risky way to meet someone, since there are probably more people that have hidden problems and thus, have had trouble getting dates. For the serious, genuine individuals with good intentions, it may be great if they are shy and can express themselves better on-line and find their soul-mate easier this way. You have to use good judgement and not be too quick to believe everything they say about themselves...if it's too good to be true, it probably isn't! Some just want someone to use and support them ("sugar mommas" or "sugar daddies"). I'm sure most people have seen, "America's Most Wanted"; need I say more. You can never be too trusting. For all those that have had good results with it, I'm very happy. It seems more popular than ever with so many websites for it. However, it does take some of the romance out of meeting by chance, through friends, being at the right place at the right time, at a party, etc.; the old-fashioned way. Maybe, a time-saver and good for those who don't like the bar scene and meeting drinkers. Kat, I like your books and I'm going to get these to read and covers are great!
(Linda Luinstra 5:26pm January 4, 2012)
looks like the comments are running 50/50 on for and against on-line dating. It's been a more interesting topic than I would have figured. like many of you, I've been married a long time (26 years). Can't imagine how tough it would be to meet someont these days...Had a friend who used the service well, but only met for coffee until she met someone she actually liked enough to have lunch with. Careful is definitely the answer. kat
(Kat Martin 5:31pm January 4, 2012)

(Kathleen McCluskey 5:51pm January 4, 2012)
in this day in and age you do what feels right,bar meetings are not where prople today gather. They use their iphones for everything ,so way not dating/
(Kathleen McCluskey 5:54pm January 4, 2012)
DANG KAT! HOPE YOU GET ALL THE WAY DOWN HERE!! LOL JUST
LOVE YOUR BOOKS
(Linda Bass 7:43pm January 4, 2012)
My sister in law met her hubby online and it worked for them. I met my hubby the old fashioned way....in a bar.
(Julie Parrish 7:44pm January 4, 2012)
never tried on line dating. now you can die from sex so i think it's best to get to know them and know it's safe.. thanks jen
(Jennifer Beck 7:52pm January 4, 2012)
I never done on line dating. I met my husband at work, I need to know the guy
before I will date him. I never did the bar scene either.
(Tammy Yenalavitch 8:05pm January 4, 2012)
I haven't ever tried on line dating, I have married for 34 years. Honestly though, I wouldn't want to try on line dating if I were single. You would have to be so careful these days. I am thankful that I have a wonderful husband.
(Mary Christian 8:08pm January 4, 2012)
I think it could be dangerous.
(Cheryl McEwen 8:23pm January 4, 2012)
Wow, 53 comments! You guys have such a great website, great goup of readers. Super comments. Some of you mentioned my cover--got lucky with Hot Rain, such a hunk on the front. Against the Night is next for me, out end of Feb, and it also has a fabulous cover. I hope you all enjoy Hot Rain and that you'll watch for Johnnie Riggs, Against the Night. Have a great 2012! Love you all. Kat
(Kat Martin 8:30pm January 4, 2012)
My friend met her husband at an "on-line" dating site. They have been happily together for 10 yrs.
(Tracy Wickman 9:33pm January 4, 2012)
I didn't meet my wife at an on-line dating site. I just wouldn't want to do anything like that if I was single. I think it would be too dangerous.
(David Christian 9:39pm January 4, 2012)
Actually I have never really thought about online dating, but I can definitely see your point of it being a mechanism for getting to know one another.
(Lisa Kendall 10:00pm January 4, 2012)
You are such a prolific writer. how do you do it? I fell in love with your historicals. Never did on-line dating, but 2 of sisters found current beaus that way.
(Molly Wilsbacher 10:04pm January 4, 2012)
I am old enough that on-line dating wasn't a factor or an option. I have a
nephew who met his wife online. They corresponded for a while, finally met,
and married. They have a teenaged daughter and what appears to be a solid
marriage, so I know it can work. However, I do know several people who have
not had good experiences with online dating. Some of them would not have
done well even if the relationship had developed the old fashioned way.

As long as the individuals are cautious and honest, it is as good a way as any
to meet someone. People can lie about who they are in person just as well as
on line. How many times have you heard "he/she wasn't the person I thought
he/she was."

I will be looking for HOT RAIN. I love a good romantic suspense.
(Patricia Barraclough 10:12pm January 4, 2012)
I find the concept of online dating to be interesting and fun - if both are truthful. I find that to be hard if it's all online but hopefully both parties are going with the truth!

HOT RAIN does sound like a wonderful story.
(Barbs Ferris 10:59pm January 4, 2012)
I just found you through fresh fiction and can't wait to dig in! As for online dating"? I'm a skeptic. Brad Paisley's song comes to mind- "ONLINE" Sorry there's no way to know who's lying- my bet is MOST.
(Susan Stevens 11:04pm January 4, 2012)
I Don't know if i would trying on line dating. sounds like a
great way to meet people maybe
(Ann Unger 11:17pm January 4, 2012)
I have beem married for almost 52 years good or bad. I think on line dating is not good. To dangers
(Judy Ferguson 8:41am January 5, 2012)
Can we say RECKLESS ENDANGERMENT !!!!!!!!!
(Sandra Spilecki 3:45pm January 5, 2012)
OMG talk about a hot cover can't wait to read
(Rhonda Dennis 11:50pm January 10, 2012)
Registered users may leave comments.
Log in or register now!