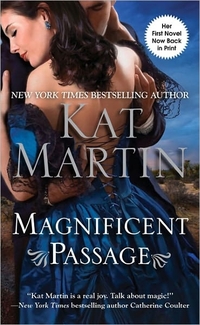 Purchase
From New York Times bestselling author Kat Martin comes the spellbinding historical romance that launched her remarkable career.
Vanguard
July 2011
On Sale: July 5, 2011
Featuring: Travis Langley; Mandy Ashton
400 pages
ISBN: 1593156979
EAN: 9781593156978
Paperback (reprint)
Add to Wish List

Mandy Ashton fled a stifling frontier existence for the glittering social whirl of Sacramento City, California's state capital, trading childhood innocence for a woman's burning desire. Though it's risky to masquerade as her flighty cousin, Julia, Mandy is determined to give her cousin a chance at happiness with the man she loves. But Mandy is hardly faint of heart—proven time and again on a journey fraught with deadly adventure and sublime temptation.
Travis Langley, known by his Indian name, Hawk, is a white man raised by the Cheyenne, a man trying to make peace with his dual heritage. The last thing he needs is a job chaperoning Julia Ashton, the California governor's spoiled daughter. But Mandy—posing as Julia—is spirited, captivating, and irresistibly sensuous. By journey's end, Mandy and Hawk have become helpless prisoners of a smoldering passion that nothing can kill—except, perhaps, the secret Mandy has guarded so carefully throughout the arduous days and passionate nights of their long, magnificent passage.
Comments
65 comments posted.
Great giveaway! Sounds like I'd very much enjoy this read.
Here's to hoping I win :-)
(Saskia Kanstinger 4:35am July 12, 2011)
Sounds like a great book.... :)
(May Pau 6:55am July 12, 2011)
I love bodice rippers; i have never been a fan of the pc police. i hope more books come out like tis
(Patricia Bennett-burshnick 7:54am July 12, 2011)
I love the historicals and especially the good ol bodice rippers!! Cant wait to read
thanks
(Julie Parrish 8:24am July 12, 2011)
I haven't really thought that the historicals I read now are written differently to a few years ago, however I see what you mean about today being so liberated and how the stories reflect this.
Love your books can't wait for Against The storm!
(Barbara Hanson 8:34am July 12, 2011)
Good point about the changes over the last 30 years in romantic fiction. I hadn't thought of that, but I tend to revisit my favorite older books.
(Pam Howell 9:34am July 12, 2011)
Great giveaway...Would love to win and read it!
(Leanna Morris 9:55am July 12, 2011)
Sounds like a fun read. Pretty cover too.
(Mona Garg 10:05am July 12, 2011)
Sounds good. Congrats on your 25th anniversary!
(Jeff Danner 10:14am July 12, 2011)
Even though the story itself is dated, you can't beat an old-fashioned love story!! Those are the ones I tend to gravitate towards - not the ones where someone is biting somebody elses' neck!! I am thrilled that this is your giveaway, and would love to read it!! I could see myself on the veranda, with a tall glass of iced tea, under the umbrella, fanning myself during the good parts.... Thank you for joining us today, and making this book possible!
(Peggy Roberson 10:18am July 12, 2011)
wow can't wait to read it!!
(Deborah Rudd 10:31am July 12, 2011)
It's so nice to have it rereleased. It must be a very special book for you. I love the new cover. I can't wait to read it. Congratulations on your new "first" release!
(Stacie Deramo 10:45am July 12, 2011)
Adding this book to my 'must read list' for the summer!
(Tarah Petersen 11:43am July 12, 2011)
Being born and raised in Montana myself, I have to say that I love a good old fashioned western romance. I have read Against the wind, Against the fire, and Against the law, so I can't wait to read Against the storm, October can't come fast enough!
(Kris Bowers 12:00pm July 12, 2011)
Oh yes! A yummy bodice ripper is just the kind of read I would love. As well, it
would be terrific to read the book that started your successful career. Thanks
for review and the giveaway.

Connie Fischer
(Connie Fischer 12:15pm July 12, 2011)
I can't resist a gold old-fashioned bodice-ripper. They take me back to a very good place. Thank you for the giveaway.
(Na S 12:24pm July 12, 2011)
Oh I'm sure I'd love this story. I've been reading romance for a very long time and I would love to see how you started out writing since I've enjoyed many of your books!
(Jeanne Sheats 12:38pm July 12, 2011)
Good old fashion bodice rippers- my favorite.
How I miss them, I find myself keeping,
rerreading, and looking for them in second hand
book stores. It was the bodice ripper that turned
me to romance.. that and GWTW. Hope to get
your book, love them.
(Carla Carlson 12:44pm July 12, 2011)
I think an old fashioned bodice ripper would take me back in time---to when I started reading romances. What fun!
(Sue Farrell 12:52pm July 12, 2011)
If you think you have seen changes, let me tell you that you haven't seen anything compared to what this 82 year old lady has seen, the majority wonderful!
Blessings,
Marjorie
(Marjorie Carmony 1:05pm July 12, 2011)
I read many of those bodice rippers!
(Lisa Garrett 1:07pm July 12, 2011)
I enjoy older romances... I definitely want to read this one!
(Colleen Conklin 1:08pm July 12, 2011)
I've read your more recent romances and think it will be fun to read the first one you wrote. It sounds interesting.
(Anna Speed 1:08pm July 12, 2011)
I just lover blogging on this website! You all have such great comments and such open minds! I think maybe we authors should think about taking a few more risks in the historical market...cowboys and Indians, Vikings, pirates, those were all so much fun to read. Hope you enjoy the oldie. kat
(Kat Martin 1:29pm July 12, 2011)
I know everyone says this but I do love your books. Have read everyone. Always waiting for that next one to be released.
(Pam Alderson 1:32pm July 12, 2011)
After reading the excerpts, I'm hooked!
(Kelli Jo Calvert 1:43pm July 12, 2011)
I love your books and look forward to reading the re-issue of Magnificent Passage.
(Robin McKay 2:14pm July 12, 2011)
Nothing I love better than a book about rugged cowboys! I have had my own horse since I was 4 years old and have always loved cowboys and the romance/passion that goes with that era.
(Jody Hollenbeck 2:28pm July 12, 2011)
the book and cover is great i love to read them
(Desiree Reilly 2:30pm July 12, 2011)
Magnificent Passage sounds like a good read! I love your recent books and couldn't wait for each new book in the "Against" series to be published! I'm watching my local bookstore for this one!
(Marguerite Guinn 2:47pm July 12, 2011)
Since I started out reading romance in the mid 70's I bet I would appreciate a bodice ripper. Nothing tame for me.........
(Marcelle Cole 3:41pm July 12, 2011)
I started out on what you would call a Bodice Ripper and at times I miss them :0) I used to sneek them from my grandmother cuz my mom would never have let me read them but I sure did learn alot! Sex was a subject that was not talked about at ALL. My mom told me there were things that boys were going to want to do and I was NOT to do them !! Well I was lost until those books and after my first one I know what Mom ment.
(Vickie Hightower 3:42pm July 12, 2011)
Agree with all, that this sounds like a great book to read; Hoping I win!!!!
(Barbara Studer 4:02pm July 12, 2011)
I am so glad you are rereleasing this book. I love books where switches take
place and the consequences that happen. This sounds like a wild ride!!!!!
(Sandra Spilecki 4:09pm July 12, 2011)
Wow, I haven't heard that term (bodice ripper) in ages. You're right though - they were a fun read!
(Karen Gervasi 4:19pm July 12, 2011)
I LOVE "OLD SCHOOL' ROMANCE..I'M IN IT TO WIN IT!
(Silvana Moscato 4:22pm July 12, 2011)
Would love to win! Thanks for the chance!
(Rita Spratlen 4:23pm July 12, 2011)
I'll take a good old Bodice Ripper anyday Kat. And I do love an old fashioned Western romance set in the 1800's.I'd love to read yours. Thanks so much for the opportunity.
Carol L
Lucky4750 (at) aol (dot) com
(Carol Luciano 4:28pm July 12, 2011)
I love the western romances they are my favorite read and I would love to read this one.
(Gail Hurt 4:31pm July 12, 2011)
Congratulations on the reissue.....obviously still timely!
(Carla Schuller 4:53pm July 12, 2011)
sounds like a book to hold my interest!
(MaryEllen Hanneman 4:56pm July 12, 2011)
Congratulations on your anniversary and all your wonderful writing
(Shirley Younger 5:06pm July 12, 2011)
Kat I love all your books!!!!! And this one sounds like another great one!!! BTW, I still love to read books, when men were men, and women were women....I still love to read when a men protects his woman, not the other way around for sure!!!!!!! I'd better take care on what I write, some won't believe my old ways.......lololol
(Joanne Bozik 6:11pm July 12, 2011)
That term "bodice Rippers" totally crack me up and I am happy to say I am an avid fan!
(Debra Simning-Chapman 6:19pm July 12, 2011)
I can't believe you are all on for a bodice-ripper! Now I wish I'd made it more of a ripper than it is! You guys are all great. hope you like the book! warmest, kat
(Kat Martin 7:17pm July 12, 2011)
Love It!!!! Sounds like a great read.
(Sheila True 7:39pm July 12, 2011)
Sounds like a good read and I love the cover!
(Susan Hackney 8:38pm July 12, 2011)
Love the books.. can hardly wait for the next Against book!
(Rayne Garnsey 8:41pm July 12, 2011)
I am a HUGE fan of yours and would LOVE to read Magnificent Passage! My all time favorites are: The Handmaiden's Necklace, The Devil's Necklace, The Bride's Necklace, Innocence Undone, just to name of few of your books I've read! They are on a bookshelf in my office, occasionally loaned out, where they will remain forever LOL! <3 I am a huge fan of the "old fashioned" romances! :~)
(Stefanie Finn 8:45pm July 12, 2011)
Love your books Kat. Came across your works maybe a year ago and have read everything. Can't wait for the next ones. And of course would love to win ANYTHING!
(Sue Peterson 9:04pm July 12, 2011)
Can't wait to read it!
(Monica Mitchell 9:13pm July 12, 2011)
Sounds great!! Thanks for sharing!
(Dawn Staniszeski 9:31pm July 12, 2011)
I have not read a good bodice ripper in a while. I will def have to pick this one up. Thanks!
(Patti Paonessa 9:42pm July 12, 2011)
25 years - Fabulous! Checked my list and I am missing your first 6 books including this one.
(Diane Sallans 10:06pm July 12, 2011)
It is amazing how writing, & reading, tastes have changed with time.
(Mary Preston 10:28pm July 12, 2011)
Sounds like a great book Kat, can't wait to read it. Congrats on your 25 years of writing.
(Christine Arcidiacono 10:28pm July 12, 2011)
I can't wait for the release of "Against the Storm"! This looks like a great read. I have added it to my to-read list. I'm been in an historical groove lately and this fits perfectly.

Good luck and happy writing!
(Tracie Travis 10:29pm July 12, 2011)
An Old-fashioned Bodice Ripper? Count me in! I loved your necklace trilogy and a few others of your historical fiction trilogies.
(MaryAnne Banks 11:39pm July 12, 2011)
I'd love to read Mandy and Travis's romance.
(Theresa Norris 5:52am July 13, 2011)
I've been reading each excerpt fr. your emails. Got one just this morning, but haven't had time to read it yet. Will enjoy later.
(Pat Wilson 9:35am July 13, 2011)
I really enjoyed the old fashioned body rippers! Great giveaway! Would love to win!
(Cathy Phillips 11:37am July 13, 2011)
Really enjoyed the Raines Brothers...and i do love historicals...so i think it will make a great read as well
(Chele Blades 12:16pm July 13, 2011)
MaryAnne-- the Necklace Trilogy turned out to be a fan favorite. One of my favs, too. Amazed how many people like bodice rippers! makes me think of writing another one! have a great day! warmest, kat
(Kat Martin 5:50pm July 13, 2011)
Bodice rippers sounds so sexy. And Native American Indians are intriguing, so steeped in history that I want to know more.
(Alyson Widen 4:16pm July 17, 2011)
I love historicals and I really love westerns! I've read some of your books and alwasys enjoyed them!
(Brenda Rupp 10:00pm August 28, 2011)
Registered users may leave comments.
Log in or register now!