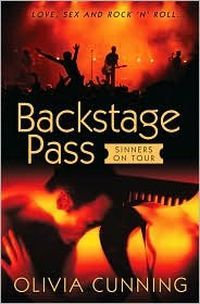 Purchase
It's all about sex, love and rock'n roll
Sinners on Tour #1
Sourcebooks Casablanca
October 2010
On Sale: October 1, 2010
Featuring: Brian Sinclair; Myrna Evans
384 pages
ISBN: 1402244428
EAN: 9781402244421
Kindle: B003YUCEF2
Trade Size / e-Book
Add to Wish List

Other Editions
Paperback (reprint - June 2016)
Romance Erotica Sensual | Romance Music
Human Sexuality Professor, Myrna Evans, wants nothing but a weekend of hot, no-strings-attached sex with Sinners' sensual lead guitarist, but Brian Sinclair is looking for something more permanent than a one-night stand. Unable to compose music for months, when Brian makes love to uninhibited Myrna, he hears exquisite guitar riffs and finger-burning solos. In Myrna, he's found his muse.
Sinners on Tour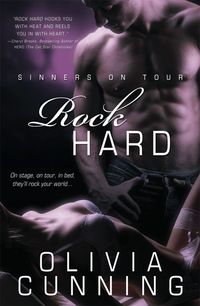 Rock Hard
#2.0
Amazon.com | BN.com | Apple Books | Kobo | Google Play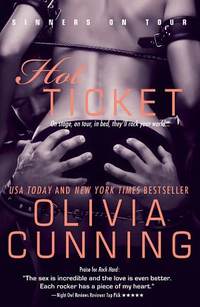 Hot Ticket
#3.0
Amazon.com | BN.com | Apple Books | Kobo | Google Play

Wicked Beat
#4.0
Amazon.com | BN.com | Apple Books | Kobo | Google Play

Double Time
#5.0
Amazon.com | BN.com | Apple Books | Kobo | Google Play
Comments
45 comments posted.
Re: Backstage Pass

books sounds great; will be looking for it!
(Barbara Studer 12:30pm October 9, 2010)
Sounds great. Thanks for sharing. My herd of cats is pretty small, 2 total. But really as to who herds who and who is really in charge. Well I really cant answer that. But Im pretty sure they can.
(Donna Simmonds 12:46pm October 13, 2010)
Only have one cat and she's enough of a handful and no herding allowed as far as she is concerned.
I love hearing how charactors take over the books, your lot certainly made me laugh.
(Barbara Hanson 8:23am October 13, 2010)
I've been hearing about this book over several blog over the last few days and am dying to read it. It sounds amazing!! Your a new author for me, but am so glad I've heard so much about you and I can't wait to get a hold of this book!1
(Jolene Allcock 9:45am October 13, 2010)
This is my kind of reading. I too was raised on hard rock/heavy metal. Herding is half and half. Some days I feel like " yeah thats right I'm in control" Then other days I feel like a doormat.Y ou win some you lose some I guess.Sounds like a great book. Bout time for a book on the rock genre and passion to boot. Thank you..
(Karin Arthur 10:57am October 13, 2010)
I don't have cats, but have 2 Yorkies to run herd on. The books coming up sound great.
(Pat Wilson 11:09am October 13, 2010)
Well, I can see your dilemma,Olivia. I happen to have 8 cats, while I can herd the dogs or the horses, cats? Yah, right.

You did a great job of explaining your guys. I love them all. I figure by the time I finish reading about them all, my sexual knowledge will be greatly expanded, lol!

As far as my symbolic cats, I have a few of those that are merrily going in their own direction but I'm having lots of fun with it.

Can't wait for Sed's book. Are you sure you don't have another *cat* or two in this bunch that wants a story? Band manager? Their publicist? A former band member? Darren Mills from Exodus End?

*ducking as Olivia starts throwing things at me.

Sheesh, woman, Just askin'.
(Sia McKye 12:04pm October 13, 2010)
Love the kittens!!!!!
Blessings,
Marjorie
(Marjorie Carmony 12:24pm October 13, 2010)
We have 2 cats---and just let them herd us.
(Sue Farrell 12:52pm October 13, 2010)
My cats control the household. They are the queens.
(Vikki Parman 1:00pm October 13, 2010)
I have 1 cat, Chiana & a westie, Riley. Riley is a grouchy old man & pretty much gives Chiana her way....until around 9pm. She knows this too. I've seen her trip him going up & down the stairs, pounce on him, sail over him & the time they both slid under the bar was pricless..Love em...

BTW, I wanna read this book in the worst way!
(Ivy Truitt 1:13pm October 13, 2010)
Thank you for the chance!
(Freda Mans-Labianca 1:20pm October 13, 2010)
Had to laugh at the title of your post. I don't often see rock stars as main characters of romance, but it certainly fires my imagination. Your books sound like they would be fabulous reading.
(G. Bisbjerg 1:36pm October 13, 2010)
Yes, I have a herd. It's the
kids I keep collecting. I don'
know where they come from but
they keep inviting themselves
for dinner.
(Tanja Haack 1:37pm October 13, 2010)
Hi, everyone! I'm on my lunch break and will stop in again later, but just wanted to say that I'm glad I'm not the only one who has a hard time herding cats. :-)
(Olivia Cunning 1:43pm October 13, 2010)
No herd, just a two year old nephew with alot of energy! :)
(Colleen Conklin 1:48pm October 13, 2010)
DO I have cats?? Well...sort of, or rather, they have me. I have two stray kittens that adopted me. Unfortunately, my dogs do not approve.

Your stories sound great and it sounds like you will have a blast writing about the band members.
(Robin McKay 3:37pm October 13, 2010)
No cats in our house all dogs but I get my kitty fix when I volunteer at my local animal shelter and I love the cat rooms.
(Vickie Hightower 4:29pm October 13, 2010)
Sounds like my 2 kids. They each want their share of my attention. Throw my hubby in the mix and sometimes it is like juggling.
(Cherie Japp 4:33pm October 13, 2010)
This book sounds great, Muses are needed in everything.
(Christine Kochanowski 4:36pm October 13, 2010)
Hello, Olivia.

Backstage Pass sounds great. I look forward in reading it and the series.

Thanks!
(Tracey Dent 4:45pm October 13, 2010)
The title hooked me. Now I want to read your book. Laughing, as I think of herding cats....
(Maude Allen 4:50pm October 13, 2010)
The band members are a lot of fun to write and very spontaneous. It would just be easier if they'd stick to my agenda! I do love real cats.

I lost my cat, Bishi, a little over a year ago and can't bring myself to get a new kitty just yet. Plus, my miniature dachshund thinks cats are fun to chase and attack. One of these days I will get another cat. But not five! I had three at one point and that was more than enough.
(Olivia Cunning 5:45pm October 13, 2010)
I look forward to reading more.
(Mary Preston 5:56pm October 13, 2010)
I don't have cats but I have a pre-schooler, toddler and a husband that I have to herd! LOL! Thank for sharing!
(Johanna Jochum 6:25pm October 13, 2010)
I have no control over the cats or cads in my life. I wouldn't even know where to begin since sometimes I have to give them a lot of space to brood. Is band mates a European, Australian or Canadian term, Eh?
(Alyson Widen 7:03pm October 13, 2010)
I don't where band mates originated, Alyson, but I'm American. It's kind of like roommate, classmate, cell mate.
(Olivia Cunning 7:55pm October 13, 2010)
That should say "I don't KNOW where band mates originated..." Where's my editor!
(Olivia Cunning 7:55pm October 13, 2010)
I can't wait to read the book it sounds great
(Lori Duhoski 8:03pm October 13, 2010)
what a different premise to use members of a rock band! I really look forward to reading this book!
(Diane Sallans 8:50pm October 13, 2010)
I only have 3 cats now, but back
at my mom's there's 15. They
rule everything!
(Cathie Veres 8:54pm October 13, 2010)
At one point, I had 7 cats. I have been herding them for years. I guess I'm the cat lady if they understand what I'm saying to them.
(Kai Wong 9:35pm October 13, 2010)
I'm so allergic to cats, if someone even hugs me that have cats and have been around them, I have to take benedryl and changed my clothes
(Brenda Rupp 10:22pm October 13, 2010)
Love books and cats. Thanks for giving me a Chance to win your book.
(Linda Hall 12:13pm October 14, 2010)
Not a cat person. I have a dog, who rules the roost.
(Pam Howell 7:29am October 14, 2010)
I don't have any cats or anything else I try to herd. But dayam, I sure do want to read your series. Thank you for the rock stars.
(Cynthia Netherton 8:34am October 14, 2010)
Awesome can't wait to meet the Sinners especially Sed and I've been a cat herder for years I have 8.
(April Strength 8:40am October 14, 2010)
The kitties are sooooooo cute....bet those rock stars are too.

Going to be on the look out for these books.

Valerie
in Germany
(Valerie Bongards 8:52am October 14, 2010)
For someone coming from the heartland to write a book of such magnitude, I'm a bit surprised!! lol Cats are a mysterious bunch, though. They each have their own personality, and by observation you can tell what strengths and weaknesses they have. They are amazing creatures. Your book does sound like a fun and different read from the norm, as do the sequels. By fun, I'm not belittling it in any way!! I'm sure I will enjoy it immensely!! Thank you for writing something with a different slant from the norm.
(Peggy Roberson 10:30am October 14, 2010)
This sounds like a really fun series. My husband is in concert production so it will be nice to read about a subject I know. We have two daughters (6 and 4) and two cats so we do alot of herding. Somedays I feel that's all I do. I swear our cats are more like dogs though. They have the strangest personalities and they fit their names really well (Agent 001 and Ibanez).
Much luck and success with your upcoming series.
(Kate Mobley 10:38am October 14, 2010)
sounds very interesting, i can't wait to read it
(Amanda Boyer 4:39pm October 14, 2010)
This is a great book and thank goodness they talked you into 5 books. I can't imagine not having more books to look forward to in this series.
I have a herd of 4 cats that follow me all over the house. I'm thinking I might need to add one more so I can name him Trey.
(Marc Holiday 7:02pm October 14, 2010)
No cats any way you look at it lol, the books sound fun!
(Darci Paice 7:54pm October 14, 2010)
It seems like lots of people have a cat-herding problem. Thanks for all the great comments! I'm laughing with you, not at you. Really!

Marc- LOL! Great name for a kitty. Or you could call him Mr. Cuddles. That is one of Trey's nicknames. :-)
(Olivia Cunning 10:29pm October 14, 2010)
I have a couple of cats and spend my days catering to them. Open the door to let them out and then in. Feed them morning, noon and night. So no herding going on here.
(Lindsey Ekland 6:22am October 15, 2010)
Registered users may leave comments.
Log in or register now!