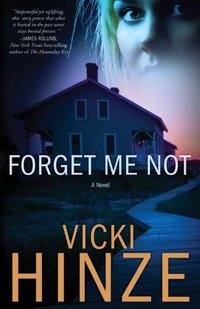 Purchase
Crossroads Crisis Center #1
Multnomah Books
March 2010
On Sale: March 16, 2010
Featuring: Benjamin Brandt
352 pages
ISBN: 1601422059
EAN: 9781601422057
Kindle: B0036S4CHK
Paperback / e-Book
Add to Wish List

Romance Suspense | Inspirational Mystery
THEIR ELUSIVE ENEMIES TOOK EVERYTHING. NOW THEY WANT MORE.
Crossroads Crisis Center owner Benjamin Brandt was a content man—in his faith, his work, and his family. Then in a flash, everything he loved was snatched away. His wife and son were murdered, and grief-stricken Ben lost faith. Determination to find their killers keeps him going, but after three years of dead ends and torment, his hope is dying too. Why had he survived? He'd failed to protect his family.
Now, a mysterious woman appears at Crossroads seeking answers and help—a victim who eerily resembles Ben's deceased wife, Susan. A woman robbed of her identity, her life, of everything except her faith—and Susan's necklace.
The connections between the two women mount, exceeding coincidence, and to keep the truth hidden, someone is willing to kill. Finding out who and why turns Ben and the mystery woman's situation from dangerous to deadly. Their only hope for survival is to work together, trust each other, and face whatever they discover head on, no matter how painful. But will that be enough to save their lives and heal their tattered hearts?
Crossroads Crisis Center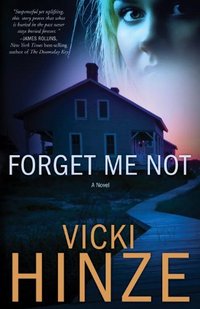 Forget Me Not
#1.0
Amazon.com | BN.com | | |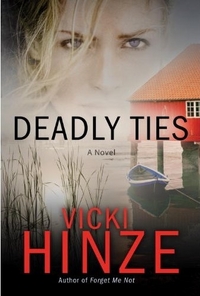 Deadly Ties
#2.0
Amazon.com | BN.com | | |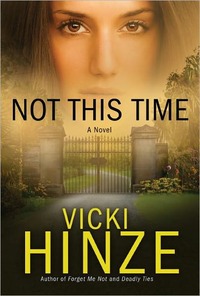 Not This Time
#3.0
Amazon.com | BN.com | | |
Comments
24 comments posted.
Re: Forget Me Not

Thank you, what an inspiration. My faith has kept me going thru thick and thin. You are right sometimes it's just fumes, but it comes back stronger then ever. Good luck to you.
(Theresa Buckholtz 10:20am January 13, 2010)
Many blessings to you, Vicki. Like the reader above, my faith has kept me going when there was nothing else to keep me going. I've often wondered why I had to go through the trials and pain I have, but I came to the conclusion, too, that it was to teach me more compassion for others.
(Sigrun Schulz 4:21pm January 13, 2010)
Times like this make you stop and
be grateful for what you have.
Glad to know that are alright.
(Lisa Richards 5:46pm January 13, 2010)
Thanks for sharing such an inspirational story. I'm glad things are better now.
[email protected]
(Penny Tuttle 9:39pm January 13, 2010)
What an eventful time. Thank you for sharing.
(Mary Preston 10:29pm January 13, 2010)
Thanks for sharing! Count me in!
(Brenda Rupp 11:08pm January 13, 2010)
Vicki, I have always say, "When going gets tough, the tough gets going!" Hang in there! I know how you feel.
(Lisa Glidewell 12:30pm January 14, 2010)
You do find inner strength when tested, but it helps to have a few moments when things are going smoothly. Here's hoping that your ship's come in.
(Alyson Widen 11:46am January 14, 2010)
Wonderful story. Video was outstanding. It'll be on top of my growing stack of books to read. Can't wait.
(Jobie Marshall 12:49pm February 24, 2010)
LOL. I am always a nut. People definitely look at me like I have lost my mind but I have fun and enjoy myself. Life would just be way too mundane if we did just what is supposedly acceptable.
(Vicki Hancock 12:01pm March 16, 2010)
I've never let conventions
define who I am, yeah, I take
care of all the things that
Mom's are suppose to(and then
some) but if while laying at
the pool(luckily we live in
the boonies)I feel the need to
skinny dip and sun bathe in
the nude. No one knows or
cares(except maybe the deers
and my dog).
(Lisa Richards 12:46pm March 16, 2010)
I love it!!
(Kelli Jo Calvert 5:04pm March 16, 2010)
I love your books.
(Regina Shiderly 5:15pm March 16, 2010)
Your books sound fabulous!
(Gail Hurt 6:08pm March 16, 2010)
We all need a little whimsy in our lives.
(Mary Preston 6:09pm March 16, 2010)
Whimsy is not only a good thing, it's essential!!

Later,

Lynn
(Lynn Rettig 7:17pm March 16, 2010)
Yep. We all need a bit of whimsy and goofiness now and again. I especially like art is this style.
(Alyson Widen 8:21pm March 16, 2010)
Love all your comments. I smiled a lot reading them, and a special thanks to you, Regina, for commenting on my books. You guys made my day!

Blessings,
Vicki
(Vicki Hinze 8:50pm March 16, 2010)
I agree that we all need to be good to ourselves or we will not be any good to others. We need to throw away the guilt and enjoy the fun side of life.
(Rosemary Krejsa 9:12pm March 16, 2010)
You are a 'girl' after my own heart! It makes life more interesting and definitely more bearable if we break from the routine and have fun! (Your books are fun, too!)
(Gladys Paradowski 11:05pm March 16, 2010)
Because of the way I was raised and the life I've led, whimsy comes hard to me--other than losing myself in a book for a while. I'm looking forward to reading FORGET ME NOT. It may not be full of whimsy, but faith and that's even better.
The forget-me-not is a little whimsical, a frail-looking flower, but it manages to last and proliferate.
(Sigrun Schulz 12:48pm March 17, 2010)
This book sounds so intense and exciting.
If this mystry woman really is his wife, than maybe his son is alive too.
(Jolynn Rood 3:17pm March 17, 2010)
We all have to do the unexpected or let it happen to remain a little sane.
(Brenda Rupp 9:48pm March 19, 2010)
Whimsey is good. People need to not take
themselves too seriously once in a while.
(Patricia Barraclough 8:21pm March 22, 2010)
Registered users may leave comments.
Log in or register now!