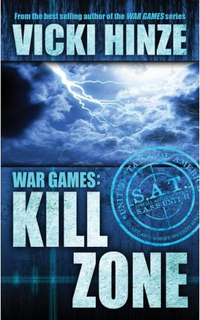 Purchase
Colonel Sally Drake returns with a new unit of S.A.S.S. (Secret Assignment Security Specialist) operatives, the Special Abilities Team--S.A.T.
War Game Series #5
Medallion Press
July 2009
On Sale: July 1, 2009
Featuring: Jackson Stern; Thomas Kunz; Morgan Cabot
350 pages
ISBN: 1934755613
EAN: 9781934755617
Mass Market Paperback
Add to Wish List

Dr. Morgan Cabot—the intuitive psychologist head of a new Secret Assignment Security Specialist corps—moves her unit front and center to combat the latest attack by terrorist and black market intelligence broker Thomas Kunz in this latest captivating thriller.
Kunz's target is United States Air Force Captain Jackson Stern, or so Morgan thinks. Could it also be Bruce Stern, Jackson's brother who was recently arrested for murdering his wife Laura?
Double-crossing, misinformation, and astonishing plot twists pile up as Morgan tries to determine if Jackson is on the level or working for Thomas, whether Bruce is a murderer or a victim, and exactly what Laura has to do with all of this.
Comments
14 comments posted.
Re: Kill Zone

That is a great philosophy. Just deciding to be happy each morning goes a long way in how we spend the rest of the day. Thanks.
(Karin Tillotson 2:07pm November 13, 2009)
Great blog! I like how you think!
(Lisa Glidewell 2:43pm November 13, 2009)
I love it! As Eleanor Roosevelt said, "Life was meant to be lived, and curiosity must be kept alive. One must never, for whatever reason, turn his back on life."
Actually, I love all of her quotes with getting on with life! Thanks for sharing!
(Sharla Long 4:55pm November 13, 2009)
Great post. Believing in yourself is hard to achieve at times.
(Jane Cheung 5:17pm November 13, 2009)
I believe in happiness. It's not enough to just live. As a mother all I have ever wanted for my children is to be happy. Achieving their true goals & potential.
(Mary Preston 5:43pm November 13, 2009)
Going to work and coming home, making a meal and watching tv, just being with your family at the end of the day and discussing what we all did, I'm happy with that
(Diane Sadler 5:43pm November 13, 2009)
I love pugs, I wish I could rescue all the homeless ones and give them the forever home they need. But reality sets in and I know thats impossible. So for now I'm content with my pugs and the love of my family. Someday maybe I can be a fairy Godmother.
(Theresa Buckholtz 6:27pm November 13, 2009)
What a positive outlook you have. It is to easy to take the 'safe' choice. Your post gave me much to think about. You are fortunate to be brave enough to do what you love. Congratulations!
(Rosemary Krejsa 6:34pm November 13, 2009)
What a lovely post. You are so right
about putting things off and waiting
for the time to be right. I spent the
time as a military wife putting things
off. We retired because my husband
had cancer and I was working full time
for the first time. For one reason or
another, things were delayed. I'm at
the point now where I'm at the edge of
it's too late. I have enjoyed most of
what I've done, but exploring a few
possibilities, like writing, were left
behind.
I think I'll aim for the Fairy Godmother
slot. That really would be a great
career.
(Patricia Barraclough 1:20am November 14, 2009)
Nod agreement for this post. Fairy Godmother's are so ethereal, you'd think they were just in the imagination.
(Alyson Widen 12:44pm November 14, 2009)
You have such a great outlook!

dancealert at aol dot com
(Brenda Rupp 10:48pm November 18, 2009)
You should always seize the day
(Allison Gardner 11:39am November 25, 2009)
What I'd like right at this immediate moment is to gift myself (and my daughters) the gift of forgetfulness. Forgetfulness of the sorrows, disappointments, lost loves and parents and lost opportunities of all our (shared) lives. WE had rough rough times, and they've left scars that try to block our ability to love each other, and more importantly - to stop us from showing or acknowledging it.
I'd locked mine away till this week, when they've bloomed anew so I can Bless them (after mourning), then give them to Spirit. But I dont know how to breach the gap with my daughters - I know it's up to them. Not trying to be gloomy, but this is real stuff, the stuff of which greater strength and love can be born. So, I honor it, as I let go, again.
What I want to be when I grow up, is free; inside and out to belly laugh, to skydive and sit by the ocean and do nothing for hours IF that's what I choose. And to live with wild abandon. How's that for a new life?
(Leah Martin 4:53pm December 22, 2009)
Leah, dahlink, I'm going to be frank. I just saw this post of yours, and first,
I'm sending you a huge virtual hug. Second--and, yes, this is experience
talking--I want to share with you that we should never forget our sorrows,
disappointments, lost loves/parents or rough times.

Oh, it'd be pleasant to be unblemished, that's true. But those scars make us
who we are. Because we've known sorrow, we are more compassionate.
Because we've been disappointed, we try not to disappoint. Because we've
endured lost love and lost parents, we know what precious treasures they are
and that we can pass forth to our kids. That we can embrace when we
courageously love again--and it is courageous because we're not ignorant of
loss. We know the pain, and yet dare to love again anyway.

In remembering our parents, we remember what it is like to not be orphaned.
All the good in them, or the things they taught us. Their quirks, loves, hates.
We remember and so they're not lost, Leah. I hope when I'm gone someone
remembers me.

I walked through a cemetery once many years ago and saw a tombstone. On
it the family had written, "She was the sunshine of our home." Sunshine was
my mother's nickname for me. It stuck in my mind and really did a lot to
shape the kind of person I wanted to be. Even difficult people in our lives
offer something worth remembering. What we don't want to do or be is as
important as what we do, you know?

There is honor in the scars, Leah. That's what I'm trying to say. They make us
stronger and wiser and more loving--if we let them. That's when we
remember, take the good and put the rest into the past where it belongs. We
let it rest.

It's kind of like a windshield and rear view mirror. The rearview is small
because we need to see what's behind us, where we've been. But the
windshield is huge because we need to focus on where we're going.

Choices. It's all
(Vicki Hinze 4:44pm April 6, 2011)
Registered users may leave comments.
Log in or register now!