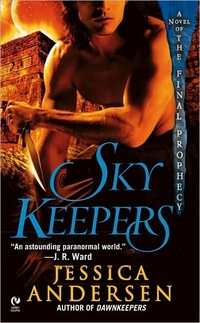 Purchase
Final Prophecy #3
Signet Eclipse
August 2009
On Sale: August 4, 2009
Featuring: Michael Stone; Sasha Ledbetter
480 pages
ISBN: 0451227700
EAN: 9780451227706
Paperback
Add to Wish List

In this sexy series based around the Mayan doomsday prophecy, a group of magic- wielding warrior heroes called the Nightkeepers are ready to fight the demon creatures of the underworld to prevent annihilation…

When prominent Mayanist Ambrose Ledbetter goes missing, his daughter Sasha tracks his remains down to an ancient temple. Before she can recover from the shock, she is kidnapped. Slick and charming recruit Michael Stone rescues Sasha from her imprisonment and feels an instant attraction. But he doesn't dare get involved, with the threat of his dark side growing stronger and the powers of sorcery on the rise. Both Michael and Sasha will discover a new passion together and one they have to admit to in order to change their worlds…
Comments
32 comments posted.
Re: Skykeepers

I haven't read these yet, but hope to. I've seen nothing but fantastic reviews & recommendations. As for your cast picks..yep . Oded in anything, but I admit I laughed at the Eminen.
Only definite that sticks in my head is Sandra Bullock as Janet Evanovich's Stephanie Plum.
This series sounds just too cool.. Love the website. Thanks for giving everyone a chance to win one of your books.. Nightkeepers please..need to start at the begining.
(Jo Ann Jansing 12:04pm August 19, 2009)
Book sounds amazing i'm adding it to my list as we speak(type)
Have a wonderful day....
(Ann w 3:45pm August 19, 2009)
After reading the excerpt. I'll definitely read this book. I'd love to win a signed copy. Thanks.
Lorraine
[email protected]
(Lorraine Larose 5:33pm August 19, 2009)
I've seen your books at the stores but haven't tried one yet; your new book sounds great
(Diane Sadler 8:52pm August 19, 2009)
Have heard really good things about this
series. They are on my To Buy list.
(Patricia Barraclough 12:07pm August 20, 2009)
I haven't read any of this series yet but I really wanting too. I have been hearing so much about it and it sounds like an awesome read.
(Gail Hurt 12:07pm August 21, 2009)
Haven't read these yet, but would love the opportunity to envision who would best play the parts after having a chance to do so.
(Joanne Reynolds 6:41am August 21, 2009)
I agree - a series rather than a movie! Can't wait to read this - and watch it! :)
(Vicky Burkholder 8:17am August 21, 2009)
I hear that there is a great unknown
actor in a small backwater town in
New Hampshire. I think he would
make a great pick for Strike. Look him
up on Youtube under Malcolmfett and
you might agree. ;-) BTW - Looking
forward to reading the series!
(Sean Fontaine 8:46am August 21, 2009)
I have just discovered you on Fresh Fiction! I LOVE the synopsis' of your books! They have TOTALLY peaked my interest (and also because the covers of your books are TOTALLY HOT!) What could be better tha a magic-weilding warrior *sigh*
(Stefanie Finn 10:06am August 21, 2009)
Jo- Thanks for letting me know you've heard good things about the Keepers books, and yum on Oded :) I hope you'll check out the books!

Gail and Joanne- Thank you so much, and good luck!

Vicky- I love me a good series, too :) Can't wait for the new TV season to get back rolling!

Sean- LOL!

Eileen- Hey! Oooh... I'm liking your Strike...

Stefanie- Yay for you discovering this mega-cool series (though I'm admittedly biased in that opinion- lol). And yeah, I'm soo with you on the covers. Half nekkid guy with a really big knife. 'Nuff said :)
(Jessica Andersen 10:14am August 21, 2009)
Hi, Jessica! Thanks for all the great reads! I love your casting choices. So many character actors can step up into a leading role and knock your socks off!
(Virginia Campbell 10:17am August 21, 2009)
I haven't read any of these titles, but they look like incredibly great reads!!
(Freda Mans-Labianca 11:37am August 21, 2009)
love cast, omed and wes, is wodnerful actors

love to try this series

im with you o ths more of whats really in on in books
(Tami Bates 2:21pm August 21, 2009)
Hey Vee! Thanks so much :)

Freda- I hope you'll check them out!

Sara- Ooh, I'll take a Showtime special-- where do I sign up? LOL. It's true, though, that we're running out of pre-production time ... Thanks for having me here at FF today!

Deb- Thanks so much! Fwiw, I'll be back at the Farmington Borders on 9/5, 2-4, with a bunch of other authors. We'd love to see you there!

Tami- Thanks for the thumbs up on the cast, and good luck!
(Jessica Andersen 3:32pm August 21, 2009)
Haven't read this series yet but can't wait. I've read some of your Intrigue books and love them.
(Linda Henderson 6:48pm August 21, 2009)
Hi! Your not the only author who studied science only to write..lol. Anyway, I wish you luck w/ the book and I too have always been facinated w/ Mayan as well as all Native Tribes. :)
(Nicole Tanata 7:25pm August 21, 2009)
How about some of the cast of LOST? I'm
going to miss them when the series ends.
(Sue Ahn 8:26pm August 21, 2009)
Linda- thanks for letting me know you've enjoyed the Intrigues! The next one, Internal Affairs, will be out in October :)

Nicole- are you a fellow science geek-turned-writer? If so, well met!

SJA- I'll totally take some LOST refugees! I know it's going to be a bummer when the show ends, but I've got to give them (and the new BSG, which I miss terribly) props for ending it. I always feel sad when a show (or book series) goes on too long, yanno?
(Jessica Andersen 8:54pm August 21, 2009)
As a huge Oded fan - he's SO gorgeous - love the choice.
(Mary Preston 12:02pm August 22, 2009)
Since up not up to date on current film stars, I'll refrain from answering this question. However, I've always been interested in the Mayans and the book definitely sounds intriguing.
(Sigrun Schulz 12:37pm August 22, 2009)
I bought NIGHTKEEPERS and SKYKEEPERS
tonight. Unfortunately the store I went to
was out of DAWNKEEPERS. Can't wait to
start this series. Will have to wait to see
who I'd cast.
(Patricia Barraclough 2:03am August 22, 2009)
Mary- I'm sooo with you there :)

Sigrun- Thanks for stopping by, and good luck!

Patricia- THANK YOU for picking up two of three! I hope you love the series :)

And to all-- thanks so much for hanging out with me today, and playing casting call. Be well, and happy reading!
(Jessica Andersen 7:07am August 22, 2009)
HI Jessica! I just discovered this wonderful series. I saw and bought Skykeepers first, then realized it was a series... but the store didn't have NightKeepers or Dawnkeepers. I got those from the library. Finshed them in 2 days :) Hopefully I will get to start Skykeepers today!! I would be interested to know when you expect the next one to release and is it going to be Sven's and Carlos' daughters story??

Thank you!
~Angie~
(Angie Gipson 9:27am August 22, 2009)
I have not read this series added them to the top of my list. I think it great when you get a visual for the characters you read about. Love Ode the man is so sexy, As for wes yum though since The Last of the Mohicans its been a love hate love the actor he is amazing not so much the character he played evil he was, He was amazing in Geronimo, he is in a post production of THE LAST HORSEMAN this sound really dont miss this GOOD.
(Ann w 12:26pm August 22, 2009)
I have bought your first two in the series but I have read them yet. For me when I'm reading a book I like to draw my own picture of the heroes in my mind I don't think any stars ever could do them justice.
(Sherry Strode 12:47pm August 22, 2009)
Good choices for cast, I always who better to cast then their creater.
(Susan Lathen 1:36pm August 22, 2009)
Good choices for cast, I always say who better to cast them than their creater
(Susan Lathen 1:39pm August 22, 2009)
I like your casting choices! At first Eminem seems an odd choice, but once you get past who he is it seems he is a good pick
(Raelena Pavey 12:54pm August 23, 2009)
I'm sorry, I haven't read any of the books, but it sounds so interesting I may have to pick them up! Good luck with casting!
(Brenda Rupp 1:24pm August 25, 2009)
I have books 1 and 2, would love to have #3.
(Val Stark 5:07pm December 7, 2010)
Books aren't handy right now so names of the lesser used characters are hard to remember. The nightkeeper who is our psycho jailbird motorcycle bad boy would be Jason Momoa. He played Ronon Dex on Stargate Atlantis or if you like looking at him in beefcake mode, he was on Baywatch. But I like the Dex look much better. He's also very tall and from Hawaii. It's 5 a.m. and I haven't slept yet so you get strange descriptions from me at this hour.
(Christina Harrison 5:23am April 11, 2011)
Registered users may leave comments.
Log in or register now!