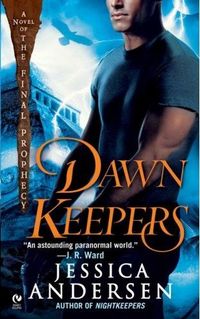 Purchase
Final Prophecy #2
Signet Eclipse
January 2009
On Sale: January 6, 2009
Featuring: Alexis Gray; Nate Blackhawk
480 pages
ISBN: 0451225759
EAN: 9780451225757
Paperback
Add to Wish List

The countdown to the end of days has begun—and Only the Nightkeepers can stop the annihilation of all mankind...

Though a Nightkeeper, Nate Blackhawk refuses to allow others to control his fate. The gods have even tried to influence his love life, sending him visions of Alexis Gray, a sleek blonde who is everything he's ever wanted in a woman.

The two warriors can't deny their attraction. But a frightening vision leads Nate to distance himself in spite of the intense passion he feels. Thrown together once more, they must reassemble seven Mayan artifacts that hold the key to preventing the end of the world…
Comments
19 comments posted.
Re: Dawnkeepers

love to read and love your books just don't stop writing
(Kathy Bowie 6:02am January 23, 2009)
I loved the first book and cannot wait to read this one.
(Kris Marsden 6:49am January 23, 2009)
I haven't read one of her novels yet. But I would love to. Dawnkeepers sounds like a wonderful book.
(Anita Yancey 8:13am January 23, 2009)
I was looking for a new author and I think I found her! Dawnkeepers sounds like what I am looking for.
(Annetta Sweetko 11:03am January 23, 2009)
I am not familar with these books, and would love to read Dawnkeepers
(Vikki Parman 11:11am January 23, 2009)
Your new book, Dawnkeepers, sounds very interesting. Would love to read one of your books. Thanks for the contest.
(Roberta Harwell 11:11am January 23, 2009)
Congrats on your new release. Dawnkeepers sounds very interesting and I love the cover.
(Lisa White 11:21am January 23, 2009)
I'm not too lucky at winning contests so I was wondering if you would be so kind as to send me an autographed bookmark if I don't win. I just love your writing.
Hugs,
Lorraine
(Lorraine Larose 11:24am January 23, 2009)
Sounds great, I'll look for it at the bookstore(I never win!)
(Dawn Raymer 12:59pm January 23, 2009)
Would love a chance to read this book! Thanks for the contest.
(JoAnn White 1:08pm January 23, 2009)
I have always loved reading stories that are based on the gods of mythology. Dawn Keepers from what I read sounds like a great book.
(Gigi Hicks 1:25pm January 23, 2009)
I suggest any of Suzanne Brockmann's Troubleshooters heroines/heros. She always has great conflict/love in her couples!
(Kelli Jo Calvert 1:43pm January 23, 2009)
Thanks for the giveaway. Your blog made me realize I'm missing reading different kind of books.
(Brenda Waters 2:12pm January 23, 2009)
Popping in to say Congratulations! Can't wait to read Dawnkeepers!
(Sandy Lapp 2:33pm January 23, 2009)
Great Book, A Must for the keeper shevles.
(Wilma Salas 7:13am January 24, 2009)
I am looking forward to reading your work!
(Dawn Howe 9:45am January 24, 2009)
If I'm not too late I'd love to enter to win a copy.
(Christy Hawkes 2:54pm January 24, 2009)
Wow. This sounds great! I am a bit into the end-times stories and Dawnkeeper is going to have to go on my library list. Mythology? That is definitely my mainstay through life since about age 15.

The last book in this genre that I read was Rowan of the Wood. I love forests, so it was right up my alley. And the authors give away a copy of the book for commenting on their blog (it is a very detailed blog by the way), which I like, because I love to keep up with what authors are doing. The sites are www.RowanofTheWood.com and
www.ChristineandEthanRose.com.
Their tour info and cool traveling caravan is seen there as well.
(Colette Hill 9:48pm January 27, 2009)
Love this Story cant wait for the next one.....
have a good one.....
(Ann w 4:06pm December 19, 2009)
Registered users may leave comments.
Log in or register now!