Jessica Andersen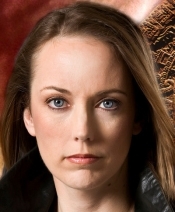 Blogging at Fresh Fiction
Jessica Andersen | Who's Your Favorite?
Comment to win!
April 14, 2010
Mayan lore and modern science warn that 12/21/2012 could bring a global cataclysm ... a threat that is far more real than we imagine Read More...
Jessica Andersen | FROM BOOK TO MOVIE...CHOOSING THE PERFECT CAST!
August 21, 2009
Iā€™m often asked how I would cast the movie version of SKYKEEPERS Read More...
Jessica Andersen | DAWNKEEPERS... Novels of the Final Prophecy
January 23, 2009
Hi!Ā  Jessica Andersen here, author of the Novels of the Final Prophecy.Ā  Thanks for joining me today! Hereā€™s a quick blurb on the series Read More...
Jessica Andersen | Of Mayan Myths and Hot Men
May 29, 2008
As I talk to people about NIGHTKEEPERS, one question that comes up repeatedly is one Read More...
Pseudonym: Jesse Hayworth.

I was born and raised in eastern Mass (go, Sox!), and have lived my whole life in New England. I did the public school thing, surviving the 80s with no lasting scars aside from a few photos of me with spiked hair and a rat tail (and no, Iā€™m so not posting those). During the 90s, I did a double stint at Tufts University for an undergraduate biology degree and a PhD in genetics, with a year-long break in between that can best be described as: ā€œI donā€™t know what I want to be when I grow up; I think Iā€™ll do some landscapingā€ā€¦ followed by ā€œum, okay; I think Iā€™ll go back to school now.ā€
During grad school and for a year after, I worked at the New England Eye Center, helping search for the genetic changes responsible for certain types of glaucoma. It was very cool work, but the writing aspect of science suited me far better than the labwork. It wasnā€™t until the committee head complimented my doctoral thesis by saying it ā€œread like a mystery novelā€ that I admitted I wasā€¦ umā€¦ writing a romantic suspense novel in my free time. A year later, I left the lab and spent the next while freelancing as a scientific editor and riding instructor while I worked on getting my writing career off the ground.
Released in October of ā€™03, my first Harlequin Intrigue, Dr. Bodyguard, was an RT Top Pick and kicked off a long string of largely science-themed romantic intrigues that have hit the category bestseller lists and been nominated for Reviewersā€™ Choice and RITA awards. While writing the Intrigues, I kept honing my craft and submitting new ideas, hoping to make the jump from category to single title success.
I love learning about new things and rediscovering old interests- thatā€™s the researcher in me, I suppose. So one day while I was working on a story idea, I came across a reference to pre-Columbian serpent worship, had an ā€˜ooh, shiny!ā€™ moment, and followed where the information flow led meā€¦ straight to a mention of the Mayan Long Count calendar, and how itā€™s slated to end on December 21, 2012ā€¦ close to a thousand years after the fall of the Mayan Empire.
The Maya have always been a particular interest of mine, and Iā€™d been to most of the major Yucatan sites as a kidā€¦ letā€™s just say the pyramid at Chichen Itza made a huge impression. How could it not? And the more I looked into the 2012 doomsday prophecy, the more the Nightkeepersā€™ story started clicking in my brain- less like I was crafting it, and more like it had been there all along, waiting for me to discover the Nightkeepers and how important theyā€™re going to become over the next few years as the Long Count draws to a close and the Mayan calendar reaches the zero dateā€¦ at which point there will be no more time to count. Game Over.
Or is it?? Stick around, and weā€™ll find out together as the stories unfold.
Log In to see more information about Jessica Andersen
Log in or register now!
Series
Royal House of Shadows
Books:
Colorado Mountain Escape, September 2021
Mass Market Paperback / e-Book (reprint)
Spellfire, November 2012
Nightkeepers
Paperback / e-Book
Magic Unchained, April 2012
Nightkeepers #7
Paperback / e-Book
Lord Of The Wolfyn, October 2011
Royal House of Shadows #3
Paperback
Storm Kissed, June 2011
Nightkeepers #6
Paperback
Bear Claw Conspiracy, May 2011
Bear Claw Creek Crime Lab
Paperback
On The Hunt, February 2011

Mass Market Paperback / e-Book
Blood Spells, November 2010
Nightkeepers #5
Paperback
Demonkeepers, April 2010
Final Prophecy #4
Paperback
Internal Affairs, October 2009
Bear Claw Creek Crime Lab
Mass Market Paperback
Skykeepers, August 2009
Final Prophecy #3
Paperback
Snowed In With The Boss, March 2009
Mass Market Paperback
Dawnkeepers, January 2009
Final Prophecy #2
Paperback
Manhunt In The Wild West, October 2008
Bear Claw Creek Crime Lab
Mass Market Paperback
With The M.D....At The Altar?, June 2008
The Curse of Raven's Cliff
Paperback
Nightkeepers, June 2008
Final Prophecy #1
Paperback
Twin Targets, May 2008
Thriller
Paperback
Doctor's Orders, January 2008
Paperback
Meet Me At Midnight, September 2007
Lights Out
Mass Market Paperback
Classified Baby, August 2007
Bodyguards Unlimited, Denver, CO
Mass Market Paperback
Prescription: Makeover, April 2007
Paperback
Under the Microscope, January 2007
Paperback
Red Alert, October 2006
Paperback
Rapid Fire, July 2006
Miniseries: Bear Claw Creek Crime Lab
Paperback
At Close Range, April 2006
Bear Claw Creek Crime Lab
Paperback
Ricochet, January 2006
Harlequin Intrigue 893
Paperback
Bullseye, September 2005
Big Sky Bounty Hunters #868
Paperback
The Sheriff's Daughter, June 2005
Paperback
Covert M.D., March 2005
Paperback