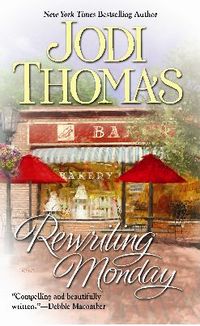 Purchase
Berkley
April 2009
On Sale: April 7, 2009
Featuring: Pepper Malone
336 pages
ISBN: 0425226948
EAN: 9780425226940
Paperback
Add to Wish List

Reporter Pepper Malone moved to Bailey, Texas, after a news story nearly got her killed. Now she wants to be left alone to do her job in relative peace and quiet. But when the newspaper's staff is targeted by a madman with a grudge against the media, Pepper is drawn back into the public eye— and into the arms of the paper's handsome owner.
Comments
38 comments posted.
Re: Rewriting Monday

I don't actually have anything in my life that was in my control that I would re-write. I have the perfect husband, a wonderful son, and I wouldn't go back and take a chance on changing that in any way!
(Marcia Corbett 9:39am April 7, 2009)
There are definitely things I would change. I would go out more and do more. It would also be nice to go back to few moments and shut my mouth instead of inserting my foot in my mouth.
(Summer Sharp 9:58am April 7, 2009)
I think that's a tough question because if you changed something in your past then that can change a whole bunch of other things that followed.
(Maureen Emmons 10:09am April 7, 2009)
Life happens...I've been blessed by my DH's love for almost 42 yrs before God took him home. Wouldn't change a minute of our time together. Er...your books are among my "keepers". Something about the way you write just grabs a hold of me....josie
(Josephine Martinez 10:23am April 7, 2009)
I enjoyed and appreciated this profound post. I wish I had known how fast life goes by, how we have so little time and few chances to enjoy life, I definitely would have jumped higher, travelled more and been more daring even though I am cautious. Maybe there is still time to do those special things that I pine for.
(Sharon Berger 10:51am April 7, 2009)
I can't think of anything I would go back and change, each thing that has happened has shaped me as a person. I think I would like to be braver. I'm not very outspoken and there are many times I wished I had said something, but I didn't stand up at the time and do it. I would like to do that, but I'm not sure it's in my nature :)
(Crystal Fulcher 11:37am April 7, 2009)
If I could, there are a few things in my life that I wish I could rewrite. For the most part, however, I am pleased with the decisions I made.
Jodi, I love your historicals and I look forward to reading your contemporaries. Congrats on the new release!
(Cheryl Castings 11:38am April 7, 2009)
I try to be brave. Sometimes theres moments where I'm like, that's gonna embarrass me down the road...and it probably does, but I don't regret it. Love your post today.
(Rachael Grime 12:01pm April 7, 2009)
Let me tell you I definitely would take the world by its ears and live! When I had the energy to "run and play" I stayed inside and read good books. Now, I have neither the time nor energy to do much of anything but read, and it makes me kinda sad. But life is still good, and I'm waiting for it to get better!

Love your books -- your writing is terrific.
(Betty Cox 12:24pm April 7, 2009)
When I was younger, I let a few people walk over me a little bit. I would like to go back and stand up for myself in those past situations. I have grown a lot of confidence over the years that I wish I had had when I was younger.
(Lori Patterson 12:34pm April 7, 2009)
We tried to convince my grandmother to spend some of the money my grandfather left behind and do the things she always wanted to but hadn't. Too bad she didn't listen to us. She never went to Australia, which was her lifetime dream. Sad.
(LuAnn Morgan 12:36pm April 7, 2009)
Yes I would love to rewrite part of my life. I think it would have been a whole lot different if I could. I think I would have also taken more risk.
(Gail Hurt 12:38pm April 7, 2009)
I don't think I would change anything, because every moment hinges on the moment before. Like in It's a Wonderful Life, if Jimmy Stewart's character hadn't been around, the town would not have had a bank that carried people. In the end, your friends are all who have helped you along the way.
(Alyson Widen 12:43pm April 7, 2009)
I would not have wasted time dating my college boyfriend.
(Crystal Broyles 12:54pm April 7, 2009)
I think I wouldn't change anything!
(Teresa Warner 12:59pm April 7, 2009)
I would have changed a lot of things. I didn't go to college and now I regret it. I should have gone places and done things before I settled down to raise a family.
(Carol Mintz 1:25pm April 7, 2009)
I don't think I would have changed much. I have a nice family and group of friends; a recently a granddaughter that I adore.
(Pat Lieberman 1:29pm April 7, 2009)
I think I would have learned to dance for I love to watch dancing with the stars.
(Loretta Wilson 2:41pm April 7, 2009)
Wanted to tell you that I love reading your books. You bring your characters to life for your readers and you feel like you are right there with them.
(Loretta Wilson 2:43pm April 7, 2009)
Congratulations on the new book.
(Shannon Scott 3:51pm April 7, 2009)
I just wanted to say I loved your stories in Give Me A Texan and Give Me A Cowboy they were awesome reads. One thing I would have changed in life was I would have went to college and had a different career, while I was young enough to enjoy it, and I would have traveled more.
(Gail Hurt 4:39pm April 7, 2009)
Life is a funny thing. There are times I wish I could go back and redo high school or college. The thing is I wouldn't be with my hubby right now. So, I would have to pass on a rewrite. Have a great day.
(Roberta Harwell 4:43pm April 7, 2009)
I would give almost anything if I could go back and rewrite an event in my life. I should have followed my intuition and will always regret that I didn't.
(Vikki Parman 7:03pm April 7, 2009)
Oh, yes Jodi, there is an event in my life I'd give everything to go back and rewrite. That event and how it played out has affected every facet of my life every day since.
(Kay Martinez 8:06pm April 7, 2009)
Thanks everyone for dripping by. In REWRITING MONDAY I wanted to make the very point that so many of you did, that there are times we'd rewrite if we could. We'd be braver, more adventurous and bolder. But there are also things that happened to us, some of them that looked like the wrong directions, but yet they made us who we are or led us to the right person and the end was worth the struggle.
I hope you enjoy reading REWRITING MONDAY as much as I loved writing it.
Thanks for reading. Jodi
(Jodi Thomas 9:38pm April 7, 2009)
OH, sorry about the spelling. YOu'd think after 28 books I could spell, but it's been a long day. :) I promise the spelling is better in the book. Jodi
(Jodi Thomas 9:39pm April 7, 2009)
I'm watching the last of a sunset from my office window tonight. Despite all the dust today blowing across the Texas Panhandle, you should see the way the sun spreads out for what looks like a hundred miles across the land and turns dusty orange before it becomes night. Happy Trails to you all. Jodi
(Jodi Thomas 9:42pm April 7, 2009)
I wish I had pursued a career. I like
my life, but there were things I would
have liked to do that didn't fit with the
path taken. As a military wife with
small children and a husband who
could leave at any minute, I focused
on making a stable home for the
children and acting as both parents
when necessary. I was a very good
student and should have gone for my
Masters. 37 years ago it wasn't as
easy to find a program that you could
study away from the college.
(Patricia Barraclough 10:45pm April 7, 2009)
About your books, I work at a small
county library and your books are very
popular - especially the westerns. It is
great to find a new author, put their
books on the shelf, and see them be
appreciated. Keep up the good work
and know that you are enjoyed in this
little corner of TN.
(Patricia Barraclough 10:52pm April 7, 2009)
I wish I hadn't gotten married while in college.. I was too young and so was he.
(Cate Sparks 10:48am April 8, 2009)
I took a risk almost 4 years ago. I packed up my personal things and moved from New York to Florida, a big risk for someone who is 54 and disabled. You have to take risks in life, otherwise you will regret something later in life. I am a widow and I had nothing and no one in New York. Time to make new memories elsewhere. I wanted a place and time to write amd here I am. If you want something badly enough, you go for it. Jodi, I love your books and this one looks great.
(Linda Cacaci 2:48pm April 8, 2009)
I absolutely would rewrite part of my life - I would have been braver as a teen and spoke up more - the few years I lived in California I would have appreciated the weather and beaches more - when my children were little would have spent more time with them, etc, etc, etc! This sounds like a great premise for a book - Can't wait to get to read it!
(Kristi Herbrand 1:47pm April 9, 2009)
i would like to rewrite part of my life... the part when i chose to go to college. i chose the wrong career path although through my wrong decision i would never have met my husband of almost 11 years and would not have 2 beautiful little girls.
(Tina Werner 3:57pm April 9, 2009)
Another thing I would change is I went to school a few years back to change my career. I chose the wrong thing because both jobs I had in the new career I hated. It also didn't pay much, so that didn't help at all.
(Gail Hurt 12:00pm April 10, 2009)
i choose the wrong job and now i'm kicking myself for not going to college
(Sonya Hucks 9:59am April 10, 2009)
I have few regrets...my college and work field are what I wanted and I am happy with them still. I am happily married for 23+ years so I am not sure I would change my personal relationships either. However, there is this one fellow I wished I had gotten to know better. The book sounds like it would be interesting!
(Martha Eskuchen 4:46pm April 10, 2009)
I would od went to college, so I wouldn't have to kill myself working two jobs to support my daughter and myself.....I would have more time to read!Loved Twisted Creek! Looking forward to Rewriting Monday.I am an Amarillo girl!
(Debra Le 9:44am April 13, 2009)
Jodi,
First off, let me tell you that I enjoy your books. I've always been a fan of tv and movie westerns (love Sam Elliott) but never was into reading books about them. I am a fan of Diana Palmer's and discovered you through reading an anthology and loved your writing and have been a fan ever since. Have also become a big fan of the Historical Western genre and all the various writers and this is from someone who is a born and raised city gal (Seattle).
Everyone I think has those things they fear, whether small or major and we just ignore them. I would buy food for take out and eat it in my car because I feared sitting in a restaurant and eating by myself. I thought everyone would be watching me. My revelation came when I wasn't going to movies, plays or musical concerts I wanted to because no one could go with me. I would always read the reviews later and kick myself because I found I really had missed out on a great event. I finally made up my mind one day that I would not deprive myself of something I enjoyed because I would have to experience it alone. It was scary in the beginning but it got easier and easier with each event. I'm finding now that more and more single people are doing the same as me and when you are alone, I find myslef talking to people around me that normally I would not. It's like a no brainer now. If I there is something I want to do now, I just do it.
The second turning point for me was in 1987 when my 18 year old son was killed by a drunk driver. His life was cut short and he did not get a chance to fulfill all his dreams. From that I learned that you may not have a tommorrow. Tell those that you care about how you feel about them today and don't hesitate to do those things you want to do because you may never get the chance to do them later. When you get to the end of your life, it shouldn't be all about regrest for those things you didn't do but full of memories for those things you did.
(Rosie Stroy 9:47pm April 22, 2009)
Registered users may leave comments.
Log in or register now!