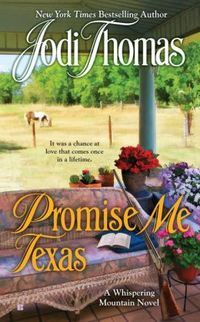 Purchase
Whispering Mountain #7
Berkley
November 2013
On Sale: November 5, 2013
Featuring: Andrew McLaughlin; Beth McMurray
320 pages
ISBN: 0425250741
EAN: 9780425250747
Kindle: B00BDQ39CG
Paperback / e-Book
Add to Wish List

New York Times bestselling author Jodi Thomas returns to Texas for an unpredictable adventure in romance that sets two unlikely hearts on fire…

Promise Me Texas

On a midnight train, four hours away from her wedding, Beth McMurray discovers the devastating truth about the powerful senator she's about to marry. Convinced nothing could make this stormy night worse, the train wrecks, and she tumbles straight into the arms of an outlaw.

Andrew McLaughlin doesn't believe in loving except between the pages of his writings. He loved deeply once and thinks he'll never survive another loss. To save a friend, he climbs aboard a train heading toward Dallas. In the moment before the train crashes, he saves a beautiful woman and is injured in the fall. He wakes up to find she's claimed him as her fiancé—and now they're both on the run, and destined to do everything it takes to make an unexpected promise of love come true.
Whispering Mountain

Texas Rain
#1.0
Amazon.com | BN.com | Apple Books | Kobo | Google Play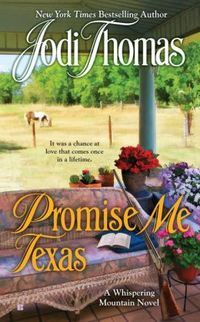 Promise Me Texas
#7.0
Amazon.com | BN.com | | |
Comments
11 comments posted.
Re: Promise Me Texas

After reading all of the twists and turns of this book, I can't wait to get my hands on it!! I'm getting my hot chocolate ready, and keeping my favorite reading spot clear!! This is the perfect story to kick off my Fall reading list with!! I don't know where you came up with the story line for the book, but this sounds like a real page-turner!! I can't say that a little white lie turned my life around. I'm not sure if I would use one, because I wasn't raised that way. I suppose I'd have to think long and hard about the circumstances and repercussions. Congratulations on what I'm sure will be a big hit!!
(Peggy Roberson 9:25am November 5, 2013)
Thinking about it... I do not recall a white lie having any drastic impact in my life... I do recall times I could not lie and feeling the recoil from telling the truth, but not from a small white lie. Congrats on the release of your book! :)
(Colleen Conklin 11:47am November 5, 2013)
I can't really think of a white lie that has really impacted my life in a significant way. I am not the type of person to tell white lies---not even the ones you tell just so someone doesn't feel bad. Like, my sister is a singer/songwriter and she often asks if I like songs she has written. I hate giving feedback if I really don't like a song, so I'll just say it's not one of my favorites. I'm looking forward to reading your new book. I have read your Harmony series and loved it!
(Juli Lear 7:37pm November 5, 2013)
I'm sure I have told a white lie now and then in order to spare someone's
feelings. I don't recall any instance that a white lie drastically changed my
life, though. Your book sounds so fun and interesting! Thanks for the
chance to win!!!
(Linda Brennan 9:30am November 6, 2013)
I have told a white lie but non that changed my life
(Patricia Lambert 2:24pm November 6, 2013)
Your book sounds great. Am looking forward to reading it. I'm sure I've told some white lies but I don't recall any that changed my life.
(Carol Woodruff 4:31pm November 6, 2013)
I have told a white lie but it hasn't really change my life for better or worse.
(Kai Wong 12:42pm November 7, 2013)
I'm sure plenty of people have done something because they believed someone's lie - calling it a white lie doesn't excuse hurtfulness or manipulation.
(Clare O'Beara 9:45am November 7, 2013)
Jodi,
I don't recall any white lie I've told that has had any drastic impact on my life. I do love reading your books very much, because you're such a terrific writer. You're one of my very favorite authors, and I just reserved this book at the library, but would love to own a copy. Of all the authors of cowboy/western romance stories...you're the best!!!
(Linda Luinstra 5:44pm November 8, 2013)
What an exciting pivotal moment to start with a train wreck
and end up with a new man. Running away from the life you
were destined for and gathering the pieces leaves the reader
with a lot of tension that's only bound to increase as the
chase is on and the lies pile up. Looks like a thrilling
read with twists you don't see coming.
(Alyson Widen 12:57pm November 9, 2013)
This sounds like such a good exciting book for all to enjoy and one that would be hard to put down! So many thrilling, tense moments!
(Rich Cook 4:12pm November 9, 2013)
Registered users may leave comments.
Log in or register now!