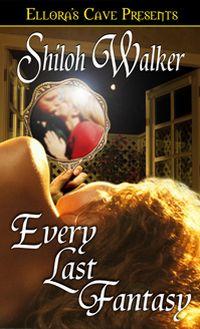 Purchase
Ellora's Cave
December 2004
ISBN: 1419900935
e-Book
Add to Wish List

Vikky is discontented. She is tired of her vanilla life and the bumbling lovers who inhabit it. She wants—needs—a strong man to take charge and lead the way to her wild side.
She has dreams… She dreams of a man who makes all the other men in her life pale in comparison, a man who knows exactly what she wants, and he wants nothing more than to give it to her.
But such a guy, to her knowledge, doesn't exist in reality. So what else can a woman do at Christmastime to help that dream along? She can ask Santa for one. And my, oh my, does Santa listen…
When Erik agreed to help out an old friend by wearing a goofy costume and playing Santa for a weekend at a local mall, he had no idea that a sleek, sexy woman from his past would show up and whisper her dark, sexy daydreams into his ear. But he wasted no time in making her fantasies come true.
But something odd is going on. There is a connection between them that neither could have prepared for. A compulsion that drives them to risk all for the other's touch. Memories of a life lived in another era. Heartbreak and yearning for an enduring love that was destroyed by bitter hatred.
To overcome the anguish of their dark past, these lovers must relive the pain and horror of the events that shattered their lives so long ago. They must discover the reason for the otherworldly connection that enthralls them. Only then can they find happiness in this life.
Together, as they were always meant to be.
Comments
No comments posted.

Registered users may leave comments.
Log in or register now!