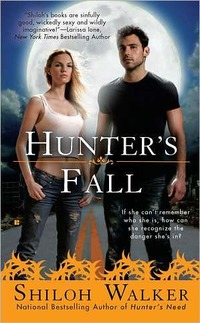 Purchase
The Hunters
Berkley Sensation
June 2011
On Sale: June 7, 2011
Featuring: Nessa; Dominic
336 pages
ISBN: 0425241807
EAN: 9780425241806
Paperback
Add to Wish List

UNKNOWN PAST
Something strange is happening to Nessa. Ever since she survived a near-death experience she's not exactly who she used to be—and enjoying every minute of it. Then she's called upon to go to battle against darkness. If only she could remember why.
UNEXPECTED LOVER
Dominic is having his own problems with memory, sanity, and hallucinations. Sent to Excelsior, the covert Hunter training facility, he senses a female presence that seems so hauntingly familiar. That's because he and Nessa share a forgotten past.
UNSEEN EVIL
As Nessa and Dominic regain their memories, their strange mission against evil becomes clearer. And all the more dangerous because whether they should trust each other is the still the greatest unknown of all.
Comments
8 comments posted.
Re: Hunter's Fall

Hi Shiloh

I've been to both large and small cons. My first one was actually one of the celebrate romances fun had by all.

I've been both to RT and RWA and I see what you mean by the laid back attitude of the smaller ones. You really do feel rushed at the bigger ones. I'm just a reader too I have no idea how an author keeps up with all of the with the extra demands placed on their time.

Bad Barb's been trying to get me to go to one of Lori's for years LOL

Next year it's RT for me. maybe in 2013 :)

Mary f
(Mary Froelich 10:11am June 11, 2011)
If I was ever in that area, I would be there in a heartbeat!! There is nothing more I would love to do than to meet you wonderful, talented, ladies!! Each of you have been given a gift, and that is to put pen to paper (so to speak), and give us such wonderful characters - some are real, most are not. You sweep us off of our feet, and keep us entertained for hours, with wonderful story lines. My hat goes off to you!! Congratulations on your latest book. I can't wait to read it, and someday to meet you as well.
(Peggy Roberson 10:13am June 11, 2011)
I've never been but would so love to. Told my husband that sending me to one would make a wonderful birthday present. He said it might work. Thank you for all the great reads.
(Victoria Sloboda 10:48am June 11, 2011)
The conventions sound like fun. I just haven't looked at how attending one would fit into my plans.
(Carol Drummond 11:52am June 11, 2011)
I would love to attend one of the cons but there are very few in Ontario, Canada.
(Diane Sadler 4:20pm June 11, 2011)
Hi Shiloh
I love Lori's & it was great seeing you again. I love the book chat too & catching up with everyone from last year.
Diane, I travelled from Toronto last year by bus (terrible) & this year drove with some friends (much better). It's worth the trip (especially to see Shiloh LOL).
(Mary G Grzesik 6:06pm June 11, 2011)
Hey folks... thanks for dropping by. :) If anybody ever has
the time to hit a get together like this, it's so worth it. :)
(Shiloh Walker 9:14pm June 12, 2011)
Next year I'm hitting the one that has the Mayan/Aztec theme simply because I love that stuff and it's going to be awesome. I think it's near Nashville, a place I love. Have fun this year and congrats on the new book.
(Christina Harrison 9:33pm June 12, 2011)
Registered users may leave comments.
Log in or register now!