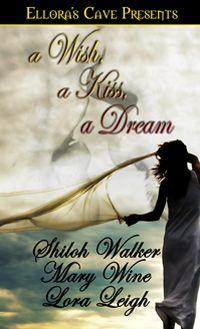 Purchase
Ellora's Cave
February 2005
ISBN: 1419900811
e-Book
Add to Wish List

Cowboy - Cowboy & the Thief By Lora Leigh
Book 2 in the Cowboy series.
The owner of the ancient Irish Torque will always be an Irish lass. The wearer, the lover of her heart and soul.
It's Angel Manning's legacy and has sparked dreams of an unknown lover who would fill her nights with heat, her heart with joy.
But when her father sells the Torque to Jack Riley against her wishes, destiny and fate are put in motion. She'll get it back if she has to steal it. But Jack catches her, and he's not giving it up without a fight.
Djinn's Wish By Shiloh Walker
When Tamric chose to become Djinn, he never imagined that he would be trapped in service to a magickal mirror for thousands of years, granting one wish to each woman who holds it.
Tam is ready to do anything to obtain his freedom when he meets the human who will make him burn with a hunger he had long ago forgotten and yearn for a love unlike any he has ever imagined.
For her he will give up his freedom, his dreams, his everything. Just to see her joy—before he disappears from her life forever.
Dream - Paying Up By Mary Wine
Christina Faulkner made a bet and now she owed him a kiss. If she's lucky, he's forgotten all about it. Shane Jacobs didn't just want the bet paid. He wanted a whole lot more.
But once passion touches its targets, desire transforms simple contact into mesmerizing obsession.
And Christina is about to discover that Shane hasn't forgotten her. In fact, he's coming back to claim what is his. All of it.
Note: Paying Up is linked to the "Dream" series but can be read as a stand-alone story.
Comments
No comments posted.

Registered users may leave comments.
Log in or register now!