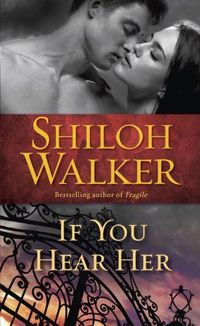 Purchase
Ballantine
November 2011
On Sale: October 25, 2011
Featuring: Ezra King; Lena Riddle
384 pages
ISBN: 0345517539
EAN: 9780345517531
Kindle: B004LROUUO
Paperback / e-Book
Add to Wish List

The scream Lena Riddle hears in the woods behind her house is enough to curdle her blood—she has no doubt that a woman is in real danger. Unfortunately, with no physical evidence, the local law officers in small-town Ash, Kentucky, dismiss her claim. But Lena knows what she heard—and it leaves her filled with fear and frustration.
Ezra King is on leave from the state police, but he can't escape the guilty memories that haunt his dreams. When he sees Lena, he is immediately drawn to her. He aches to touch her—to be touched by her—but is he too burdened by his tragic past to get close?
When Ezra hears her story of an unknown woman's screams, his instincts tell him that Lena's life is also at risk—and his desire to protect her is as fierce as his need to possess her.
Comments
11 comments posted.
Re: If You Hear Her

Being from Kentucky I just love books that are set in my home state. Series are my favorite to read too. So I cannot wait to read these.
(Leisa Prater 11:52am October 25, 2011)
Halloween is my favorite holiday. I still go to
haunted houses, watch scary movies, decorate
like a madman, and of course dress up. I get a
strange thrill from jumping out of my skin and
scaring my friends. I love it when a book can give
me that same thrill. Can't wait to read yours.
(Carla Carlson 12:02pm October 25, 2011)
I was born in Kentucky, Leisa! I love the area... I'm still
pretty local ;)

Carla, I love halloween, too...
(Shiloh Walker 12:17pm October 25, 2011)
Halloween is one of my favorite holidays, too. I can't wait to
read your book after reading the excerpts! It sounds
fascinating! And a must read.
(Debra Wright 12:39pm October 25, 2011)
Happy Release Day, Shiloh. Can't wait to read your new trilogy.
(Jane Cheung 1:06pm October 25, 2011)
I watched a group of Zombies dancing on Saturday and then they went biking around the block a few times. It stopped traffic and was well-organized. Nobody screamed even though the make-up was creepy. Your trilogy sounds like it has a lot of action and is tempting.
(Alyson Widen 2:32pm October 25, 2011)
@ Alyson... that sounds like so much fun... lol
(Shiloh Walker 3:26pm October 25, 2011)
I normally don't go in for scary things - not since I watched Frankenstein when I was a little girl with my older Sister. I was up past my bedtime, and ended up having nightmares afterwards. Now that I'm older, I can appreciate the artistic genius of the movie. Anyway, since you wrote these heart-pounding books, I have no choice but to give them a shot. I know I won't be disappointed!! If I have nightmares, I'm sure they'll go away after a couple of days anyways. :)
(Peggy Roberson 8:34pm October 25, 2011)
Halloween is my second best holiday, but Christmas is my first!!!!!!!!! Love them all!!!
(Joanne Bozik 2:47pm October 27, 2011)
I love things that go bump in the night. I love doing haunted houses. The only thing is that no one should touch me. Happened once and oh boy I was so freaked out and the kid that touched me ended up not being to happy either. One of those walls that come alive, he grabbed my leg. This was back in the '80's. No more Touching. LOL
(Jo Anne Benware 4:09pm October 28, 2011)
I have read so many of her books and enjoyed each one.
(Marie Manolio 11:52am November 30, 2011)
Registered users may leave comments.
Log in or register now!