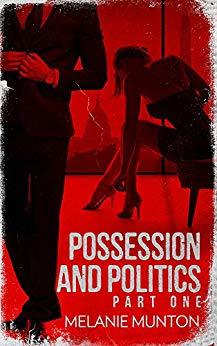 Purchase
Possession and Politics Part One
Melanie Munton
Author Self-Published
May 2015
On Sale: May 16, 2015
206 pages
ISBN: 1511958480
EAN: 9781511958486
Kindle: B00XJ1NSZG
e-Book
Add to Wish List

Romance Suspense | Romance Contemporary
They say love is supposed to set you free…but what if it destroys you first?
Beauty. Wealth. Perfection.
That was what the country saw when they looked at Gwen McKindry.
Loneliness. Heartache. Emptiness.
That was what Gwen saw when she looked in the mirror.
For Gwen, life had never been about making her own choices. Growing up in the world of politics was all about appearances and playing roles. She had been groomed her whole life to be the perfect all-American girl that everyone expected her to be. And she was. She had played her role well her entire life.
That was, until him…
Clay Masterson was a determined man with one mission: to become the Mayor of Washington, D.C. He may lead a somewhat lonely life but he was too busy establishing his career to entangle himself in relationships. For now, he had a loving family and great friends. He would get to the whole wife and kids thing later, when he actually had the time and motivation to find the right woman.
That was, until her…
Like Gwen, Clay also knew what it was like to live in the public eye. He was the only person who had ever seen through her fake smiles, who could penetrate her defenses, and he tore through them in a whirlwind of forbidden emotions and reckless declarations. He stirred feelings inside her that she never thought she could feel. But they came at a price…
Giving into their attraction could ruin them both and would be the most dangerous role of all.
He was her freedom. She was his destruction. How much were they willing to sacrifice for what neither of them could deny? Was it worth risking everything for?
**This is a full-length contemporary romance novel, the first of a three-part series.**
Comments
No comments posted.

Registered users may leave comments.
Log in or register now!