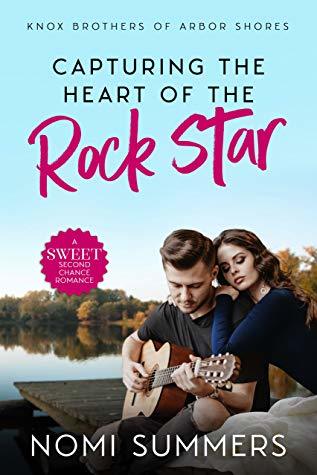 Purchase
Capturing the Heart of a Rock Star
Nomi Summers
A Sweet Second Chance Romance
Knox Brothers of Arbor Shores
Self-Published
September 2019
On Sale: September 5, 2019
ISBN: 1733277315
EAN: 9781733277310
Kindle: B07WRHQCF5
e-Book
Add to Wish List

Even rock stars are haunted by the one that got away...

Chasing music and freedom, Shane Knox left Arbor Shores nine years ago and never looked back... until now. With his best friend, Dax, getting married, Shane is coming home to face his past as well as Avery, the girl he left behind.

The second he lays eyes on her, all of his long-suppressed feelings come rushing back in a tidal wave of regret. For him, it was never truly over. But is it too late for a second chance?

Despite being bitter over Shane's abrupt exit, Avery has bigger problems on her hands than drama with her ex. Her family's hotel, Arbor Shores Resort, is struggling. Financial difficulties have landed the business in prime position for a real estate buyout, which would destroy all Avery and her family have built.

Putting his career on the line, Shane comes up with a plan that could save the resort. But will it be enough to redeem himself with Avery?

Or is it time for him to leave Arbor Shores for good?
Comments
10 comments posted.
Re: Capturing the Heart of a Rock Star

I think we would make a great reader-author match.
(Pam Howell 6:16am September 10, 2019)
Looks like something I would love to read.
(Rebecca Shields 7:04am September 10, 2019)
Yes I think we would.
(Sherry Haut 12:58pm September 10, 2019)
I love a small town romance. Most of the time reminds me of
where I grew up!
(Faith Sparks 1:33pm September 10, 2019)
I think we would be great author reader match. I love small town romances.
(Cynthia St. Germain 6:19pm September 10, 2019)
Small town second chance romance is right up my alley. And ,
at the moment, I'm hooked on R&R romance!
(Kathleen Bylsma 7:49pm September 10, 2019)
Sounds like great story.
(Melanie Rosen 10:49pm September 10, 2019)
I have lived around the country and small town America is where I
belong. I enjoy large metropolitan areas for what they have to offer,
but the pace of life in small towns is much more compatible to my
style. I can always visit the city for what it offers. I believe most
people deserve a second chance. It may not work out, but it is
worth trying. As for the bad boy image, many aren't really that bad
if you look deeply enough. Makes them all the more worth the
second look.
(Patricia Barraclough 12:44pm September 11, 2019)
sounds like such a goodbook
(Vickie Couturier 4:55pm September 11, 2019)
A small town make a lovely place for a second chance romance. Add a bad boy hero and it's the icing on the cake. Thanks for the giveaway.
(Anna Speed 9:16pm September 11, 2019)
Registered users may leave comments.
Log in or register now!