Linda Conrad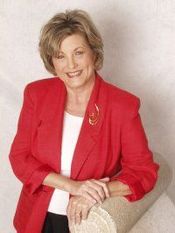 Blogging at Fresh Fiction
Linda Conrad | DEAD? ROMANTIC SUSPENSE CANNOT BE DEAD!
August 21, 2013
Do you like reading romance novels with a touch of suspense? 

Okay, clearly the romance genre is doing fine. But what about my Read More...
Linda Conrad | Holidays to Remember
November 28, 2012
Gage Chance wants to forget Christmas—for good.  It used to be a favorite holiday. But that was before he lost his Read More...
Linda Conrad | TEXAS MEN!
March 27, 2012
I'm thrilled about the start of my brand new series, beginning this spring for Harlequin Romantic Suspense, called Chance, Texas.  The series Read More...
Linda Conrad | First Lines and New Beginnings
July 1, 2010
I just love having a new book on the shelves. Especially when it's also the beginning of a brand new series. This series is Read More...
Linda Conrad | What Do You Love to Hate?
Make your Blog reading Pay-off! Comment to win Today!
March 5, 2009
A witch appears in my newest trilogy, The Safekeepers, for Silhouette Romantic Suspense.  In fact, she's a black witch who curses the Read More...
Linda Conrad | Why Do It?
June 3, 2008
I had every intention of writing a blog about my latest release for Silhouette Romantic Suspense, Read More...
The best–selling author of more than thirty–five contemporary novels, Linda Conrad has lived in a lot of different places but still feels like a small town girl at heart. Born in Rio and raised in Miami, it was moving to the Rio Grande Valley of Texas that captured her heart and changed her forever. She claims it will take decades to tell all the stories she saved up from those years spent in Texas.
Linda's sensual characters and passionate stories have brought her numerous awards and superlative reviews. Over the years her workshops and articles have helped other writers learn new skills and techniques.
Her books have been honored as winners of many romance industry awards: Reader's Choice Award, Write Touch Readers Award, Holt Medallion Award of Merit, Romantic Time Reviewers' Choice, the Maggie Award and the first Florida Romance Writers Lifetime Achievement Award. Her first novel came out in 2002, since then she has been published in more than twenty languages and sold in over twenty–five countries.
A jack–of–all–trades Linda held many positions, including as a stockbroker and certified financial planner, before beginning her writing career. She credits her mother, a story–loving descendent of Irish immigrants, for giving her a passion for books and stories.
Now a full time writer, Linda lives and works near the Florida Keys with her husband and one very spoiled dog named KiKi. She reads and boats and gardens and shops! When not writing.
Linda says "I love hearing from readers and try to answer every comment or question I receive at her website . I like sharing and send out news tidbits and hold contests with a periodic newsletter so if you'd like to sign up, you can do so on my website.
"I also share too many of my thoughts with followers on Facebook. Want to see photos of KiKi? Stop by and "like" my page.
Log In to see more information about Linda Conrad
Log in or register now!
Series
Coltons of Montana | Chance, Texas | Perfect, Wyoming
Books:
Last Chance Reunion, August 2013
Chance, Texas #4
Mass Market Paperback / e-Book
Christmas Confidential, November 2012
Chance, Texas #3
Paperback / e-Book
Texas Manhunt, May 2012
Chance, Texas #2
Mass Market Paperback / e-Book
Texas Baby Sanctuary, April 2012
Chance, Texas #1
Mass Market Paperback / e-Book
Rancher's Perfect Baby Rescue, February 2012
Perfect, Wyoming #2
Paperback / e-Book
Desert Knights, June 2011
Paperback
Secret Agent Sheik, April 2011
Paperback
The Sheik's Lost Princess, January 2011
Desert Sons
Paperback
Covert Christmas, October 2010
Paperback
Covert Agent's Virgin Affair, August 2010
The Coltons of Montana #2
Paperback
Her Sheik Protector, July 2010
Desert Sons #1
Paperback
In Safe Hands, April 2009
Safekeepers #3
Mass Market Paperback
Safe By His Side, March 2009
Safekeepers #2
Mass Market Paperback
The Sheriff's Amnesiac Bride, November 2008
The Coltons
Mass Market Paperback
Safe With A Stranger, June 2008
The Safekeepers #1
Paperback
Shadow Whispers, September 2007
Night Guardians #6
Mass Market Paperback
Shadow Warrior, May 2007
Miniseries: Night Guardians
Paperback
Shadow Surrender, March 2007
Miniseries: Night Guardians
Paperback
Shadow Hunter, January 2007
Miniseries: Night Guardians
Paperback
Shadow Watch, May 2006
Night Guardians
Paperback
Shadow Force, April 2006
Night Guardians
Paperback
The Cowboy's Baby Surprise (Silhouette Desire), June 2002
Mass Market Paperback