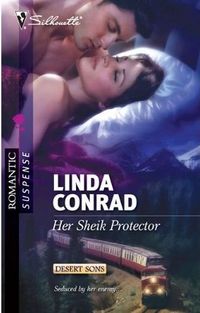 Purchase
Desert Sons #1
Silhouette Romantic Suspense
July 2010
On Sale: July 1, 2010
Featuring: Darin Kadir; Rylie Hunt
ISBN: 0373276885
EAN: 9780373276882
Paperback
Add to Wish List

Darin Kadir had to protect American Rylie Hunt at all costs. Seeking answers, she'd traveled halfway around the world to find him. Now she is a target of his family's arch nemesis and must trust Darin in order to survive.
Caught up in a covert war between two families, Rylie wants only to find her father's killers and bring them to justice. She doesn't want to fall in love. But the desire burning in Darin's eyes is unlike anything she's ever known. Will she surrender her heart—or become a casualty of a war across the ages?
Comments
13 comments posted.
I'm going to sign up for your newsletter...
(Brandy Blake 1:46pm July 1, 2010)
Cool, Brandy. We have lots of fun and everyone helps me out with opinions and games. Pleased to have you.
(Linda Conrad 2:42pm July 1, 2010)
When I get home, I'll check out some first lines. Usually it's a good idea to have some action in the first line or paragraph to draw the reader in.
(Alyson Widen 8:04pm July 1, 2010)
The first lines are so important! I give my books out once I read them, especially if they are good! Don't have any fabulous ones laying around to grab a first line from.
(Brenda Rupp 8:53pm July 1, 2010)
Of the books I can reach on my keeper shelf (it's overflowing, as I suspect every dedicated reader's is!), none of the first lines grab me as well as the Cindy Gerrard one you pulled. The mental visuals of that one are just fantastic!!

Later,

Lynn
(Lynn Rettig 10:02pm July 1, 2010)
Unfortunately, I can't give you an opening line from a book. All of my books are neatly packed in boxes. I'm living in a small apartment, and desperately trying to find a barrister's bookcase to put my treasures in!! I grew up watching I Dream of Jeannie as well, and I'm sure I'll enjoy reading your book very much!! Not only does it sound like it's off the beaten path, but it goes to distant shores that authors don't normally go to. I think you went beyond a comfort zone to write it, and I commend you for it.
(Peggy Roberson 10:27pm July 1, 2010)
A classic Dickens: David Copperfield - "I am born." Brilliant. Simple but bold.
(Mary Preston 11:35pm July 1, 2010)
I have two books just beside my computer at present, so checked the first lines in them:

Ivan Rasmussen looked at his world as if he were the Almighty himself... Some Girls Do, Leanne Banks (Definitely a keeper book.)

The woman known as Margaret to her fellow volunteers at the animal shelter stepped out of her ex-housekeeper Gerty's serviceable sedan in the shelter's caliche parking lot...Extreme Caution, Jean Brashear (Haven't had a chance to read this one yet.)

And from the book I am currently reading:

Kitty Biedermann hated Texas...Affair With the Rebel Heiress, Emily McKay (That first sentence certainly caught this Texan's eye and the book is proving very interesting, too.)
(Gladys Paradowski 11:47pm July 1, 2010)
First lines really do help set a story up.
Julie Garwood is an author who has
great first lines in her books.
"They meant to kill him." Honor's
Slendour
"But for the gerace of God and an
untied shoelace, she would have died
with the others that day." Come The
Spring
"Bad things always happen during the
night." Ransom
"Donald MacAlister didn't die easy."
The Wedding
(Patricia Barraclough 8:40am July 2, 2010)
I Broke My Left Ankle and can't get to my books - I Loved Babara Eden as Jeanie.
(Audra Holtwick 10:48am July 2, 2010)
Since I don't have the book available, I can't quote one of the first opening sentences that really alerted me to their importance and impact. It was in one of Jayne Ann Krentz's Stephanie James Silhouette Desire books and went something like this.

"She looked down on the soldiers and cannons lined up under Napoleon's command pointing toward the enemy forces of the Duke of Wellington."

It was a memorable sentence in a supposedly contemporary story and made me think, "Huh? What's this all about? I thought this was a contemporary not historical romance." A great opening and very attention-grabbing. She wrote many similar ones to get the reader immediately involved in her story.

NB: Any resemblance of this sentence to the actual one is mostly coincidental.
(Sigrun Schulz 4:54am July 3, 2010)
Hi Linda--An opening line I always remember is from Tami Hoag's Dark Paradise--(I'm quoting from memory)"It started out as a bad hair day and went downhill from there." I also like that first line from Midnight Bayou. Good luck with the new series!
(Mary Perry 11:08am July 4, 2010)
Desert Sons sounds like it is going to be a sexy series, woopee, Just what I need.
(Kathleen Bianchi 6:45am July 7, 2010)
Registered users may leave comments.
Log in or register now!