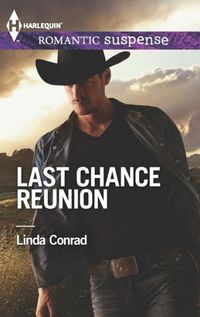 Purchase
Chance, Texas #4
Harlequin Romantic Suspense
August 2013
On Sale: August 6, 2013
288 pages
ISBN: 0373278357
EAN: 9780373278350
Kindle: B00BNRHMXW
Mass Market Paperback / e-Book
Add to Wish List

Romance Suspense | Romance Series
LAST CHANCE REUNION
Two Lone Star Stories in One!
TEXAS COLD CASE
Determined to solve the cold case of his mother's murder, Colt Chance returns home to Texas. Turns out the new deputy sheriff is the woman who broke his heart. But when someone targets Lacie, Colt will have to decide between the vengeance he seeks and protecting the one he still loves.
TEXAS LOST AND FOUND
After witnessing a murder, firefighter Nina Martinez finds an ally in medic Josh White. On the run, they discover that Nina is the long-missing Chance sister, Cami. Will Cami embrace the love from Josh and her real family before it's too late?
Author Note
Dear Readers,
I have really enjoyed writing the Chance, Texas series. It's been so much fun creating characters that seem like a few of the people I met while living in Texas. I *heart* Texans! My thanks to so many of you for writing to say you have loved reading these stories.
In case this will be your first Chance, Texas book, here's a little about the background of the Chance family:
The Chance family has owned the mega Bar-C ranch in Chance County Texas for nearly a hundred years. About twenty years ago the owner at that time, Jacob Chance, was arrested, tried and sentenced for his wife's murder. He died in prison, leaving six children on their own to run the Bar-C. The children were devastated and for a while they barely managed to hold things together. One son was killed in a ranching accident and the only daughter was spirited away by their mother's sister during the first year.
The four surviving brothers, Sam, Travis, Gage and Colt, stay on the ranch to finish school, each finding their own way of moving on without their parents. The oldest brother Sam heads off to the army (see TEXAS BABY SANCTUARY April 2012.) Travis learns to run the ranch with an iron will (see TEXAS MANHUNT May 2012.) Gage dedicates his life to finding their baby sister and becomes a private investigator (see A CHANCE REUNION in Christmas Confidential anthology December 2012.)
That brings us to the final book in the series: LAST CHANCE REUNION August 2013
After finishing high school, the youngest brother Colt decides he hates living on the ranch. He leaves, becoming a federal attorney, and vows to stay away from Chance, Texas and the Bar-C ranch for good. But there are still a few mysteries for Colt to solve in Chance. Eventually, he must find out who really murdered his mother and framed his father. He also wants to know why his high school sweetheart left him without a word of goodbye. And finally there is one last puzzle for the Chance family to solve. What happened to the kidnapped baby sister they'd named Cami and lost when she was only four?
LAST CHANCE REUNION is organized a little differently than the other books. I was in a hurry to let you read these last two stories of Colt and Cami so I put them both in one book. TEXAS COLD CASE is Colt's story and TEXAS LOST AND FOUND is the story of bringing Cami home.
Enjoy your reading!
Linda
Chance, Texas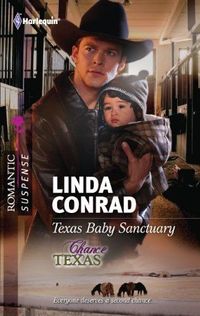 Texas Baby Sanctuary
#1.0
Amazon.com | BN.com | | |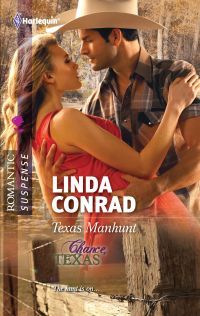 Texas Manhunt
#2.0
Amazon.com | BN.com | | |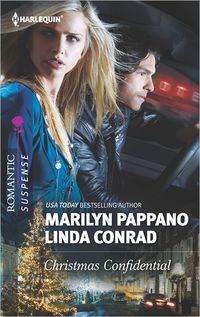 Christmas Confidential
#3.0
Amazon.com | BN.com | | |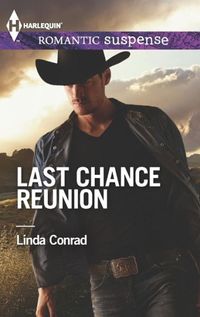 Last Chance Reunion
#4.0
Amazon.com | BN.com | | |
Comments
47 comments posted.
I love your top 10 list, especially numbers five and seven.
Romantic suspense and historical romances are my two
favourite genres and I don't know what I would do if either
of them went away. My bookcases are divided into three
sections, suspense, historical and everything else. Right
now I'm in a romantic suspense mood and I'll read all the
books from two or three authors before I switch genres. I'm
not sure where you heard that 'Supposedly it's out of favor
with readers' but I disagree with them too. Everyone needs
some suspense in their fictional reality (my favourite place
to be :-) ) to keep things interesting.
(Lisa White 1:13am August 21, 2013)
Romantic suspense was my first romance sub-genre, and I still enjoy reading it quite a bit. I read many different types of romance nowadays, but I do love to have the mystery and suspense components added to those HEAs!
(G S Moch 2:03am August 21, 2013)
How cool - I love your list - 2, 5 and 6 are REALLY great - and I do love romance and suspense all mixed up together - I think that is what love is, too, in real life - there is always some suspense there; or at least there SHOULD be!
(Felicia Ciaudelli 7:58am August 21, 2013)
romantic suspense is always appealing since it incorporates
romance, mystery, suspense and is special.
(Sharon Berger 9:40am August 21, 2013)
Hi Lisa,
The quote about "Out of favor with readers" has been coming from some of the publishers. They say the books are not selling like they were. But I'm with you and loved your sentence about "Everyone needed some suspense with their fictional reality." Hooray for you!
(Linda Conrad 10:08am August 21, 2013)
You know what, GS, I think writers are sticking more suspense into romance and just not calling it romantic suspense. :)
(Linda Conrad 10:09am August 21, 2013)
LOL Felicia. So glad there are readers like you!
(Linda Conrad 10:10am August 21, 2013)
Ohh yeah, Sharon. SPECIAL is right!
(Linda Conrad 10:11am August 21, 2013)
Linda i think you are right I do think more writers are
sticking with more romance suspense now adays we love a good
romance suspense book i know I do
(Denise Smith 10:12am August 21, 2013)
I like suspense, romance, historical, mystery, thrillers in any combination or not. I like a happily-ever-after. I do prefer a cleaner read. I enjoyed your blog and thank you for the chance to win Last Chance Reunion plus a $10 Amazon gift. The Very Best To You.
(Esther Somorai 10:14am August 21, 2013)
Who are 'they' that say romantic suspense is out of favor?! I
love romantic suspense!
(Diane Sallans 11:11am August 21, 2013)
It sounds like my kind of book! Count me in please.
(Deanna Stillings 11:31am August 21, 2013)
I love romantic suspense, really adds to the story line. I do not read
historical or paranormal.
(Shari Bartholomew 11:48am August 21, 2013)
I enjoy both, the romance and suspense so may as well have them both in a book. A story that makes me wanting to read it and never put it down, with a twist at the end I never saw coming. I am a sucker for the true "Cinderella" ending, so I do like the romantic part of a book.
(Lynne Pearson 12:11pm August 21, 2013)
I like #5, good list overall!
(Shelley Pierce 12:17pm August 21, 2013)
I read almost anything, except horror. My imagination is too good for horror. I like romantic suspense because of the plot twists.
(Laura Gullickson 1:09pm August 21, 2013)
I like romantic suspense-- it works well with the mystery of
human relationships!
(Mary Ann Dimand 2:37pm August 21, 2013)
Great list... #10 is a must! Enjoy that bit of danger in romantic suspense... thanks for sharing!
(Colleen Conklin 3:19pm August 21, 2013)
I love romance. Period.
Any romance is a good romance.
(Elaine Seymour 3:41pm August 21, 2013)
Oh, I can't believe romantic suspense is not favored! It is the best of everything you want to read- rich characters, romance, love, intrigue, suspense and so much more! As you can see, I love romantic suspense and I love your top ten!! I can't wait to meet the Chance family!
(Britney Adams 3:52pm August 21, 2013)
I love suspense, because I love a good whodunit! And, of course, romance with everything :-)
(Chelsea Brooks 3:59pm August 21, 2013)
I Love suspense too!!! Today is my 37th Anniversary , so a little romance is
great too!!
(Janet Evans 5:02pm August 21, 2013)
You guys are the greatest! Glad you like my list and really, really glad you're with me on Romantic Suspense!
(Linda Conrad 5:05pm August 21, 2013)
I like romantic suspense, that way you want fall asleep while reading.
(Charlotte Wills 5:13pm August 21, 2013)
Love your first name! Your Top Ten List is great! I love romantic suspense. I also enjoy paranormal with romance and enjoy cowboy romance and western historical romance. Always need that #10 for sure!
(Linda Luinstra 5:24pm August 21, 2013)
I like contemporary & historical romance, and some suspense or
a little paranormal mixed in sometimes.
(Sharlene Wegner 5:33pm August 21, 2013)
My favorites of your list are 4 and 7. A couple who trusts each other and is willing to do anything for one another is so much fun to read. I just love the romantic suspense genre so much somedays.
(Jamie Fortney 5:45pm August 21, 2013)
I like historical romance 1 st, then I may read a suspense or a paranormal romance for a change.
(Deb Pelletier 6:01pm August 21, 2013)
Besides a great name for a town (Chance), I also see it being a strong name for a male or female character! Good luck with your new novel!
(Susan Coster 6:07pm August 21, 2013)
i like to read this sort os book ps
(Debbi Shaw 6:20pm August 21, 2013)
I like romance period. :) I like it in suspense... I like it in paranormal too! :)
(May Pau 6:30pm August 21, 2013)
Oh yes! I enjoy romance with a touch of suspense. To me, it's a great combination.
(Anna Speed 6:33pm August 21, 2013)
I LOVE romantic suspense. I never used to like it but lately I
have been a huge fan.
(Jackie R 6:41pm August 21, 2013)
Enjoy reading suspense and romantic suspense. I like paranormal too. I think you've got a great list.
(Rich Cook 6:50pm August 21, 2013)
love to read your books
(Brenda Hook 7:17pm August 21, 2013)
Romantic Suspense is not out of favor with THIS reader! I love a good
mystery, and I love a good romance. If the two genres are combined, it's a
win-win for me! I sympathize with your comments about not wanting to say
goodbye to your characters. I, as a reader, don't like to say goodbye to
characters either. Congratulations on your series, and thanks for the
chance to win!!!
(Linda Brennan 7:18pm August 21, 2013)
I like to read romantic and historial romance and someone else can enjoy paranormal.
(Sheila True 7:18pm August 21, 2013)
I've always loved romantic suspense, as I find it so much more satisfying than strictly romance.
(Karen Blossom 8:26pm August 21, 2013)
My favorite romances are paranormal and historical. They often have a suspenseful plot.
(Janie McGaugh 9:10pm August 21, 2013)
Love your books and can't wait to read this one!!! THANKS!
(Bonnie Capuano 10:54pm August 21, 2013)
I love romance and am keeping my fingers crossed for the win!
(Melanie Backus 11:04pm August 21, 2013)
Love romantic suspense. Debra Webb's books are a very good example.
The Faces of Evil series. Awesome!
(Vicki Hancock 11:23pm August 21, 2013)
Romantic suspense can't be dead---it's my favorite genre.
(Sue Farrell 11:29pm August 21, 2013)
I love reading suspense with romance in it. It gives that excitement of looking for the criminal. Yes, I do get my high off that.
(Kai Wong 12:02pm August 22, 2013)
Love, Love romantic suspense!! I will read romantic suspense before I read anything else! I do read a lot of other genres but that is my fav..
(Martha Lawson 6:58pm August 22, 2013)
That's a great list. LAST CHANCE REUNION looks fabulous.
(Mary Preston 7:14am August 23, 2013)
I loved your list and especially 1 and 3... the first just because and 3 because I certainly believe in love at first sight. I love to read romance with suspense ... have to add just the right touch of danger to spice up a good romance and make it better.
(Annetta Sweetko 4:34pm August 23, 2013)
Registered users may leave comments.
Log in or register now!