Spotlight on Candace Havens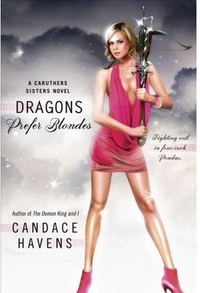 Purchase
Fighting evil in four-inch Pradas...
Caruthers Sisters #2
Berkley
July 2009
On Sale: July 7, 2009
Featuring: Ginjin; Alex Caruthers; Jake
304 pages
ISBN: 0425227804
EAN: 9780425227800
Trade Size
Add to Wish List

People always ask me if my characters are based on people I know. My answer is usually sometimes, but usually itís almost always. Well, theyíre usually an amalgamation of people I know. Bronwyn, my witch in my ďCharmed & DangerousĒ series has a lot of me in her. Kira, her best friend, who is the star of ďLike A Charm,Ē is loosely based on my college roommate and dear friend Rikki Pate, with a little of my best bud Shannon Canard thrown in.
In my Caruthers sistersí series each woman is based on a friend of mine, mixed with a celebrity I know from the day job. Iíll never admit who they are, but I think they can see themselves in my work. We are instructed to write what we know, and well, I know people. (Smile)
In DRAGONS PREFER BLONDES Alex Caruthers is a wealthy club owner, but she also has one of the toughest jobs of the Guardians Keys. She has to protect our world from dragons. Sheís a woman who has seen a little too much of life and she has a hard edge, yet there is a side to her that is so nurturing. She canít help but care for those less fortunate. And sheís loosely based on a writer friend of mine who shall remain nameless. Jake, her love interest, is as close to the perfect man as Iíve ever written. Though, heís as equally messed up as she is in some ways. Heís based on an old boyfriend and a certain celeb, but please donít tell my husband.
One of the people she meets early in the book is an elderly pub owner, who comes to her aid. In my head, he looks like Ian McKellan, but heís loosely based on my Grandpa Doc. Iíve never told anyone that. My Grandpa was one of those people who thought I could do no wrong. He really believed in me. Iíve never had a chance to bring him into one of my novels, until now.
The truth is, I never usually know who has influenced my characters until Iíve already written them. Then I go back on that first draft and I see that he is just like my Grandpa, or Ms. Helen (in the Charmed & Dangerous series) is just like my Grandma.
My bad guys are also based on people I know, and there are days when I wish I could share. But I also believe in karma, so thatís not going to happen. Writing is therapy and I work through my issues with those people with words. But I know who they are.
I tell you this as a warning. If you ever meet me, thereís a really good chance youíre going to end up in a book somewhere down the line. Whether youíre a good guy or a bad one, well thatís up to you. (Smile)
Candace "Candy" Havens is a best selling and award-winning author. Her novels include "Charmed & Dangerous", "Charmed & Ready", "Charmed & Deadly", "Like A Charm" and "The Demon King and I". She is known for writing strong female characters, who save the world, but aren't exactly perfect. She is a two-time RITA, Write Touch Reader and Holt Medallion finalist. She is also the winner of the Barbara Wilson award.
Candy is a nationally syndicated entertainment columnist for FYI Television. A veteran journalist she has interviewed just about everyone in Hollywood from George Clooney and Orlando Bloom to Nicole Kidman and Kate Beckinsale. You can hear Candy weekly on 96.3 KSCS in the Dallas Fort Worth Area.
Her popular online Writer's Workshop has more than 1000 students and provides free classes to professional and aspiring writers.