"Bree has been hiding her whole life and now she must come out of the dark."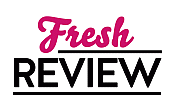 Reviewed by Shellie Surles
Posted July 3, 2019

WHEREVER SHE GOES is a contemporary romance, another change for Kelly Armstrong, with some mystery intertwined. This is not a paranormal or a Rockton story.
This is the story of Bree, a librarian who is recently separated from her husband Paul and she is determined to make it on her own. She has secrets and cannot afford to draw any attention to herself. Knowing it would be hard to start over, she has a small nice apartment and has allowed Paul to keep the house and their daughter. Bree is well aware how it looks when mother does not have custody, but a battle could cause thing to come out that no one knows, secrets that Bree wants kept. Bree is a wonderful mother who does everything she can to ensure her daughter knows how much she loves her.
While at the park with her daughter, Bree sees a child kidnapped and is determined to find the little boy. Going to the police does her no good, as no child has been reported missing and even when the child's mother turns up dead they still won't listen to her. Bree will not give up and as things become dangerous her soon-to-be ex Paul is forced to get involved and help protect their daughter, Charlene.
Kelly Armstong, as always writes a great story. Though I do still miss her Otherworld series, I quite enjoy her Rockton and Cainsville series. WHEREVER SHE GOES is a different kind of story, full of danger, intrigue, and ultimately, hard-earned romance. Kelly Armstrong tells the reader that you must trust the one you love to love your faults and all and not hide things. Give them a chance to love all of you and maybe it will save you a lot of drama. Great book for a glass or two of wine and a big comfy chair.
SUMMARY
From New York Times bestselling author Kelley Armstrong comes a brand new psychological thriller about the lengths one woman will go to in order to save a child.
"Few crimes are reported as quickly as a snatched kid."
That's what the officer tells single mother Aubrey Finch after she reports a kidnapping. So why hasn't anyone reported the little boy missing? Aubrey knows what she saw: a boy being taken against his will from the park. It doesn't matter that the mother can't be found. It doesn't matter if no one reported it. Aubrey knows he's missing.
Instead, people question her sanity. Aubrey hears the whispers. She's a former stay-at-home mom who doesn't have primary custody of her daughter, so there must be something wrong with her, right? Others may not understand her decision to walk away from her safe life at home, but years of hiding her past – even from the people she loves – were taking their toll, and Aubrey knows she can't be the mother or wife she envisions until she learns to leave her secrets behind.
When the police refuse to believe her, she realizes that rescuing the boy is up to her alone. But after all the secrets, how far is she willing to go? Even to protect a child.
---
What do you think about this review?
Comments
No comments posted.

Registered users may leave comments.
Log in or register now!