"Another killer dessert for Hannah Swensen!"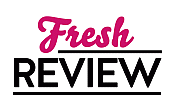 Reviewed by Monique Daoust
Posted January 31, 2018

It was the last day of Hannah Swensen's honeymoon cruise when she got a message from her sister Michelle. Their mother, Delores, had just discovered the body of her neighbor Victoria "Tori" Bascomb, a famous one-time actress. Tori was a good friend of Delores', while Hannah was merely acquainted with the deceased, but Hannah is distressed that yet again, a murder victim was found near a box that held one of Hannah's pies!
I'm not sure if I ever quite fully appreciated how relaxing Joanne Fluke's books are. It felt so good to be back in this angst-free environment with my fictional Lake Eden friends. It's too easy to overlook what a clever writer Ms. Fluke is: her prose is efficient, uncluttered, and flows effortlessly, but it had never dawned on my before that the author excels at showing instead of telling, which is crucial in making a story lively and keeping the reader alert and interested. What did surprise me though was laughing nearly hysterically at a detail mentioned in passing during a conversation between secondary characters, while Hannah was snooping; I actually had to stop reading to regain my composure. How about a glass of "Chateau Screwtop" wine to go with that!
I never mention specific recipes -- for those of you unfamiliar with this series, yes many recipes are included -- but this time, I just couldn't overlook the Tropical Angels Cookies; they do sound heavenly! After all these years, Hannah is finally married, and I was wondering how it would affect the dynamics of the series. Hannah is struggling a bit; she has to figure out what adjustments to make when it comes to Ross Barton, her husband, and remind herself not to forget about him when she goes gallivanting. On the one hand, Hannah being newly married did not change much in the series, on the other BANANA CREAM PIE MURDER has the most epic plot twist of any Hanna Swensen mystery! Does Ross really love Hannah's desserts that much?
SUMMARY
A romantic seven-day cruise is the perfect start to bakery owner Hannah Swensen's marriage. However, with a murder mystery heating up in Lake Eden, Minnesota, it seems the newlywed's homecoming won't be as sweet as anticipated…
After an extravagant honeymoon, Hannah's eager to settle down in Lake Eden and turn domestic daydreams into reality. But when her mother's neighbor is discovered murdered in the condo downstairs, reality becomes a nightmarish investigation. Victoria Bascomb, once a renowned stage actress, was active in the theater community during her brief appearance in town…and made throngs of enemies along the way. Did a random intruder murder the woman as police claim, or was a deadlier scheme at play? As Hannah peels through countless suspects and some new troubles of her own, solving this crime—and living to tell about it—might prove trickier than mixing up the ultimate banana cream pie…
Features Over a Dozen Cookie and Dessert Recipes from The Cookie Jar!
---
What do you think about this review?
Comments
No comments posted.

Registered users may leave comments.
Log in or register now!