"A kidnapped princess and a captivated pirate. What could possibly happen between them?"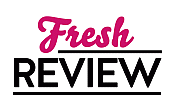 Reviewed by Rosie Bindra
Posted August 28, 2017

Brigitta has never known anything about her family. Having been raised on the Isle of Moon by nuns, all Brigitta knows is that she is Embraced; born with supernatural powers that allow her to see the things people want to keep hidden when she touches them. When she learns she's actually a princess and her evil half-brother King Gunther is demanding she be brought back to their kingdom, Brigitta hopes she can find refuge from the tyrant with her sister who is the Queen of her own kingdom. But before she can get to the safety of her sister's, Brigitta is taken captive by a pirate who says he has plans of his own for her.
Infamous pirate Rupert, well known amongst the five kingdoms as a sorcerer who can control the wind, has one purpose in life; revenge. Having lost everything that he holds dear nineteen years ago when then King Garold and his son Gunther destroyed his family, Rupert will do anything to get back what was stolen from him, even kidnap the King's half sister. Having waited all these years to get his revenge, Rupert never imagined the one thing standing in his way would be the very girl he kidnapped. Their fiery attraction is wreaking havoc on his revenge plans but can this pirate really trust the daughter of his greatest enemy?
Kerrelyn Sparks is one of my favorite authors. She's one of my go to authors when I want something that's funny and adventurous, so when she announced she was going to quit writing the series she's known for and branch out with something new, I was a bit apprehensive. Sparks being the fabulous writer that she is though, I really had nothing to worry about.
SO I MARRIED A SORCERER is the second book in Sparks' marvelous new series, The Embraced, and it has all the trademarks you expect to find when you read a book by her. There's a dash of everything for everyone; humor, romance, suspense, danger. And you get two romances for the price of one. Not only do you get to watch Brigitta and her pirate fall for each other, there's also a love story with a nun. Talk about original! And the way with which Sparks' presents the story, it becomes such an integral part of what's going on without feeling forced. I loved it.
With two books down and only five girls being raised by the nuns on the Isle of Moon, I'm already lamenting the end of the Embraced series. There are three books left, with the next one coming out in March, but I'm really hoping Sparks will figure out how to extend the series with other characters. One of the most unique and original series I've read in quite a while, with SO I MARRIED A SORCERER, Sparks shows us she has a limitless imagination that'll keep us captivated for years to come.
SUMMARY
The second book in one of the freshest, most breathtaking fantasy romance series to come along in years!
Growing up on the Isle of Moon, Brigitta knows nothing of her past, except that she is Embraced: born with powers that forced her into hiding. Everything changes when she learns she's a princess, hidden away from her villainous half-brother who now rules the kingdom. But he knows about Brigitta, and he'll do anything to get her back. Unless a certain roguish pirate has anything to say about it…
Rupert is both an infamous pirate and a sorcerer with the power to harness the wind. He's been waiting nineteen years for revenge—and he needs Brigitta to get it. What begins as a kidnapping of the fiery beauty turns into a fierce attraction. But can he win the captive princess's heart?
New York Times bestselling author Kerrelyn Sparks will sweep readers away to a fantastical world where magic, romance and royal intrigue collide.
---
What do you think about this review?
Comments
1 comment posted.
Re: A kidnapped princess and a captivated pirate. What could possibly happen between them?

Kerrelyn Sparks know s how to strike sparks!
(Kathleen Bylsma 4:36pm August 31, 2017)
Registered users may leave comments.
Log in or register now!