"Grab a second chance with both hands"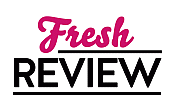 Reviewed by Jennifer Rummel
Posted August 13, 2017

Women's Fiction Contemporary | Romance | Inspirational Romance
Shay has a weakness for her brother, but helping him out of a jam results in her imprisonment. After three years, Shay's released without any prospects and her only plan includes a bus trip to Seattle. The bus drops her off outside a church. While she's not particularly religious, she heads inside to escape the cold.
After a moment or two of peace, the pastor spots her. Right away Shay becomes defensive, but soon realizes he's only trying to help. Without anywhere else to go, she begrudgingly accepts. He calls in a favor and gets her an interview to a program for people who need second chances. As time passes, Shay begins to soften as her understanding of life changes through the program. She's thankful to Pastor Drew for taking the time to help her. What Shay doesn't know is that helping her also saved Pastor Drew. He lost his way after this wife died and has been struggling ever since. Upon helping Shay, he found comfort and light. Pastor Drew looks in on Shay every couple of months just to check her progress. Now that she's completed the program, she's ready for the biggest test of all -- the outside world. Can Shay put her past behind her and start a new life for herself with new friends and maybe even a romance?
ANY DREAM WILL DO carries a heartwarming message about trust, second chances and forgiveness. Dual perspectives enhance the story line showcasing the characters' thoughts.
Drew's two children, Sarah and Mark, add depth to the story with their hopes and dreams for the future, their problems, and daily life. Drew finds inspiration in talking with Shay, not just in his personal life but also in his professional life. The moments of Drew and Shay relying on each other through dark moments tugs at the heart strings.
The secondary characters flesh out the novel further with Shay's co-workers, her homeless friends, her program friends, and the church members. They serve many roles in this story some of which include showing that people can change and embrace second chances, that snap judgments aren't always correct and that friendship can be a life saver.
The idea of dreaming and working hard to make those dreams come true is a great message that will resonate with readers.
This is a Christian fiction novel, a departure from Macomber's typical genre. ANY DREAM WILL DO is another feel good classic novel from Debbie Macomber.
SUMMARY
Shay Benson adored her younger brother, Caden, and that got her into trouble. When he owed money, Shay realized she would do anything to help him avoid the men who were threatening him, and she crossed lines she never should have crossed. Now, determined to start fresh, she finds herself in search of a place to stay and wanders into a church to escape from the cold.
Pastor Drew Douglas adored his wife. But when he lost her, it was all he could do to focus on his two beautiful kids, and his flock came in a distant third. Now, as he too is thinking about a fresh start, he walks through his sanctuary and finds Shay sitting in a pew.
The pair strike up a friendship—Drew helps Shay get back on her feet, and she reignites his sense of purpose—that, over time, turns into something deeper, something soulful, spiritual, and possibly romantic. Even Drew's two children are taken with this woman who has brought light back into their lives. Perhaps most important, Shay learns to trust again as she, in turn, proves herself trustworthy to her adopted community.
But Caden's return to town and a disastrous secret threaten to undo the life Shay has tried so hard to rebuild. It will take the utmost courage and faith if she and Drew hope to find healing and open their hearts to a brighter future.
---
What do you think about this review?
Comments
No comments posted.

Registered users may leave comments.
Log in or register now!