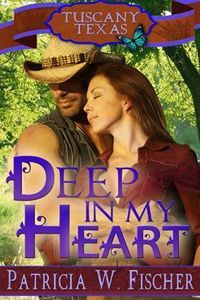 Purchase
Tuscany, Texas #1

October 2013
On Sale: October 4, 2013
Featuring: Jocelyn Promise; Caleb Davis
310 pages
ISBN: 0045324131
EAN: 2940045324137
Kindle: B00FNXC4QW
e-Book
Add to Wish List

Dr. Jocelyn Promise had no long-term plans to stay in town, but she saved the daughter of Caleb Davis, her high school crush, and became a hero. But fifteen years is a long time and Jocelyn's no longer the shy girl who never caught Caleb's attention.
Widower and Air Force Veteran Caleb Davis, never wanted to fall in love again...until he saw Jocelyn. Now, as he begins to warm to the idea of finding love again, an old enemy comes back to settle the score. Can he protect his family, Jocelyn, and his heart?
Things are about to get interesting in Tuscany, Texas...
Tuscany, Texas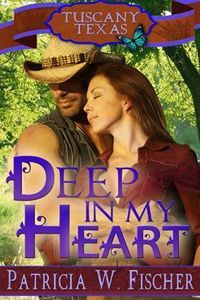 Deep in My Heart
#1.0
Kindle | BN.com | | |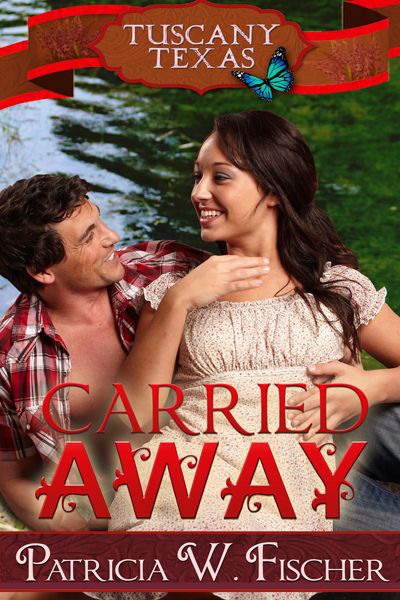 Carried Away
#2.0
Kindle | BN.com | | |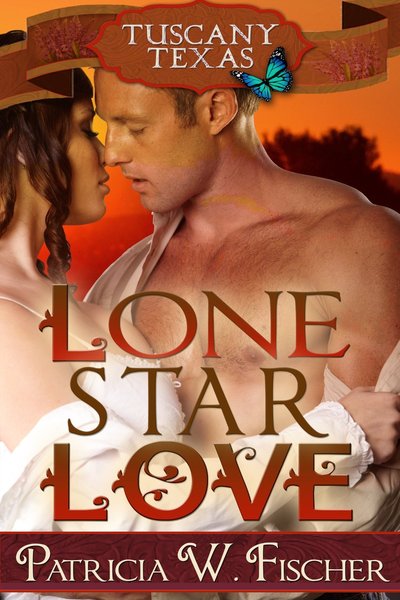 Lone Star Love
#3.0
Kindle | | | |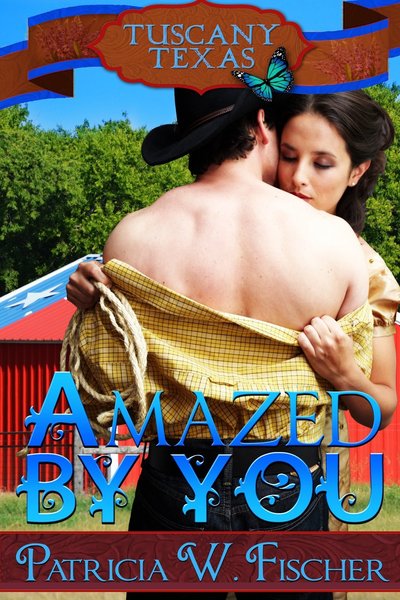 Amazed by You
#4.0
Kindle | | | |

To Heal a Wounded Heart
#5.0
Kindle | | | |
Comments
45 comments posted.
Re: Deep in My Heart

this sounds really good thanks so much for the giveaway
(Denise Smith 12:03pm February 12, 2014)
Love the cover and look forward to reading this book...it sounds great!
(Bonnie Capuano 4:35am February 12, 2014)
Love the opportunity to read a book on love....hot love and chocolate. Sounds like a good read.
(C Culp 6:18am February 12, 2014)
I think the advice was interesting especially from the side
that their lives are real. Thanks.
(Dianne McVetty 6:54am February 12, 2014)
The advice was very interesting. The book sounds great. Thanks for the chance to win.
(Nancy Reynolds 9:28am February 12, 2014)
I look forward to reading this book.
(Wilma Frana 10:11am February 12, 2014)
Interesting! No wonder my sister-in-law and her family moved to San Antonio.
(Anna Speed 11:51am February 12, 2014)
I love books that are about high school flames getting back together. I guess there's always hope. :)
(Vennie Martinisi 1:28pm February 12, 2014)
Great advice! Love the show!
(Denise Austin 4:07pm February 12, 2014)
That was a fun interview! I also noted the temperature - 50 degrees warmer than it was this morning in Boston (sigh...) Also enjoyed the excerpt from the book, and really - I don't think I'd ever be able to go back to the town I left after high school - it's mighty hard to live down those high school memories - why do they remain so vivid that even now, we still dream about the tests we're not prepared for or being in a class and getting called on? weird, huh?
(Beth Fuller 5:10pm February 12, 2014)
I love the cover! The story looks very interesting.
(Barbara Wells 5:14pm February 12, 2014)
I can't wait to read as I love romance stories. Love the cover of the book. Thanks for the giveaway.
(Kathleen Beale 7:00pm February 12, 2014)
Now I know why my hubby and I picked San Antonio for our honeymoon 30 years ago.
I enjoyed the interview.
(Sue Farrell 7:01pm February 12, 2014)
Sounds like a fun interview. Your book sounds great and so is your cover.
(Carol Woodruff 7:33pm February 12, 2014)
That was a great interview, Patricia. I loved that it was given as if by your characters. And I had to laugh when they thought a May/December romance meant the months of the year instead of one with people of diverse ages. LOL
(Marcy Shuler 9:01pm February 12, 2014)
The authors' advice are pretty good. I love the advice about hooking up with the bad boy and cowboy.
(Kai Wong 9:54pm February 12, 2014)
This was a pretty funny guest blog! Thanks for the laugh.
(Laura Gullickson 11:05pm February 12, 2014)
Thanks for sharing the video... was very interesting to watch!
(Colleen Conklin 2:33pm February 13, 2014)
Thank you. So much fun.
(Mary Preston 11:02pm February 13, 2014)
Loved the advice segment -- lots of fun! I'm thinking the
River Walk helped San Antonio win for romantic city. My
husband and I have gone down a few times for our
anniversaries as have a ton of my friends. :-)

If you ever manage to teach your pups to plug in and use a
vacuum, please share with all of us. It would make life so
much easier. :-D
(Glenda Martillotti 11:16pm February 13, 2014)
Wow! I am so thrilled to see all of your posts.
To continue on a few of your comments, the amazing Tara West designed my
cover and the next four covers for books in the Tuscany, Texas series.
San Antonio is a fantastic place for love, to fall in love, and to find love.
The segment proved to be interesting, especially since the girl didn't know what
May-December romances were. I really debated on whether I should answer it as
she asked it, but I thought, "I don't want to sound like I don't know what I'm
talking about." I didn't need to worry. Shelly Miles, the host, fielded it beautifully.
(Patricia Fischer 4:31pm February 14, 2014)
Where are those small forest creatures when you have a big
cleaning job to do. Please send them over when they're
through with you and your place.
(Alyson Widen 4:39pm February 16, 2014)
I would be happy to send them over Alyson. As soon as they finish here, expect
a knock on your door. ;)
(Patricia Fischer 4:26pm February 21, 2014)
This year I made sure I wouldn't break any New Year's
Resolutions. I didn't make any. ;-)
(Glenda Martillotti 11:48pm March 19, 2014)
I decided that this year I was going to take the time to take my day, and construct it, so that I get more things done with my time. So far, I think I've been pretty successful. I have a lot of plans in the works, and a lot of things to get done, so until they all get done, my day is going to be planned in the way I've set out, and I feel good about my new life this year!!
(Peggy Roberson 11:03am March 20, 2014)
I have stopped making any resolution. I realize that I can't keep them due to a family member who loves to have everything on her time.
(Kai Wong 9:47pm March 20, 2014)
Good job Peggy. If you've stuck with it to this point, you're probably in it for the
long haul.
Glenda, good move. Sometimes it's better to keep things less complicated.
Kai, i'm so sorry you're going through that. I know that's so incredibly frustrating.
(Patricia Fischer 2:52pm March 23, 2014)
I enjoyed watching Meg Ryan and Billy Crystal in When Harry
met Sally. There was the sensuous eating scene, and they
were in sinc with each other as actors. There was also the
one Al Pacino movie, and the title escapes me, but he played
a blind General, who went out on the town with his handler.
The tango scene in that movie was really hot!!
(Peggy Roberson 8:35am May 14, 2014)
I just thought of the title of the movie. It's Scent of a
Woman!!
(Peggy Roberson 8:36am May 14, 2014)
i like meg ryan and billy crystal also in harry met sally in
the eating scene just like Patricia
(Denise Smith 11:03am May 14, 2014)
I used to love all the old classics - with Gary Grant, or the Tracy/Hepburn, or Astaire and Rogers, etc., etc. They're ALL my favorites. What a great blog. Thanks for sharing. And your book sounds great. Thanks for the chance to win.
(Nancy Reynolds 11:33am May 14, 2014)
I like Linda and Johnny in Holiday (1938) because you can see
that they belong together from the start, even if they can't.
(Jen Barnard 11:51am May 14, 2014)
I love the scene from The Last of the Mohicans where Daniel Day Lewis' character tells Madeleine Stowe's character to hold on that he will find her right before he jumps down the waterfall. I love the commitment between them.
(Larena Hubble 12:23pm May 14, 2014)
There are so many that you just want to have them all in the
books to make it where you can read about them when ever you
want. The old classics are great and then you have the
modern players, along with todays reigning couples. But for
me it is not someone in the movies. It was not a couple in
the traditional sense. I think it is the thought that there
will be someone there for you and you for them. Like Jackie
Kennedy or Princes Di.. those are the ones that you just
know when they find their match it will be the greatest love
story ever. But alas they are no longer with us..
(Tina Ullrich 2:13pm May 14, 2014)
brad and angelina work well together
(Debbi Shaw 3:44pm May 14, 2014)
I love the couples from The Notebook and The Vow. I guess I am saying I have a crush on Rachel McAdams. haha
(Lisa Hutson 11:51pm May 14, 2014)
Definitely When Harry Met Sally.
(Pam Howell 7:49am May 15, 2014)
I, also, remember seeing The Last of the Mohicans and loved the attraction that Daniel Day Lewis and Madeleine Stowe had together. Sa that movie several times!!!!
(Bonnie Capuano 9:53am May 15, 2014)
Great movie couples!
(Richard Proctor 12:28pm May 15, 2014)
Cher & Nicholas Cage in Moonstruck
(Maria Proctor 12:59pm May 15, 2014)
Small screen, I like Bones & Booth.
(Laura Gullickson 1:54pm May 15, 2014)
My favorite sexy scene is when Barbara Streisand moves Robert Redford's bans
out of the way..such a sexy scene in the Way We Were. And I liked the chemistry
between Richard Gere and the Pretty Woman Julia Roberts.
(Jackie Wisherd 2:24pm May 15, 2014)
I loved Lucy and Ricky. It was so open and honest back then!
(Denise Austin 2:34pm May 15, 2014)
Pretty Woman is one of my all time favorites! I also love Ghost, 10 Things I
Hate About You, How to Lose a Guy in 10 Dates. I drop everything when
those are on. Love some Booth and Bones too, but Big Bang's Penny and
Leonard always reminded me of me and hubs a little. Kind of. Except I had
a small baby when we got together, and didn't have a courtship of a few
years! Lol
(Michelle Schafer 5:13pm May 15, 2014)
My favorite couple is Rhett and Scarlet when he carries her up the staircase!! They make the best couple.
(LeAnn Knott 10:58pm May 15, 2014)
Registered users may leave comments.
Log in or register now!