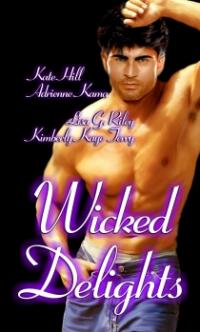 Purchase
New Concepts Publishing
May 2006
Featuring: Edris Perseveranth; Ambrosia Kennedy; Raine Santangelo
ISBN: 1000000043
e-Book
$6.49
Add to Wish List

Romance Paranormal | Romance Erotica Sensual
Sexy, humorous, delightfully raunchy…this is what four of today's hottest authors of multicultural, erotic romance have delivered in this anthology of tantalizing tales guaranteed to scorch the skin off your palms. In this erotic collection, you'll indulge your every fantasy and explore worlds just beyond reality. Kate Hill, Adrienne Kama, Lisa G. Riley and Kimberly Kaye Terry offer you wickedly sensual, eclectic tales of love and lust that will take you away from the humdrum of real life to a land where men are real men and unerringly know the secret, carnal delights of the women they're determined to conquer.
Tamed by the Tiger by Kate Hill: For centuries a group of female assassins known as the Wakened Veils have used their various powers for personal vendettas against the men who sought to oppress them. Raine Santangelo, a Succubus, has never failed to aid her sisters in seeking revenge, until she meets the charismatic weretiger called Sanjay. The Wakened Veils have marked his son for death. Though he will do anything to stop them, he prefers a peaceful solution to a violent one. Raine knows The Wakened Veils won't take kindly to any man dictating their actions, but having met Sanjay, she finds him almost impossible to resist.
Forsaken-Immortal Surrender by Adrienne Kama: Ambrosia Kennedy is a CVH, a certified vampire hunter, and she's on her first Valari Council assignment. Forsaken, the goth rock band currently burning up the charts, has made a name for themselves by playing the kind of hard edged music parents are afraid to let their children listen to. These four, darkly sexy men have employed the gimmick of vampirism to sell albums, but what Forsaken's adoring fans don't know, what it's Ambrosia's job to find out, is if it's an act. What Ambrosia isn't prepared for is the dark sensuality of Forsaken's lead singer, Umberto.
Unparalleled by Lisa G. Riley: A lifelong mission to find her mother's killers and heading a police force in Parallel Plus have left Edris Perseveranth with no room in her life for anything but control. She gave up romance and other fanciful notions long ago. So the sexy, blue-eyed stranger who is somehow able to pull her into his dreams about her and who is able to make her want to give up control, throws her for a loop. When she finally meets Sheriff Enrique Thomas Rivera in the flesh, will Edris be strong enough to let go and make both of their dreams come true?
Pleasure Principle by Kimberly Kaye Terry: Arlinda Nyoni has struggled to make her boutique a success and doesn't want, nor need a man in her life for anything other than a momentary, pleasurable diversion. Nothing more, nothing less. When Samuel St. John steps into her life and demands something more, Arlinda is forced to make the decision to do as she normally does and run, or take a chance and believe that this love might be one worth fighting for.
Rating: Contains graphic sexual content, explicit adult language, violence, and paranormal themes.
Comments
No comments posted.

Registered users may leave comments.
Log in or register now!