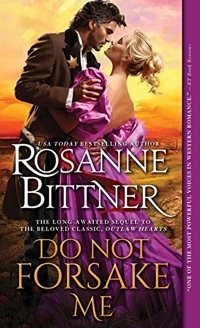 Purchase
Outlaw Hearts #2
Sourcebooks Casablanca
July 2015
On Sale: July 1, 2015
Featuring: Jake; Miranda
512 pages
ISBN: 1492612847
EAN: 9781492612841
Kindle: B00SG8TG9E
Paperback / e-Book
Add to Wish List

Experience the epic, sweeping story of Jake and Miranda Harkner from Bittner's beloved OUTLAW HEARTS, called by New York Times bestseller Heather Graham "a wonderful, absorbing read, with characters to capture the heart and the imagination".
Fate brought them together. His past may tear them apart.
Miranda Hayes' life was changed the day she faced down infamous gunslinger Jake Harkner...and walked away with his heart. Their fates have been intertwined ever since. Hunted by the law, fleeing across a savage land, their desperate love flourished despite countless sorrows. Now, twenty-six years later, their family has finally found some measure of peace...balanced on the knife's edge of danger.
Jake has spent his years as a U.S. Marshal atoning for sins, bringing law to the land he once terrorized. But no matter how hard he fights the demons of his brutal past, the old darkness still threatens to consume him. Only Miranda keeps the shadows at bay. But when outlaws looking for revenge strike a fatal blow, Jake risks losing the one woman who saw past his hard exterior and to the man inside.
He always knew there'd be the devil to pay. He just never realized he might not be the one to bear the ultimate price.
Outlaw Hearts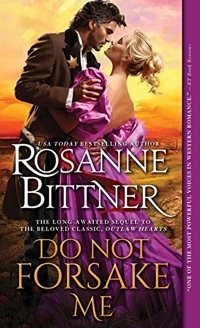 Do Not Forsake Me
#2.0
Amazon.com | BN.com | | |
Comments
27 comments posted.
I love your books and this looks like a good one I
would love to have it!
(Beverly Ross 12:05pm July 29, 2015)
Trust
(Marissa Yip-Young 5:51am July 29, 2015)
Not only has the love been there for over 33 years, but we understand each other, and we've been there to help the other one up when they need it, so to speak. We've been there as one, through thick and thin, and have learned to work as one unit. Congratulations on your latest book!! I'm looking forward to reading it, as I always look forward to your books. It's currently on my TBR list, and will make a nice addition for my late Summer reading!! Wonderful work on the cover, too!! It should do well!!
(Peggy Roberson 7:46am July 29, 2015)
Love, compassion, understanding, honesty, and trust have kept us happily together for many years. Congrats on the new release! Love the cover.
(Bonnie Hometchko 10:50am July 29, 2015)
Honesty & communication
(Colleen Conklin 12:27pm July 29, 2015)
Beshert, meant to be and understanding each other.
(Sharon Berger 3:39pm July 29, 2015)
The love ,the bond ,the children and grandchildren . We've been together for 53 years . He tells me he's not leaving our house and I tell him I'm not going no where either . Ha !! We kid around with each other a lot . Thanks for this giveaway.
(Joan Thrasher 10:19am July 30, 2015)
Respect of each others views even when he's wrong!
(Barbara Hanson 1:03pm July 30, 2015)
I love your books!!
(Beverly Ross 3:19pm July 30, 2015)
I do not yet have a romantic love. The family love that I do have is because of communication.
(Cecilia Rodriguez 3:35pm July 30, 2015)
At our age (Been married 41 years) it becoming more of the little
things we do for each other. Even though I know I love him, I need
to show him sometimes too.
(Nancy Luebke 5:23pm July 30, 2015)
Got married in our teens, so grew up together.
(Vera Wilson 6:21pm July 30, 2015)
33 years and we've been through a lot together. Looking
forward to retirement. We've been through cancer and came
out the other side with each other!
(Charlene Fraley 11:19pm July 30, 2015)
My husband and I have been married for 36 years and EVERYTHING keeps us together. We've shared so much of our lives---children, family, trips, homes, daily routines---there is literally almost nothing that doesn't bind us together. With time you really do understand that "the two shall become one".
(Flora Presley 11:36am July 31, 2015)
Would love to win a copy of this book.
(Carol Woodruff 7:00pm July 31, 2015)
I would love to win this book. Thanks!
(Cynthia Cook 10:29pm July 31, 2015)
my loves have 4 paws
(Alisha Woods 10:35pm July 31, 2015)
Hubby is a truck driver that only comes home on the
weekends. I have all week to myself & get to enjoy him on
the weekends. Never tire of each other that way.
(Sandy Porter 11:01pm July 31, 2015)
I guess caring for each other. After 57 years, he is now gone.I
really like your books.
(Leona Olson 8:31am August 1, 2015)
We had 54 years of marriage and he loved me in spite of my flaws.
(Anna Speed 12:08pm August 1, 2015)
I am single and divorced 3 times. I am not a good one to ask!
(Denise Austin 1:13pm August 1, 2015)
Well, as a single mom, my 31 year old son is my love right now LOL we are almost like brother and sister rather than mother and son so maybe that is how things are alright :-) - that and the fact that we like much of the same music!
(Felicia Ciaudelli 1:52pm August 1, 2015)
We care about each other and always put the other one first. Thank you for the chance to win this book!!!
(Bonnie Capuano 2:48pm August 1, 2015)
As a introvert it is hard to even find a man to stay with.
(Sharon Good 3:11pm August 1, 2015)
I always enjoy your books and this sounds like another good one.
(Mary Branham 3:44pm August 1, 2015)
This would be wonderful to win!!
(Sharon Sommer 8:46pm August 1, 2015)
Congratulations on your new release!
(Cissie Patterson 11:27pm August 1, 2015)
Registered users may leave comments.
Log in or register now!