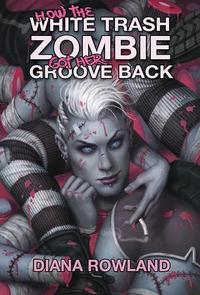 Purchase
How The White Trash Zombie Got Her Groove Back
Diana Rowland
DAW
July 2014
On Sale: July 1, 2014
Featuring: Dr. Kristi Charish
336 pages
ISBN: 0756408229
EAN: 9780756408220
Kindle: B00HDMRZI8
Paperback / e-Book
Add to Wish List

Angel's life has changed a lot in the past year. Zombified, kidnapped, and flooded, she's gone from addict-dropout-felon to responsible-pardoned-graduate with barely any chance to process it all. She's not a loser anymore, has a steady job at the morgue, and is even an insider in the "Zombie Mafia" run by Pietro Ivanov, her boyfriend's uncle. Needless to say, she's more than ready for life to be a little boring.
But Angel doesn't get to kick back and relax for long. It's bad enough when an experimental procedure meant to stabilize her "zombie kid" Philip goes awry and leaves him imprinted on Angel, but the mysterious disappearance of Pietro, his head of security, Brian Archer, and the director of the lab, Dr. Nikas, causes a stir Angel can't ignore. Oh, and her nemesis, Dr. Kristi Charish, managed to escape shortly before the others went missing. Angel is certain that Kristi and the Saberton Corporation are behind the disappearances, but there's also no denying they had inside help—and that Brian Archer is the obvious suspect. Meanwhile, Philip's imprint behavior goes from annoying to disruptive, and Angel needs the missing Dr. Nikas's help to sort it out.
With the Zombie Mafia in lockdown mode, and with no clue who she can trust, Angel strikes out with Philip and two trusted friends to track down the missing men. In a search that takes them from a seedy redneck bar in the backwoods of south Louisiana to a high society cocktail party halfway across the country, Angel and her gang claw their way through corporate intrigue, zombie drugs, and undead trafficking.
Soon Angel is embroiled in kidnapping plots and hostage negotiations, except this time she's the one calling the felonious shots. Add to that some breaking and entering, criminal damage, and a wee bit of terrorism, and Angel's up to her undead ears in the kind of trouble she excels at.
With Philip causing more and more trouble, and double-agents on both sides, it's zombie against zombie as Angel rallies her debilitated crew to face down the Saberton forces. With her white trash attitude as her best weapon, Angel rescues the men, exposes the traitor, and finds out what she's truly capable of.
Comments
No comments posted.

Registered users may leave comments.
Log in or register now!