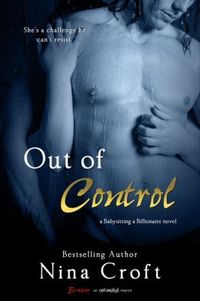 Purchase
She's a challenge he can't resist.
Babysitting a Billionaire #2
Entangled Brazen
May 2014
On Sale: April 28, 2014
Featuring: Danielle Sinclair; Zachary Hunter
250 pages
ISBN: 1622665430
EAN: 9781622665433
Kindle: B00IQOC3TI
e-Book
Add to Wish List

Hollywood heartthrob Zachary Hunter loves women—as long as they don't want more than a little fun in the bedroom. When his most recent movie stirs up the wrong kind of attention, the kind that includes an attempt on his life, he hires a friend's company to locate the threat. The pint-sized redhead assigned to protect him isn't what he expects—or wants. Worse, he can't take his eyes off of her.
After ten years in the army, Danielle Sinclair knows how to handle men. With a new security gig to pass the time until she's cleared to return to the military, she's figures her sexy new client will be easy to manage. And then he opens his gorgeous mouth, and she can't decide whether to kiss him or kill him. His sex appeal may tempt her into his bed, but his sexist attitude is unbearable, and she's going to make him eat every single word…
Babysitting a Billionaire
Comments
16 comments posted.
Re: Out of Control

If the setting works for the story than it works for me. I'm open to explore with the characters since I haven't traveled that much myself.
(Marcy Shuler 12:52pm April 30, 2014)
thanks for the contest. your books look interesting. Happy summer and good luck with your writing
(Gloria Vigil 4:55am April 30, 2014)
I don't have a specific setting I enjoy, but I love when the
setting becomes almost a character.
(Karin Anderson 8:47am April 30, 2014)
Setting is important but to me it is mostly the characters
interaction that I look for. I love the books that the
characters fight over the stupidest things but that the
arguments are heated and create the friction that brings them
together. That is where the setting being brought in helps.
(Tina Ullrich 10:16am April 30, 2014)
I have to admit that I tend to read books that have a "homey" small-town setting. I do on occasion like to read about exotic locations, but I have to admit that I have a hard time connecting with a character if the setting is hard to picture/imagine that character fitting into.
(Sandy Kenny 11:06am April 30, 2014)
Happy summer!
(LeeAnne Hardin 11:18am April 30, 2014)
I'd love to read your books.
(Mary Hay 5:54pm April 30, 2014)
Wow, Congrats on your new books: LOSING CONTROL and OUT OF
CONTROL. I can get used to any setting and your books sound
like fantastic reading. I would love to win and read your new
books in 2014. Thank You very much. Cecilia CECE
(Cecilia Dunbar Hernandez 6:24pm April 30, 2014)
Would love to read your books!
(Courteney Moore 6:47pm April 30, 2014)
If I'm enthralled by the story, the setting is just icing, otherwise the setting helps to keep me interested.
(Sharon Mitchell 7:42pm April 30, 2014)
sizzle ... yeah!
need for my collection [ =
(Elaine Fisher 10:58pm April 30, 2014)
im like you to the same type of setting again and again the
book looks really good
(Denise Smith 1:24am May 1, 2014)
I don't pick books based on setting, but occasionally the setting makes me more interested in a book.
(Pam Howell 7:26am May 1, 2014)
I don't really mind what the setting is so long as it makes
sense for the story and characters.
(Jen Barnard 10:59pm May 1, 2014)
The setting is very important to me. Even though I enjoy a variety of settings, I am drawn to a city setting, especially San Francisco or New Orleans.
(Bonnie Hometchko 10:13pm May 7, 2014)
settigs are not a major issue for me its the story and charaters that count
(Mick Gillies 3:16am May 27, 2014)
Registered users may leave comments.
Log in or register now!