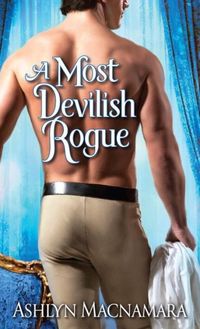 Purchase
Ballantine Books
September 2013
On Sale: August 27, 2013
Featuring: Isabelle Mears; George Upperton
352 pages
ISBN: 034553476X
EAN: 9780345534767
Kindle: B00BO4GSVG
Paperback / e-Book
$7.99
Add to Wish List

Fans who adore Julia Quinn, Eloisa James, and Sabrina Jeffries will savor Ashlyn Macnamara's sensual new novel, which proves that two hearts are better than one.

Years ago, when Isabelle Mears was still a young miss too infatuated to know better, she surrendered her innocence to a dishonorable man. Though ruined and cast out from society, she has worked hard to shelter her illegitimate son, Jack. Having sworn off men in her quiet but dignified life, Isabelle is unprepared for the deep longing that rips through her when a handsome stranger rescues her rambunctious six-year-old from the pounding ocean surf.

George Upperton is a man in trouble with debts, women, and a meddling family. He is, by all accounts, the last gentleman on earth Isabelle should be drawn to. But loneliness is a hard mistress, and caution gives way to desire . . . even though Isabelle is convinced that happiness can't be found in the arms of such a devilish rogue. Only when Jack is kidnapped does Isabelle discover the true depth of George's devotion—and how far a good man will go to fight for the woman whose love is all that matters.
Comments
11 comments posted.
cheap
hermes
hermes birkin bags
hermes kelly bags
cheap
burberry bagsHermes Constance in blue-grey crocodile
with diamond-encrusted white gold hardware and a
constrasting orange leather interior. In between those two
extremes that are plenty of Birkins and Kellys in both
regular leathers and a plethora of exotics and multi-
material combinations
(Fei Zhang 11:00am August 20, 2013)
Fun post, Ashlyn. Another way is by trying to run away from falling in love. Fate has a way of intervening.
(Ella Quinn 12:16pm August 20, 2013)
Thanks, Ella. That's a very good way for a hero to land himself in trouble!
(Ashlyn Macnamara 3:47pm August 20, 2013)
Good to know - heehee - Thank you for sharing with us!!!
(Felicia Ciaudelli 7:56am August 21, 2013)
I just got your book, and can't wait to start reading it!! It sounds like I'm going to be taken for quite an adventure!! I just wanted to say hi to a fellow knitter. Your book is at the top of my list from a pile of books that I picked up for my Fall reading. I have to finish knitting some baby gifts and a couple of shawls first. It's hard when you love to knit, and love reading, but have these commitments to fulfill first. I'm sure I'll enjoy your book. I know I love the cover!!
(Peggy Roberson 9:58am August 21, 2013)
Hi Ashlyn!

I loved your "Five Ways a Regency Hero Might Land Himself in Trouble" but having just sons just give me a call anytime if you want some more to add onto your list!

I love Julia and Benedict's story and I'm so excited that A Most Devilish Rogue is being released next Tuesday for Kindle! I can't wait to read what mischief George has up his sleeve and how he ends up being the perfect hero for Isobella.

From my experience raising sons (and taming my husband) is that a "reformed" rouge is not only the the most fun but also the most protective of his family a well!
(Jeanne Miro 11:54am August 21, 2013)
This sounds like a lot of fun. One way a Regency hero can get himself into trouble is to participate in dangerous sports, such as curricle racing.
(Janie McGaugh 8:48pm August 21, 2013)
Congrats!!! It's coming down to the release~
(Ki Pha 1:05am August 22, 2013)
Sounds like a great read. Looking forward to it.
(Carol Woodruff 4:16pm August 22, 2013)
I'm excited for this release! I've been waiting for it
(Sandy Xiong 9:05pm August 22, 2013)
I like the cover on this one, Ashlyn. This guy's butt is something else! :-) Enjoy your tour. jdh2690@gmail.com
(Janice Hougland 7:08pm August 24, 2013)
Registered users may leave comments.
Log in or register now!