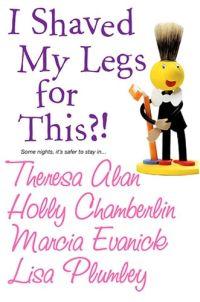 Purchase



Kensington
January 2006
368 pages
ISBN: 075821085X
Trade Size
$12.95
Add to Wish List


The trauma of the blind date. It's like being trapped in a bad,four-hour movie. Like shopping for Manolos with a maxed-out Visa. Like going for a massage and getting a bikini wax instead. Like...well, you get the idea. How many frogs can a woman kiss before a non-slimy prince comes along? There's only one way to find out...

LOVE IS BLIND (OR AT LEAST NEARSIGHTED) by Theresa Alan
When it comes to dating, Heather's been pretty lucky. Well, if you don't count the verbal flasher and the guy who started going out with another woman halfway through their first date. If only she could find a guy like her first love. Now, the one who got away just may lead her to the one she can't lose...

CLEO BARNES: WORST BLIND DATE EVER by Holly Chamberlin
Nine months after Cleo Barnes dumped her cheating, lying boyfriend, she's become a full-blown, she- devil man-hater. But when she spies her ex out with another woman, it's time to get serious and prove to him and the rest of the world that Cleo Barnes is alive and well and getting a man...whether she likes it or not...

LOVE IS LIKE A BOX OF CHOCOLATES by Marcia Evanick

Judith Howland is the queen of disastrous blind dates. On the road to finding Mr. Right, she's been fixed up with Mr. Seriously Broke, Mr. Grope and Paw, and Mr. Certifiable. With all the good men taken, Judith's not willing to sample even one more guy from the fix-me-up box, no matter how tempting...


JUST JENNIFER by Lisa Plumley
Breezy California girl Jennifer Merryn has a knack for picking fun friends and butt-enhancing jeans, but she's got lousy radar when it comes to men. So why not let her friends choose her blind dates--thirty different prospects in thirty days. Armed with breath mints, lip gloss, and unlimited text- messaging minutes, Jennifer's ready for the dating frenzy to begin--or is she?

Now, four women who think they've seen it all are about embark on an odyssey where nothing is too weird, too hot, or too wrong for words. But sometimes what looks like disaster is actually love in disguise...
Comments
No comments posted.

Registered users may leave comments.
Log in or register now!