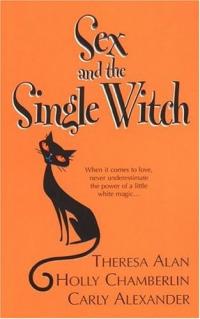 Purchase
Kensington
September 2006
288 pages
ISBN: 0758209320
Paperback (reprint)
Add to Wish List

Sure, you can turn Mr. Oh-So-Wrong into a toad, but finding Mr. Right isn't any easier for a witch. And choosing between conjuring up a new pair of Manolos and working on another love spell can be tough. After all, fabulous heels don't forget to call you back…
"The Witch's Guide to Life," Theresa Alan
Leave it to a man to break one spell—only to cast another. When ice hockey coach J.T. becomes the first person to buy one of Ariel Watson's paintings, her work is suddenly the hottest ticket in town. And J.T. is more than an art lover— he's a lover. Trouble is, since falling for him, Ariel hasn't been able to produce once decent piece of work. What's a witch to do?
""Single White Witch" Carly Alexander
The Etherworld isn't all it's cracked up to be for single female spellcasters. A girl's only option is to hook up with a warlock—and everyone knows how tricky those guys are: in a twinkling, you're slaving over a hot cauldron with little sorcerers underfoot. So Annie Quicksilver is investigating mortal men. But crazed Romanian shoe designers and smarmy power brokers clearly aren't the answer—and Annie is pleasantly surprised to discover who is…
""The Trouble with Witchcraft," Holly Chamberlin
Backfired love spells are Haven Castle's embarrassing specialty. The last time she tried one, Jared Cragmere not only didn't fall at her feet, he vanished. Fortunately, he's reappeared, none the worse for wear—though nursing a grudge against the person who zapped him to Nowheresville. Haven couldn't bear to see Jared's reaction if he found out the truth—especially now that he's finally taken a very real—and deliciously sexy—interest in her…
Make a date with these bewitching tales of big-city enchantment, where the hottest trend is romance with a twist of magic.
Comments
No comments posted.

Registered users may leave comments.
Log in or register now!