Henry Winkler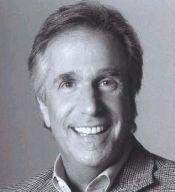 Henry Winkler is best known as television's "Fonzie", also know as (AKA) Arthur Fonzarelli, of Happy Days. Though most relate to him from his television role of many years, he is a well-educated man who struggles with dyslexia. He says of his childhood "I grew up with a high level of low self- esteem."
Winkler is the son of immigrant parents who expected him to join the family saw mill business. Even as a child Henry saw roles on stage as the key to happiness. Often he and his parents were in conflict. "There was no meeting of the souls." Though his teachers and other school professionals who worked with him defined him as a boy who really did not apply himself to his work, Winkler came to know his own strengths.
Evidence of that strength is his distinguished acting, directing and producing career in both television and films. For an actor, reading is essential. He has been able to work around his learning weakness to develop his strengths. He has won Golden Globe and Emmy awards for his acting. He has produced many films about families and how they cope ("PBS Happily Ever After, and the sequel, "Two Daddies to Love Me"; directed and produced "All the Kids Do It",an Emmy Award-winning CBS Schoolbreak Special about teen drinking.)
He also is the father of three who has learned when to let go and when to be the "strictie" as his children define it. Winkler and his wife, Stacey, are also active in other many other areas of humanitarian activities. They have been recognized for their efforts on behalf of children by B'nai Brith and the United Nations.
Winkler earned his bachelor's degree from Emerson College in Boston, Mass., with a dual major in drama and child psychology. He studied abroad and then came back to earn his master's degree at Yale University in drama.
Beyond the television and film industry, Winkler's interests often focus on the needs of young people. A founding member of the Children's Action Network, he also has worked to help the national Infant Immunization Project, Toys for Tots, and the MacLaren Children's Center (for abused children) in Los Angeles. He also has worked extensively to educate about the needs of children with learning disabilities. He states "Because of my character on Happy Days I was asked to narrate a film for students with learning disabilities in 1976. It was called "Everybody has a Song". Of course I wanted to help these poor kids with this problem! So as I'm reading the narration into a tape recorder, it started to dawn on me. I'm not lazy. I'm not stupid. I'M DYSLEXIC!!! Who knew? Nobody knew when I was growing up."
Log In to see more information about Henry Winkler
Log in or register now!
Series
Books:
Fake Snakes and Weird Wizards, February 2015
Here's Hank #4
Paperback
Bookmarks Are People Too!, February 2014
Paperback
Ghost Buddy #2, July 2012
Hardcover
Zero to Hero, January 2012
Ghost Buddy #1
Paperback
A Brand-New Me!, April 2010
Hank Zipzer Series #17
Paperback
Life of Me, The #14: Enter at Your Own Risk, May 2008
Paperback
Who Ordered This Baby? Definitely Not Me!, January 2008
Hank Zipzer #13
Hardcover
Barfing in the Backseat, July 2007
Hank Zipzer #12
Hardcover
The Curtain Went Up, My Pants Fell Down, May 2007
Hank Zipzer #11
Hardcover
The Curtain Went Up, My Pants Fell Down, May 2007
Hank Zipzer #11
Paperback
My Dog's a Scaredy-Cat, August 2006
Hank Zipzer #10
Paperback
Hank Zipzer Collection, October 2005
Hank Zipzer
Paperback
The Secret Life of a Ping-Pong Wizard, October 2005
#9 (Hank Zipzer)
Hardcover
The Secret Life of a Ping-Pong Wizard, September 2005
Hank Zipper The World's Greatest Underachiever #9
Paperback
Summer School! What Genius Thought That Up?, May 2005
Hank Zipzer #8
Hardcover
Help! Somebody Get Me Out of Fourth Grade!, December 2004
Hank Zipzer #7
Hardcover
Holy Enchilada!, August 2004
Hank Zipzer #6
Hardcover
The Night I Flunked My Field Trip, May 2004
Hank Zipzer #5
Hardcover
The Zippity Zinger, January 2004
Hank Zipzer #4
Hardcover
Zippety Zinger, January 2004
Hank Zipzer #4
Paperback
The Day of the Iguana, September 2003
Hank Zipzer #3
Hardcover
The Day of the Iguana, September 2003
Hank Zipzer #3
Paperback
I Got a D in Salami, May 2003
Hank Zipzer #2
Hardcover
Niagara Falls, Or Does It?, May 2003
Hank Zipzer 1
Paperback (reprint)