Wendy Davies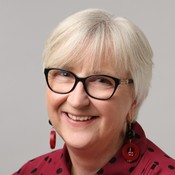 Blogging at Fresh Fiction
Meet the Author - Wendy Davies
July 9, 2018
Hi, I'm Wendy and I write contemporary, small-town romance stories set in my home state of Victoria, which is down south of mainland Read More...
Australian, Wendy Lee Davies began writing romances as a lark after leaving her communications and editing job of many years.
Wendy enjoys cycling, especially cycle touring which she did a lot of in her younger, some say more foolish, years. Now that she's older and wiser, Wendy is wearing out the bike paths around her home town, making good use of her amazing pedal-assist electric bike. She's also traversed most of the incredible rail trails available in Victoria, and one in New Zealand as well.
If she's not writing or riding her bike, Wendy can be found enjoying a coffee in some cafe. Or taking landscape photographs. Sometimes she makes cookies or muffins. She's even been known, on occasion, to annoy her writing friends with long, detailed editorial comments on their latest writing endeavour. But don't worry. They get her back, tenfold, when it comes to critiquing her latest romance-in-progress.
Series
Books:
Good Enough for Love, July 2018
e-Book