Amanda Adams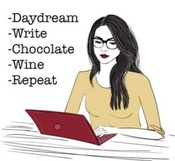 Blogging at Fresh Fiction
Amanda Adams | Excerpt from ALONE WITH YOU
May 12, 2017
Two days later, Claire Miller pulled into the long driveway that led to the Walker family ranch and sighed. She was home, back in Read More...
Amanda Adams | On Writing…The Best Advice I Never Heard
April 9, 2017
I've been writing a long time. I won't tell you how long, because I'd give away my age – but long enough to Read More...
Amanda Adams fell in love with books at a very early age. Her earliest memories are of sitting on her mother's lap reading Cinderella and Snow White and Rose Red over, and over, and over again until she had them memorized - she was too young to know the alphabet. Amanda started writing stories in big, sloppy handwriting in a wide-rule notebook when she was bored, during class (of course) in the fifth grade. Her favorite stories always include excitement, adventure and a handsome hero guaranteed to sweep her off her feet. Amanda lives in beautiful Colorado with her husband (her high-school sweetheart who proved the reality of "love at first sight") and three teenagers whom she reminds, repeatedly--"If it's not in my phone, it's not happening," because her mind is oh-so-often far away living a fairy tale. (That's code for "if an alarm doesn't go off, she forgets to pick up her kids from school")
Series
Walker Brothers
Books:
Up All Night, June 2017
Walker Brothers #3
e-Book
Alone With You, May 2017
Walker Brothers #2
e-Book
Crash and Burn, April 2017
Walker Brothers #1
e-Book (reprint)