Beth Anne Miller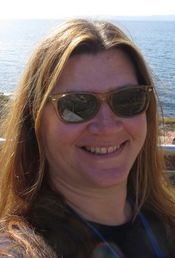 Blogging at Fresh Fiction
Beth Anne Miller | Inspiration for UNDER A STORM-SWEPT SKY
April 25, 2018
I've been fortunate enough to do a lot of traveling, and my travels have heavily influenced my writing. My first book, Read More...
Sailing into the Story: Behind the Scenes of A STAR TO STEER HER BY
April 3, 2017
The date is indelible in my memory: February 20, 1995. I was a sophomore marine biology student, about to embark on SEAmester: a Read More...
My first book, written in elementary school, was bound in pink fabric and was about—what else?—a girl and her horse. I soon began cheating on horses with the sea, becoming an open water scuba diver at age 14. That love of the sea led me to a college semester aboard a schooner. I returned with fond memories of the exhilaration of being on a ship under full sail, less fond memories of hurling over the leeward rail on a daily basis, and a sailing bug I couldn't quite shake.
In addition to horses and the sea, I have a fascination for all things Scottish (including, but not limited to, men in kilts). A native New Yorker, I work in the publishing industry and am always looking ahead to my next voyage, whether a short one on a dive boat or whale watch, or, with luck, a longer one on a tall ship.
Series
Books:
Under a Storm-Swept Sky, April 2018
e-Book
Into the Scottish Mist, February 2018
e-Book
A Star to Steer Her By, April 2017
e-Book