Tracy St. John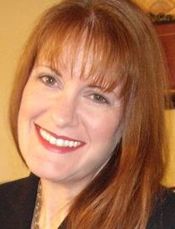 Blogging at Fresh Fiction
Tracy St. John | In Search of Redemption
June 20, 2017
Redemption (noun): The action of saving or being saved from error or sin. We all make mistakes. It's a human Read More...
Science Fiction Romance and Real Life Inspiration
April 18, 2017
"Write what you know." The sentiment is probably as old as writing itself. Yet how does it translate into a futuristic romance filled with aliens Read More...
Tracy St John | Childhood Fantasies in the Science Fiction World
October 27, 2016
We live in an era of strong women. When I was born, the second wave of feminism was just taking hold in the United States Read More...
Tracy St. John | Crafting Alien Heroes During Happy Hour
July 26, 2016
I started out writing mainstream science fiction more years ago than I care to admit to. Those stories were filled with menacing aliens designed to Read More...
Tracy St. John lives in coastal Georgia with her husband and son. You'll often find her haunting train museums with her locomotive-loving son. Besides writing, she has also worked in video production both in front of and behind the camera. She's usually cast as the gun-toting bad gal, getting handcuffed in the end. She has no complaints.
Series
Clans of Kalquor
Books:
Alien Redemption, June 2017
Clans of Kalquor
Paperback
Alien Slave, April 2017
Clans of Kalquor #5
e-Book
Alien Rule, November 2016
Paperback
Alien Hostage, August 2016
Clans of Kalquor #10
e-Book
Alien Hostage, April 2016
Clans of Kalquor #10
e-Book