Holly Phillips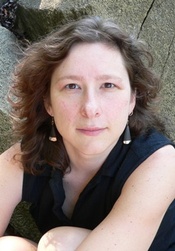 Photo Credit: Kate Skye

I started writing seriously as a twentysomething college dropout and have been at it ever since. No, never mind how long. And never mind how serious "seriously" is either, because honestly? I have a hell of a lot of fun, in between spasms of angst and chasms of despair. Anyway, what I write may or may not be serious, but I'm passionate about the craft and put a lot of time and effort into the language and the evocations of experience.
On the other hand, I have kind of a short attention span, and wouldn't do it if it wasn't entertaining me with its endless variety, so I write mostly fantasy: it's the best field ever for the play of the imagination. The challenge I set myself is to write fantasy that is intelligent, meaningful, beautifully crafted, and still – in spite of it? because of it? – full of excitement and wonder and spine-tingling, gut-wrenching fun.
The unnerving thing is that, as weird as I try to make my fiction, it's never as weird as the real world. Take the publishing industry, for example. (Nice segue, yes?) Actually, the weirdest part of my publishing experience might well be that I got published at all, because my take on "weird" is pretty literary, and my take on "literary" is way too weird. Believe me, I put in my years of amassing rejection letters, along with a few quiet nods of approbation for the occasional small-market story.
However, my collection In the Palace of Repose was snapped up by Prime Books and received all kinds of positive attention, including 2 World Fantasy Award nominations and the 2006 Sunburst Award. Prime also published my first novel, The Burning Girl, which made the long list for the British Fantasy Award, but it was the collection that won me the attention of Sally Harding of the Cooke Agency. Sally gets the credit for bringing my second novel, The Engine's Child, to the attention of Jim and Liz at Del Rey, who put it into print in 2008. Sally also helped me pull the second collection, At the Edge of Waking, together, and is generally good with the well-placed boot when needed.
As for the real world: I live in Victoria, BC, which is a small city on a big island off Canada's Pacific coast. I have a cat, of course; and a lot of books, of course; and there's occasionally a man about the place. (Hmm, that could be misconstrued, couldn't it? Just the one man, and he's occasionally here.)
Series
Books:
The Exhaustion Breakthrough, June 2015
Hardcover
At The Edge Of Waking, September 2012
Paperback